A Tale of Two Border Crises | Opinion
A sense of unregulated overflow. Asylum loopholes made hard to close by the tugging of the Western heart. A COVID dry-up of opportunity driving ever-more desperation, even as our ability to accommodate dwindles. Middle-ground solutions crowded out by a polarized discourse. The Canary Islands and the U.S.-Mexico frontier may be half a globe away, but the migration crises in each are eerily similar in their tests of aged humanitarian pieties. From the Old World to the New, could this pandemic herald the end of open borders?
Both sides of the Atlantic are now experiencing border-crossing upticks, albeit on different timelines. The redux of Europe's 2015 migrant crisis unfolding in the Canaries began months before COVID, and the oscillating volume of arrivals since has fluctuated based on the interplay of lockdown-induced youth unemployment in Morocco, Senegal and Mauritania, perceived largesse of welfare and job opportunities in Europe and an asylum system that leaves member states trapped between the fair demand to spread inflows across the EU27 and the uncompensated costs they're left to incur while Brussels fails to react. Recently, Spain has definitively unseated Greece and Italy as Europe's greatest migration magnet.
Joe Biden's muddled message to Central American families since inauguration has sent apprehensions into an outperformance of 2019—a peak year despite a tougher president and a wall-to-be that is no longer. With a roughly similar health shock keeping much else equal, it is the markedly lefty tenor of Spanish Prime Minister Pedro Sánchez's coalition that has stoked, from a 15-year-low baseline, record numbers of young North Africans to risk the half-hour boat ride to land on Spanish territory. Even after the pull factor from his version of universal basic income kept on luring while negotiations fell short of the needed breakthroughs, Sánchez remains loath to consider unilateral refoulement in cases of evident fraud. Brussels is skittish on intra-EU transfers of asylum-seekers and Spain's North African neighborhood is stubbornly non-committal on meeting the unprecedented outflow with beefed-up coast guard patrols. Making a nativist straw man of the upstart nationalist Vox party has proved the politically expedient "fix."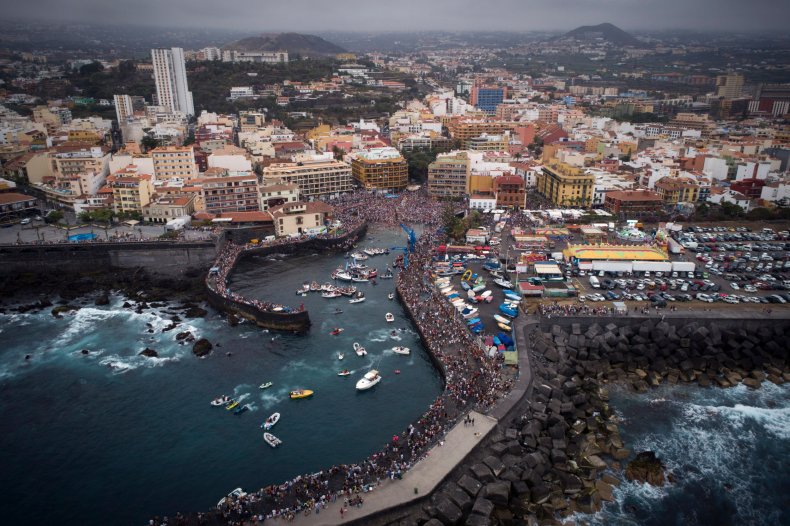 To be sure, migrant demographics couldn't be more different on each side of the Atlantic. As of this writing, the U.S. Department of Health and Human Services holds roughly as does, all ages combined, the entire Canarian network of shelters and camps. The "unaccompanied minor" category—so prevalent in U.S. discourse and policy discussions—has no meaningful equivalent in Spain, at least in the Canarian context. Friend and family networks often stay close well into their journey. Sheltering amenities are deteriorating in both countries under the strain of the raw numbers. In Spain, it took several months and a downpour of complaints from locals and NGOs alike for central authorities to deploy makeshift tents in remote corners of the archipelago. Local mayors and charities have been left to pick up the pieces.
In both the U.S. and Spain, improper administration of asylum law keeps producing avoidable failures. The unlearned lessons of 2015 still percolate across Europe. Despite routine evidence of raucous and otherwise-thankless behavior, the alliance of progressives in power and NGOs in de facto sync with trafficking rings holds similar sway over the Spanish public as does Biden's faux humanitarianism in the U.S. Local protests are frequently labeled racist by the mainstream media. Restricting migrants' ability to enjoy Schengen freedom of movement while their claims undergo adjudication is discarded as inhumane—even in cases of dubious family ties in Spain, and even as the magnet effect from this European version of "catch-and-release" keeps asserting itself in monthly apprehension figures.
This is where the Canaries' march, at current rates, toward becoming the next Lampedusa is most tragic—and where Europe, just as its sluggish economy picks up, stands most to lose from a world-historical acceleration of economic migration funneled through asylum loopholes. Even if Spain's next government closes some or all of these lacunas and shakes a better bargain out of Brussels, the European dream will remain too enticing a lure for millions down south. Meanwhile, Europe will keep signaling its "do-goodism" to the world through yet more multilateral compacts detached from any tangible focus on the present issues. Biden could shake the Eurocracy out of its universal-welfarist stasis. But the border crisis of his own making is too easy to muddle through without such effort, so don't expect him to take the chance.
Jorge González-Gallarza Hdez. (@JorgeGGallarza) is co-host of the Uncommon Decency podcast on Europe (@UnDecencyPod) and associate researcher at Fundación Civismo (Madrid).
The views expressed in this article are the writer's own.