U.S. Doesn't Know How Many Afghans Are Fighting the Taliban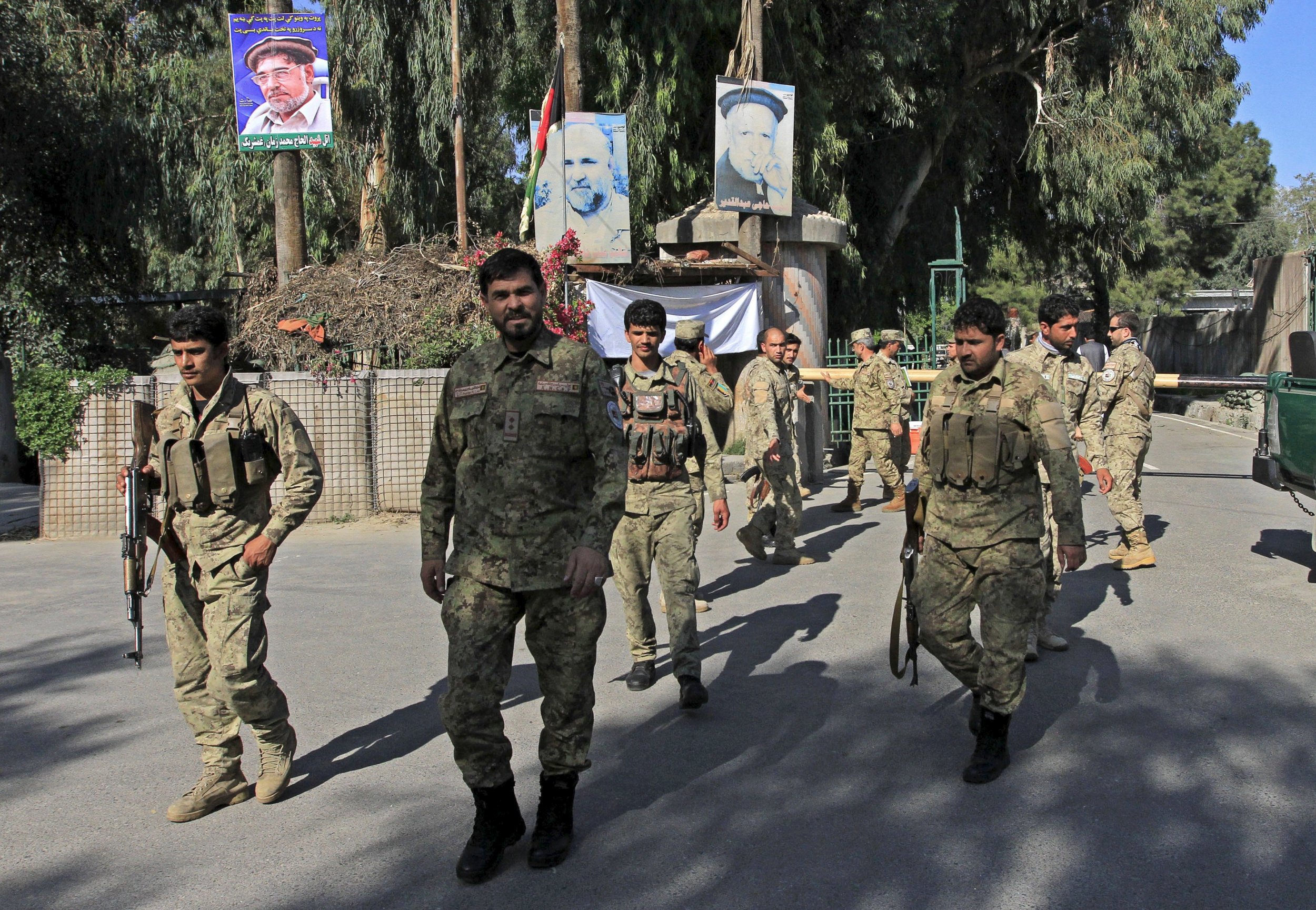 After nearly a decade of training, equipping and paying for Afghanistan's security forces, the United States has no idea how many Afghan soldiers and police are currently serving or how effective they are at fighting the Taliban.
That's just one of the grim conclusions from John Sopko, the special inspector general for Afghanistan reconstruction (SIGAR), who at midnight on Wednesday released his latest audit of the $110 billion-and-counting American nation-building effort there. The reconstruction of Afghanistan has been the largest nation-building project in U.S. history, and Sopko's previous audits have catalogued an appalling litany of Afghan government corruption and lax U.S. oversight, which has resulted in the theft, waste and abuse of billions of dollars in American aid.
"Neither the United States nor its Afghan allies truly know how many Afghan soldiers and police are available for duty or, by extension, the true nature of their operational capabilities," the 40-page report said.
Such basic information is critical in determining how the U.S. military can help its Afghan counterparts as this year's fighting season begins and the Afghans take the lead in the struggle against the Taliban. Most U.S. soldiers in Afghanistan now serve as trainers and military advisers. A contingent of U.S. special forces still uses Afghanistan as a base to go after Taliban and Al-Qaeda leaders. All U.S. forces are scheduled to withdraw from the country by the end of 2016.
Sopko is slated to testify Wednesday before the House Oversight and Government Reform Committee.
Over the past decade, Congress has appropriated $60.7 billion to train, equip and pay 195,000 members of the Afghan army and 157,000 members of the police force. As of February, according to NATO, the Afghan army had 167,024 members and the Afghan police 154,685 members. But the report said those numbers, provided by the Afghan government, were not reliable.
Washington has said it would provide more money over the coming years until the Afghan government is able to sustain itself. But without accurate data on the number of Afghan soldiers and police, U.S. officials will have a hard time determining how many soldiers it needs to train as well as ascertain the fighting capabilities of the country's security forces.
The audit also notes that once the U.S. gives funds to the Afghan army and police through Afghanistan's Ministry of Finance, the Pentagon no longer can track or enforce how the money is distributed. The report estimated that corrupt practices within the Afghan government "could take as much as 50 percent of a policeman's salary."
The report also slammed the United Nations Development Programme (UNDP), which is responsible for ensuring that the funds earmarked to pay those salaries are used as intended. "In light of UNDP's poor performance of and its almost complete abdication of oversight and management of donor funds," the report said, another international agency should handle police payments or the current payment system should be overhauled.
The UNDP rejected SIGAR's criticism of its performance. "UNDP has always fully cooperated with all stakeholders, including the government of Afghanistan, its donors and SIGAR, in order to improve transparency, accountability and oversight" of the funds, UNDP spokeswoman Anjali Kwatra said in an email. But she also acknowledged that "more work needs to be done."
As the U.S. winds down its presence in Afghanistan, the ongoing reconstruction effort will be left to a dwindling number of American military and civilian officials working in the country. This makes them more reliant on Afghan government data and could make their jobs more difficult, the report said.
Before the fiscal year 2015 ends, the Pentagon has another $15 billion in aid to spend. Meanwhile, the U.S. embassy in Kabul has informed Sopko's office that it must reduce its staff by 40 percent. "This arbitrary number was developed without SIGAR's input, and embassy officials did not provide any explanation for how they determined these cuts," the report said.
On Tuesday, Sopko's office released a scathing audit on nearly a half billion dollars in U.S. assistance to help develop Afghanistan's mining, oil and gas industries. That report said there was such a lack of coordination among Pentagon, State Department and USAID officials that the U.S. embassy in Kabul "did not become aware of one $39.6 million project until Afghan government officials thanked the Ambassador for U.S. support."
Tuesday's report also said that, because of staff turnover and funding issues, "it is uncertain" if any of the U.S. efforts to build Afghanistan's mining industry will be sustained.
"One USAID official told us it would take the U.S. government 'a hundred years' to build the necessary infrastructure and fulfill training requirements to completely develop Afghanistan's extractive industries," the report said.