Taliban Asks Countries to 'Not Punish' Afghans, Release Aid During Diplomatic Talks
Taliban representatives and Western diplomats began their first official talks behind closed doors, meeting in Norway to discuss the Taliban's demands amid the ongoing humanitarian crisis the country is facing.
The Associated Press reported that one Taliban demand would be unfreezing nearly $10 billion that the United States and Western countries froze as people in Afghanistan face starvation.
"We are requesting them to unfreeze Afghan assets and not punish ordinary Afghans because of the political discourse," said Taliban delegate Shafiullah Azam on Sunday night to the AP. "Because of the starvation, because of the deadly winter, I think it's time for the international community to support Afghans, not punish them because of their political disputes."
This pressure for financial help comes as aid groups and international agencies estimate nearly 9 million Afghans are close to starvation. People have started selling their children and belongings for food and burning their furniture for warmth.
The United Nations estimates most of the country is currently living below the poverty line and has provided liquidity allowing the Taliban to pay for imports like electricity.
According to The Local, U.N. Secretary-General Antonio Guterres said it would be a mistake to punish the Afghanistan people because of their de facto government's behavior.
NBC News reported that before the meeting in Norway, Taliban's Deputy Minister of Culture and Information Zabihullah Mujahid tweeted a joint statement hoping for "a good trip full of achievements" that will become "a gateway for a positive relationship with Europe."
Since their rise to power in August 2021, the Taliban instituted many restrictions—primarily aimed at women. Women have been ordered to wear the hijab, banned from careers outside of education and health and had their access to education removed.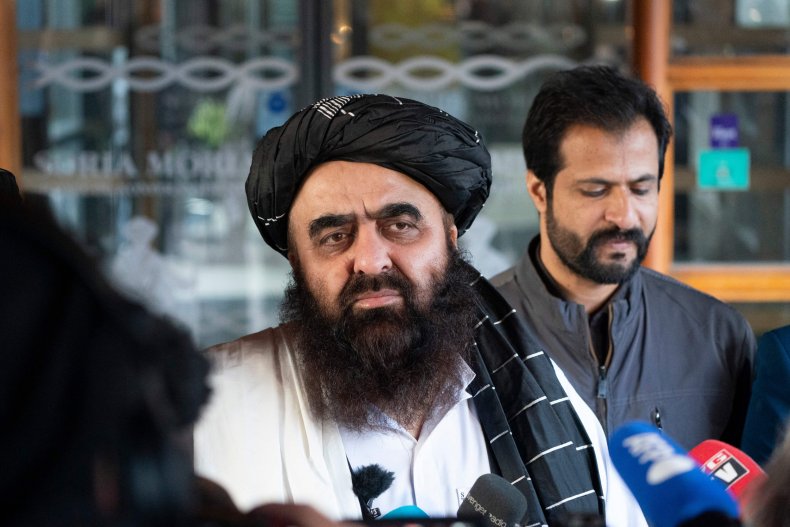 The talks will also include Western diplomats pressing the Taliban on women's rights. Before the Norway talks, diplomats from the U.S. and other European countries met with women's rights activists to learn about the current situation in Afghanistan.
Women's rights activist Heda Khamoush showed photos of Tamana Zaryabi Paryani and Parwana Ibrahimkhel, whom the Taliban arrested last week after a protest against the mandatory hijab. Both women have not been seen since the arrest.
However, the AP reported Azam rejected the accusation, suggesting activists are using the event to seek asylum.
Western powers are likely to negotiate women's rights and shared power with Afghan minority groups in compensation for unfreezing the money.
A U.S. delegation, led by the State Department's Special Representative for Afghanistan Tom West, plans to discuss "the formation of a representative political system; responses to the urgent humanitarian and economic crises; security and counterterrorism concerns; and human rights, especially education for girls and women," according to a statement from the U.S. State Department.