Taliban Claim Downing of U.S. Helicopter; NATO Denies Incident as 'Precautionary Landing'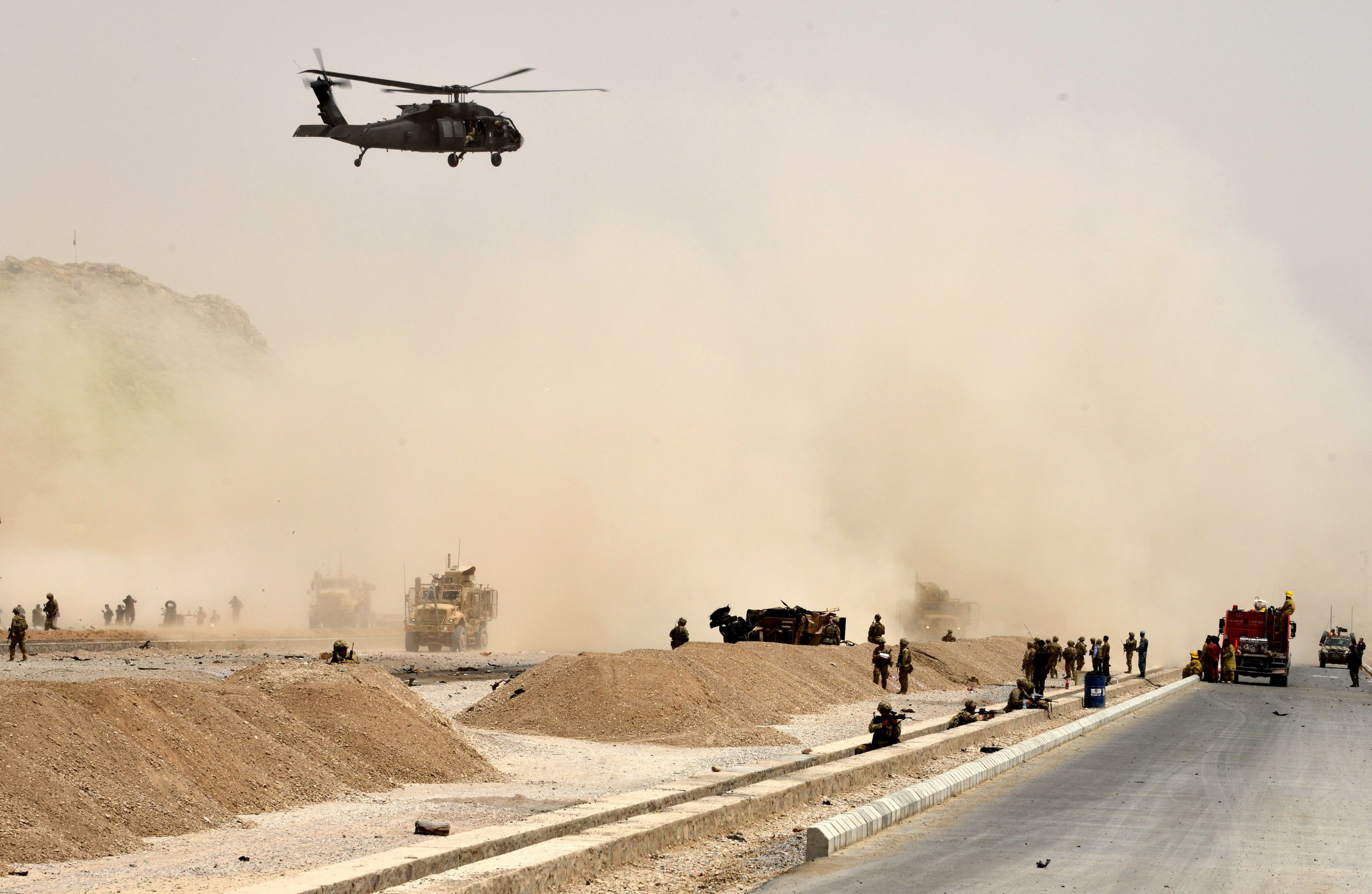 The Afghan Taliban claimed on Wednesday that their fighters shot down a U.S. helicopter in Afghanistan's central Logar province, a claim the military alliance NATO was quick to deny, saying one of its helicopters was forced to land because of what it called maintenance issues.
Taliban spokesman Zabihullah Mujahid said in a statement that U.S. forces were attempting a raid in the city of Puli Alam, the capital of Logar province, but the Taliban's fighters foiled the operation, shooting down the aircraft.
"As the American occupiers tried to airdrop a number of other American soldiers, the mujahedeen were able to target one of their helicopters with machine gun fire and shoot it down," he said. The statement said 20 "American occupation soldiers" died in the incident.
NATO's training and advisory mission in Afghanistan, Operation Resolute Support, tweeted a denial.
"The Taliban's claim to have shot down a U.S. helicopter in Logar Province is false," spokesman Bob Purtiman said. "A helicopter did make a precautionary landing for a maintenance issue. The aircraft has been successfully recovered."
The militant group has been waging an insurgency against Western military forces and the Afghan government since its overthrow in 2001. Conflict in the country has raged ever since and left thousands dead.
The Taliban claim came a week after President Donald Trump outlined a new strategy in Afghanistan, one that would maintain a U.S. presence in the country. Officials said it would result in a troop expansion in the thousands.
Trump said more troops were required to close spaces that allow extremist groups to thrive. "The consequences of a rapid exit are both predictable and unacceptable," he said. "A hasty withdrawal would create a vacuum that terrorists, including ISIS and Al-Qaeda, would instantly fill."
In reaction to Trump's announcement, the Taliban warned the U.S. that they would make Afghanistan a "graveyard for the American empire" and continue "jihad" until all U.S. troops were removed from Afghan soil.
"If the U.S. does not pull all its forces out of Afghanistan, we will make this country the 21st-century graveyard for the American empire," spokesman Mujahid said in a statement.
The top U.S. general in the country, John Nicholson, told reporters last Thursday that the military will eliminate the Islamic State militant group (ISIS), which has increased influence in the country, as well as the Taliban and Al-Qaeda.