Taliban Demands Nations Handover Frozen Afghan Cash Assets Amid Mass Starvation in Country
The Taliban government has called on foreign governments to unfreeze billions of dollars of central bank cash reserves stuck in overseas accounts as the country's worsening economic crisis and mass starvation continue.
Prior to the Taliban takeover, Afghanistan's government stored billions of dollars worth of reserves in banks that include the U.S. Federal Reserve and a number of central banks across Europe. Upon the overthrow of the Western-backed Afghan government, these countries elected to freeze these assets.
"The money belongs to the Afghan nation. Just give us our own money," finance ministry spokesman Ahmad Wali Haqmal told Reuters. "Freezing this money is unethical and is against all international laws and values."
Haqmal told Reuters that the Taliban government would respect human rights, except for those of LGBTQ+ people, and would allow women to attend school. During the Taliban's previous rule from 1996-2001, women were shut out of jobs and education and were not allowed to go certain places without the presence of a man. These practices have been a central talking point for the Western condemnation of the regime.
The reaffirmation of pledges to not carry out such practices come as the government seeks new funding streams. Haqmal said humanitarian aid doled out earlier in the year has only offered "small relief."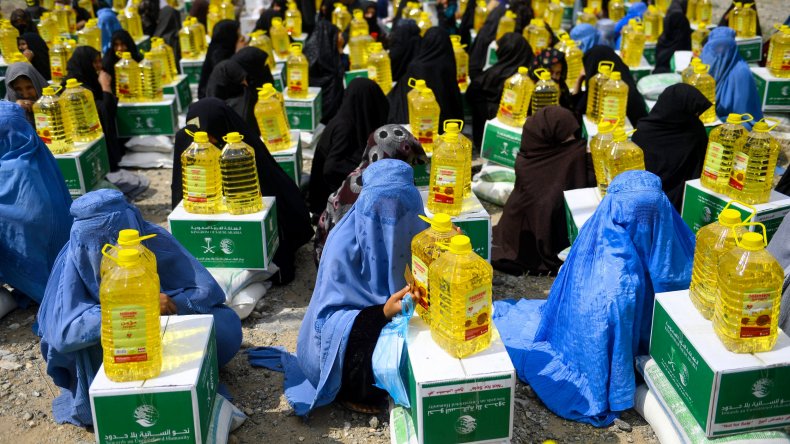 Human Rights Watch reported that "a humanitarian catastrophe looms" in Afghanistan as its banks remain closed and food prices continue to skyrocket. Prior to the regime change, 30 percent of the country faced acute food insecurity. That number has now risen to roughly 50 percent, according to the latest data gathered by World Food Programme.
Western powers have sought to avoid a humanitarian disaster, Reuters reported, yet these nations still refuse to acknowledge the new government. And while the United States has said it will not release the bulk of Afghanistan's assets, some European nations have said they will consider such a release.
Germany holds roughly half a billion dollars of Afghan money and Switzerland has about $660 million worth of funds. Shah Mehrabi, a board member of the Afghan Central Bank, told Reuters that the country needs $150 million a month in order to avoid an "imminent crisis." If it does not receive such funds, Europe could face some of the country's pain, Mehrabi said.
"Europe is going to be affected most severely if Afghanistan does not get access to this money," said Mehrabi. "You will have a double whammy of not being able to find bread and not being able to afford it. People will be desperate. They are going to go to Europe."