The Taliban on Wednesday executed Haji Mullah Achakzai, the police chief of the Badghis province near Herat, Afghanistan.
In a video that circulated on Twitter on Thursday, Achakzai can be seen blindfolded, kneeling down on his knees as he was surrounded by Taliban individuals who shot him several times.
The group shared the video through a Taliban-related network, Afghan security advisor Nasser Waziri, who personally knew Achakzai, told Newsweek on Thursday. The video was verified by other police officers and government officials, according to Waziri.
The insurgents have been on the lookout for Achakzai who long-fought the Taliban alongside the Afghan civil government which fell as the insurgents took control of the nation.
"He was surrounded by the Taliban and had no choice but to surrender last night," Waziri said. "The Taliban targeted Achakzai because he was a high-ranking intelligence official."
Achakzai is one of many civil government officials who are currently targeted by the Taliban, who quickly took control of the nation.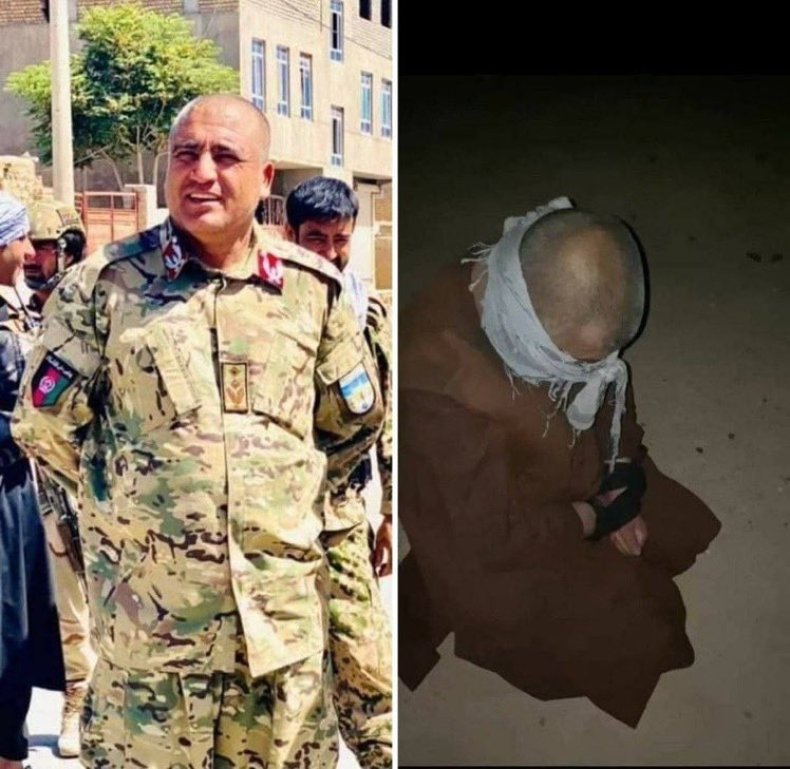 Waziri said that he and other senior advisors recently set up an online private group chat that includes up to 100 Afghan officials who used to work with the civil government. Governors, local authority figures, high ranking police officers and senior advisers, among others, are part of this group.
He said that the purpose of this communication channel is to check on the whereabouts of each individual and to make sure that they are safe and out of the Taliban's reach.
To stay safe, they access the group through VPNs and delete their messages later, according to Waziri. They also have inside information about where and who the Taliban will hit next.
Waziri said that when the Taliban were able to hack into the Afghan intelligence database to track down government officials, they accessed information, photographs, biometrics and national identification documents. As of Monday they started "door-to-door investigations."
A door-to-door investigation is how the Taliban spots targeted individuals through families, according to Waziri. They threaten and abuse those individuals' families to reveal their whereabouts.
One of Waziri's friends, a district governor who hasn't been identified for security reasons, has been hiding in Kabul as the Taliban recently visited some of his family members in Nurstin, an Afghan province.
"They [the Taliban] took the family out of their house and hit them so that they could give information on which city he can be," Waziri said.
Many Afghans are seeking evacuations to escape the risks they might face under the Taliban.
About 100,000 Afghans were seeking evacuation via a special U.S. visa program that provides refuge for those who worked with Americans, as well as their family members, the Associated Press reported on Thursday.
Rebecca Heller, head of the U.S.-based International Refugee Assistance Program, said an Afghan client told her that the Taliban killed five translators in the past two days for working with the United States.
Waziri expects the crisis in the country to escalate under the Taliban, impacting day-to-day lives.
"Afghanistan now has limited internet service and all banks are closed now as some areas have no access to food," Waziri said.