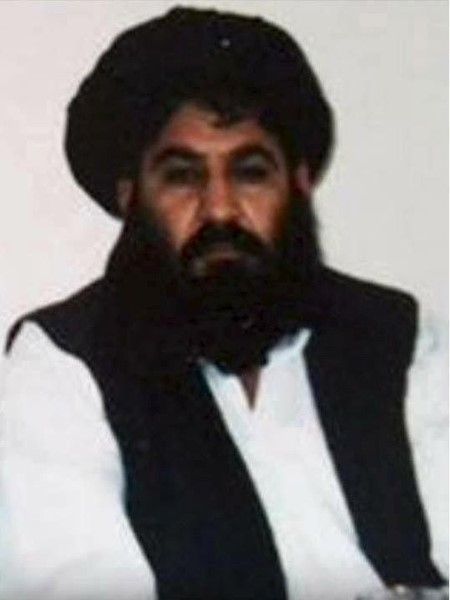 The United States carried out a drone strike on Saturday against the leader of Afghan Taliban, likely killing him on the Pakistan side of the remote border region with Afghanistan in a mission authorized by U.S. President Barack Obama, officials said.
The death of Mullah Akhtar Mansour, should it be confirmed, could have implications for stalled peace negotiations between the Taliban and the Afghan government.
It could also have political repercussions within the Taliban, where rival factions rejected Mansour's leadership after he publicly assumed the title of his predecessor, Mullah Omar. Omar's death was only disclosed last July after being kept secret for more than two years.
The Pentagon branded Mansour "an obstacle to peace and reconciliation between the government of Afghanistan and the Taliban" and said he was actively involved in planning attacks that threatened U.S., Afghan and allied forces.
Pentagon spokesman Peter Cook, confirming an air strike targeting Mansour in the Afghanistan-Pakistan border region, said Mansour had prohibited Taliban leaders from participating in peace talks with the Afghan government.
"We are still assessing the results of the strike and will provide more information as it becomes available," Cook said.
Rep. Adam Schiff (D-CA), the ranking member of the House Permanent Select Committee on Intelligence, said in a statement: "If the strike against Taliban leader Mullah Mansur near the Afghanistan-Pakistan border proves to have been successful—and we are still doing the assessment—it would be a substantial blow to the Taliban, which has been reasserting itself across Afghanistan and Pakistan, particularly during this fighting season.
"Throughout peace negotiations among the Taliban, Afghan government and others, Mansur has been a major roadblock to ending this bloody conflict, and while I am not sanguine that his elimination will pave the way for talks to continue, his continued leadership of the Taliban made prospects for a peaceful resolution exceedingly dim," Schiff said.
Multiple U.S. drones targeted the men as they rode in a vehicle in the remote area, southwest of the town of Ahmad Wal, the official said, speaking on condition of anonymity. U.S. special operations forces operated the drones, in a mission authorized by Obama, the official said.
The strike took place at about 6 a.m. EDT, a U.S. official said, which would have placed it at 3 p.m. Saturday in Pakistan.
A State Department official said both Pakistan and Afghanistan were notified of the strike, but did not disclose whether that notification was prior to it being carried out.
"The opportunity to conduct this operation to eliminate the threat that Mansour posed was a distinctive one, and we acted on it," the official said.