Taliban Seeks U.S. Assent to World Recognition, Even as ISIS Strikes from Within
The Taliban has continued to advance down the road to international recognition, including from the United States, even as the local affiliate of the Islamic State militant group (ISIS) launches attacks from within in an effort to destabilize the nascent Islamic Emirate of Afghanistan.
Just two days after being appointed by President Joe Biden as the new U.S. special representative for Afghanistan, State Department Deputy Assistant Secretary Thomas West told journalists on Tuesday that he had briefed allies of the NATO military alliance on Washington's talks with the Taliban.
Speaking from the Belgian capital of Brussels, he also revealed consultations regarding a "road map" for international recognition of a group considered a U.S. foe for two decades, as reported by Reuters and a number of regional outlets.
The U.S. has not made publicly clear exactly what conditions the Taliban must meet in order to gain such recognition, and a State Department spokesperson told Newsweek that Washington was not yet committing to any official proclamation.
"There is no requirement under international law to make a formal statement on recognition of governments," the spokesperson said. "The United States has a long-standing policy, albeit with several exceptions over the years, to avoid formal statements on recognition in cases of changes of governments.  Our policy has not changed."
However, the spokesperson did describe the Biden administration's "focus in Afghanistan" as being "whether any Afghan government is one we and the international community can work with."
Citing Biden's top diplomat, Secretary of State Antony Blinken, the spokesperson said that "the legitimacy and support that the Taliban seeks from the international community will depend on conduct in these areas:
Allowing foreign nationals and Afghans to travel outside the country, if they wish.
Preventing terrorist groups from using Afghanistan as a base for external operations that threaten other countries.
Respecting human rights and fundamental freedoms for all Afghans, including women and members of minority groups and refraining from carrying out acts of retaliation.
Allowing unimpeded humanitarian access, including allowing female workers to provide aid on the ground.
And forming a genuinely inclusive government, including women and members of minority groups that can meet the basic needs and reflect the aspirations of the Afghan people. International legitimacy will be a function of domestic legitimacy within Afghanistan."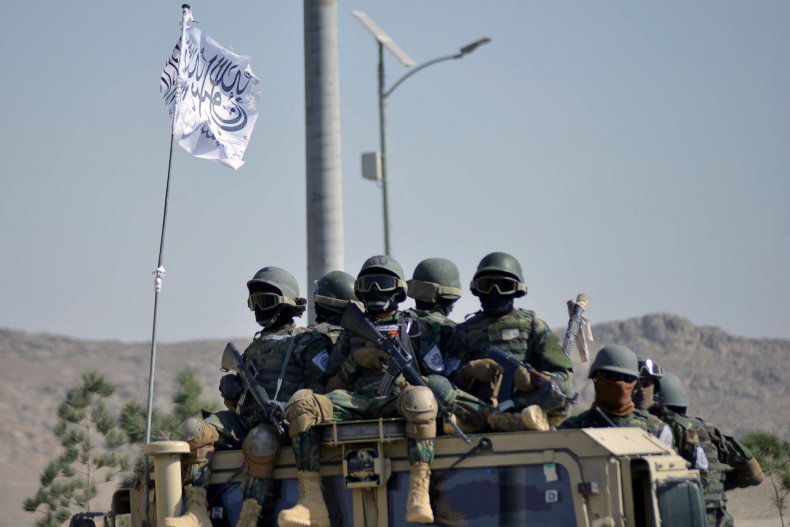 The U.S. has so far expressed concerns on nearly all of these fronts, even as the Taliban vowed to usher in a new, peaceful and just period in Afghanistan within the limits of the group's application of Islamic law.
And while Washington and critics of the Taliban both in Afghanistan and around the world have shared grievances with how the country's new rulers interpreted their mandate, an even more hardline group already threatens to undermine the new government.
The local Khorasan affiliate of ISIS, commonly referred to as ISIS-K, has staged a series of attacks targeting both Taliban members and civilians, including religious minorities already feeling vulnerable after the change of power that immediately accompanied the exit of U.S. troops in August from a 20-year war.
A second State Department spokesperson described how "Afghans have suffered untold casualties in the fight against ISIS-K and overwhelmingly reject ISIS-K's ideology."
This includes recent attacks on some of the very groups that Washington has called on the Taliban to safeguard.
"ISIS-K has committed despicable attacks of violence on innocent Afghans, including women, children, schoolgirls, and members of ethnic minority groups," the second spokesperson told Newsweek. "It also attacked the Taliban and killed a senior Taliban commander in the November 2 attack on a military hospital in Kabul. It is clearly in the Taliban's interest moving forward to focus their efforts on eliminating this virulent terrorist group."
And though the U.S. military presence in Afghanistan has ended, this spokesperson said the U.S. "remains fully committed to the enduring defeat of ISIS, which is critical to U.S. national security and that of its partners and allies."
The second spokesperson also cited Blinken, saying, "All of us have to remain vigilant and monitor threats, especially any reemergence of externally directed plotting, and address them swiftly when they arise."
Quoting President Biden, this spokesperson said, "the United States will maintain robust counterterrorism capabilities in the region to neutralize any threats, and we won't hesitate to use those capabilities if we have to do so."
After the Taliban managed to entirely overwhelm the former Afghan government and largely quell an uprising of the self-styled National Resistance Front, ISIS-K stands now as perhaps the most serious threat to the Taliban's desire to assert stability under the Islamic Emirate flag.
The threat exists not only in the group's continued attacks, but in its potential to tap into Taliban defectors disillusioned with the group's willingness to work with foreign powers that have been demonized by the most ultraconservative militants.
But the Taliban continues to downplay the threat posed by ISIS-K. The group now tasked with leading Afghanistan has vowed to crush the rival Islamists, all the while asserting the new government's sovereignty and bidding for coveted diplomatic ties with the international community.
Longstanding Taliban member Qari Yahya Takal told Newsweek that there is no true "physical presence" of ISIS-K in Afghanistan, and that reports have been exaggerated for the purposes of "propaganda" against the Islamic Emirate.
"We have an independent country, our sovereignty, our culture," Takal said. "We want good relations with all the countries of the world. We do not allow any terrorists in our country. We have no work in the internal affairs of the country and we urge the world not to interfere in our country."
These points were echoed by Alhanafi Wardak, another high-profile Taliban member, who told Newsweek that "ISIS is not a serious threat in Afghanistan" and that his group would not serve as a proxy to fight the jihadis.
"There is no active ISIS presence in Afghanistan. If ISIS has a few people in Afghanistan, we will soon eliminate them all over Afghanistan," Wardak said. "This is the duty and important mission of our government and it does not mean that the world should use us in the fight against ISIS."
"In addition, we will not allow anyone to pose a threat to international security from Afghan soil," he added. "We also call on the world and especially the United States not to allow our political opponents to act against the security and order of our people in America."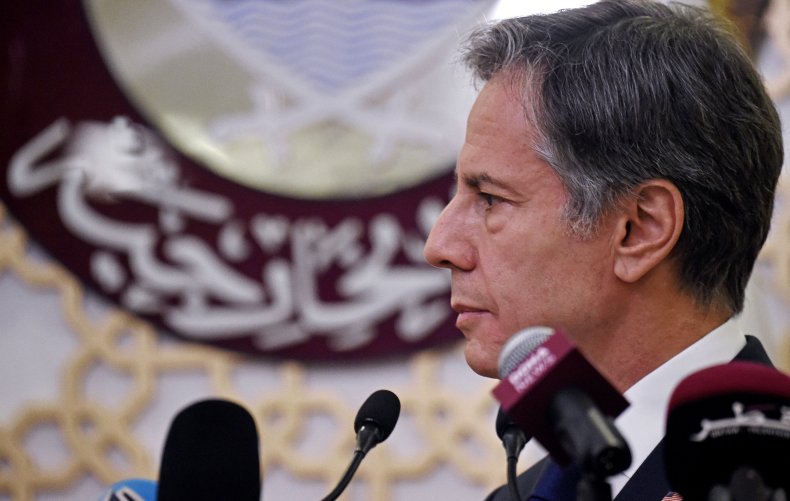 And he too emphasized the Taliban's desire for "good relations with the whole world."
"If any country in the world, including the United States, has any concerns about its security and its citizens, the Islamic Emirate is ready to listen to their concerns and give them full satisfaction," Wardak said.
And if the world "has legitimate demands of us and wants to share its concerns with us," he said they should recognize the new Islamic Emirate "as soon as possible and release our frozen assets."
Wardak also argued that most of the U.S. demands have already been met. He said something like 4,000 and 5,000 passports have been issued every day, allowing Afghans to travel around the world, including the U.S. He argued women are still working safely and would enjoy the rights enshrined to them by Islam.
He said the Islamic Emirate's cabinet was open to Afghans of all backgrounds as well— with the exception of "corrupt and failed leaders of the previous government," who he argued, "if given a chance, you too will become a part of them and lose the credibility of the nation."
If their involvement was "the definition of an all-inclusive US government," Wardak warned, "this move arouses the sensitivities of Afghans."
"Gone are the days of war, threats, sanctions and pressure, and the world must normalize its relations with the Islamic Emirate," Wardak said. "This is in everyone's interest. Under sanctions and pressure, Afghanistan is in no one's interest."
He argued that it would be in the interest of the U.S. and the rest of the international community to establish diplomatic relations to help bolster the new Taliban-led administration against its foes.
"Today, all of Afghanistan is under the rule of a central and strong system," Wardak said. "No terrorist group will be present here. A secure Afghanistan is in the interest of the whole world, so it is better to recognize this new government and help it."
Officials from the U.S. and other powers from across the globe, including other parts of Asia and Europe, remain engaged with the Taliban and one another regarding the Afghan issue in the Qatari capital of Doha, where former President Donald Trump's administration last year signed a peace agreement with the Taliban that ultimately led to the U.S. pullout.
Other multilateral talks have taken place in various formats, including a series of meetings hosted by India, Iran, Pakistan and Russia.
"Engagement between the international community and the Taliban would be beneficial to all parties involved, especially the millions of Afghans who continue to live and work within the borders," one source familiar with ongoing international negotiations concerning Afghanistan told Newsweek. "In any discussions, each side will need to balance competing demands, but the consequences of inaction are too great for the people of Afghanistan."
No nation has yet established official diplomatic relations with the new Taliban government, though most major powers have not precluded such a move.
On Tuesday, during a meeting with representatives of the Vatican in Moscow, Russian Foreign Minister Sergey Lavrov, whose nation still classifies the Taliban as a terrorist organization, said he and his counterparts in the Holy See shared a similar vision for Afghanistan's future.
"We share common approaches to the Afghan settlement," Lavrov said. "We hope that all of the Taliban's proclaimed goals will be translated into life, including stabilization inside the country, the struggle against drug trafficking and prevention of conflict trends from spilling over to neighboring countries, and, of course, creation of an inclusive government that would incorporate all of the country's main ethnic and political forces."
Last month, Chinese Foreign Ministry spokesperson Wang Wenbin said it was too early to offer recognition as the Taliban's administration remains technically in transition. But as a country that has shown a particular willingness to engage with the group, he said China would continue to work with all parties involved, including the Taliban.
"The new Afghan regime is still in the process of formation, and the international community is watching and coordinating on the issue," Wang said. "China is in close communication with relevant countries, and all parties agree on the need for dialogue and engagement with Afghanistan."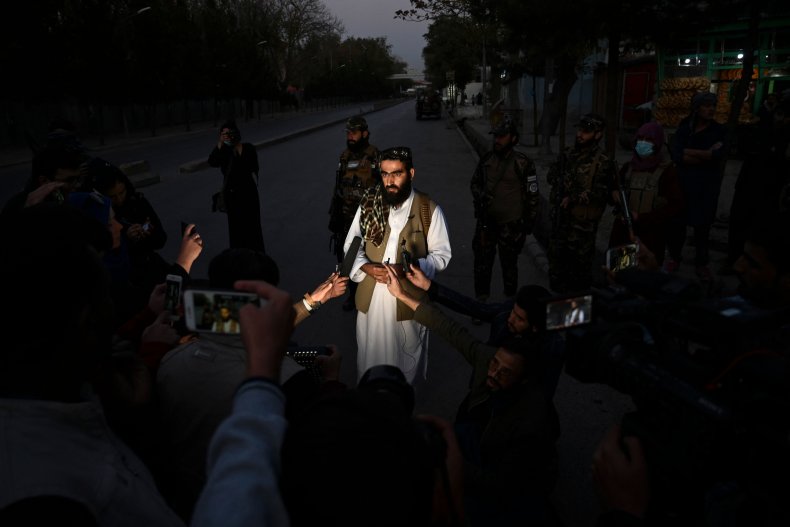 When the Taliban first took control over much of Afghanistan 25 years ago, three nations— Pakistan, Saudi Arabia and the United Arab Emirates — recognized the Islamic Emirate.
Pakistani Senator Mushahid Hussain, who served as information minister during the first Taliban takeover and today chairs the senate's defense committee, said Islamabad has changed course a quarter of a century later. He sees a new path emerging for the future.
"No country is going it alone," Hussain told Newsweek. "We are doing a regional approach. So in that context, our collective approach seeks stability, security, unity in Afghanistan, so that Afghanistan does not unravel, Afghanistan does not collapse."
"And I think stability is good," he added, "because the worst-case scenario has been avoided."
But hints of a worse scenario haunt Afghanistan's security situation in the form of regular ISIS-K attacks. Even amid the diversity of global opinion on what is to be done in Afghanistan, Hussain said countering this particular threat was a common goal.
"ISIS is one area on which there is a broad consensus, from Washington to Islamabad to Beijing to Moscow to Kabul to Tehran to Tashkent to Ashgabat to Dushanbe," he said. "So they all agree on that, basically. So I think that in this context, you can see the attacks of Daesh, or ISIS, are against the Afghan Taliban, and the Taliban are becoming the first line of defense against this monstrous terror threat."
He added that the ISIS threat was "not just to Afghanistan's people, but to the region and globally, because they have a global agenda, which is dangerous, and it's a threat I would say to the American homeland also potentially, over a period of time, if it springs out of control."
And when it came to the U.S., specifically, he urged Washington to remain engaged with the Taliban in order to risk exacerbating a precarious security and humanitarian situation in Afghanistan.
"I think engagement with the new reality in Kabul, which is the Afghan Taliban, is extremely important, and that is what we are telling our American friends, also that we should learn from our mistakes," Hussain said. "We have learned in Pakistan from our mistakes in the past, and the U.S. also should not abandon Afghanistan, should not abandon the region and not apply punitive measures that can harm the people of Afghanistan if food supplies, medicine and other assistance is cut off."