Taliban 'Started House-to-House Search' for People on 'Target List': Afghanistan U.N. Rep
Afghanistan's United Nations representative said Monday that the Taliban has already begun the process of locating people on a "target list" by conducting "house-to-house" searches throughout the city of Kabul, terrifying residents.
In an emergency meeting held by the U.N. Security Council, Ghulam M. Isaczai urged the council to understand the urgent nature of the situation in Kabul since the Capital city of Afghanistan had appeared to be taken by the Taliban.
"Kabul residents are reporting that Taliban have already started house-to-house searches in some neighborhoods, registering names and looking for people in their target list," Isaczai said. "There are already reports of target killings and looting in the city. Kabul residents are living in absolute fear right now."
Isaczai did not specify who exactly was on the "target list." However, he did plead the case of "millions of girls and women" who, if the Taliban follows imposes rules and restrictions on female Afghans anything like it has historically, are about to lose close to all humanitarian rights they have had.
"I'm speaking for millions of Afghan girls and women who are about to lose their freedom to go to school, to work and to participate in the political, economic, and social life of the country," he said.
"There is no time for blame game anymore," Isaczai stressed. "We have an opportunity to prevent further violence, prevent Afghanistan descending into a civil war and becoming a pariah state."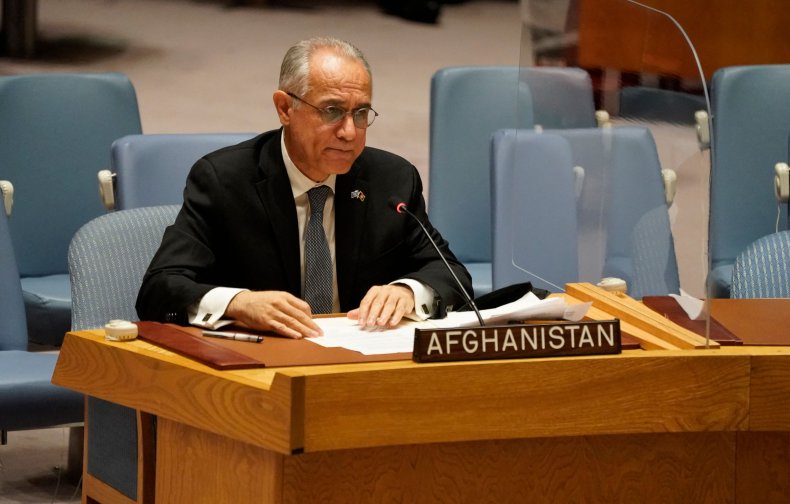 Isaczai called for the U.N. to make it clear to the Taliban that if they follow the path they did in the 1990s, violating international humanitarian laws and destroying works of art, they "will be held accountable."
Afghanistan's neighboring countries should open their borders to Afghan refugees fleeing the oppressive Taliban regime's takeover, Isaczai pleaded. Several countries, however, have demonstrated hesitancy, according to reporting from Reuters.
Isaczai also urged the U.N. Security Council and Secretary-General Antonio Guterres to call on the Taliban to stop the violence and to respect their own previous amnesty offer: to "unequivocally state that it does not recognize the restoration of the Islamic Emirate."
The Taliban and the United States made a peace agreement signed in Doha, Qatar, on February 29, 2020, wherein the U.S. agreed, among other things, to begin a withdrawal of troops from Afghanistan. The Taliban agreed to certain peaceful negotiations with the then-government of Afghanistan and to restrict Al-Qaeda from operating in their districts.
"The Security Council and the U.N. Secretary-General should use every means at their disposal to call for an immediate cessation of violence and respect for human rights and international humanitarian law. Call on the Taliban to fully respect the gentle amnesty offered by them, cease targeted killing and revenge attacks and abide by international humanitarian laws," Isaczai said.
Newsweek reached out to the U.N. for comment but did not receive a response in time for publication.