As the U.S. prepares to pull the last of its troops from Afghanistan, the Taliban— which has swiftly captured territory in recent weeks—is calling for Afghan President Ashraf Ghani to be removed and replaced with a new government where women will have more rights than the last time the Taliban held power some 20 years ago.
Although the Taliban said they would not monopolize power in the region, they insist that a peace deal will not be reached until a new government is negotiated.
Taliban spokesman Suhail Shaheen, who is also a member of the group's negotiating team, is promising that under the new government, women will be allowed to work, go to school and participate in politics—rights that were denied when the Taliban enforced a harsh version of Islam last time the group ruled the country.
Shaheen said women will still be required to wear a hijab, or headscarf, but they will not need to be accompanied by a male relative in order to leave their homes.
However, there have been reports from captured districts and border crossings that the Taliban is continuing to impose oppressive restrictions on women.
The repeated reports, paired with the Taliban's violent history, have stoked fears of the group's return. Those who can afford to apply for visas to leave Afghanistan are trying to quickly flee before the U.S.-NATO withdrawal is completed on Aug. 31.
Amid political uncertainty in Afghanistan, Shaheen has maintained that the Taliban will rule differently this time around.
"I want to make it clear that we do not believe in the monopoly of power because any governments who (sought) to monopolize power in Afghanistan in the past, were not successful governments," Shaheen told the Associated Press. "So we do not want to repeat that same formula."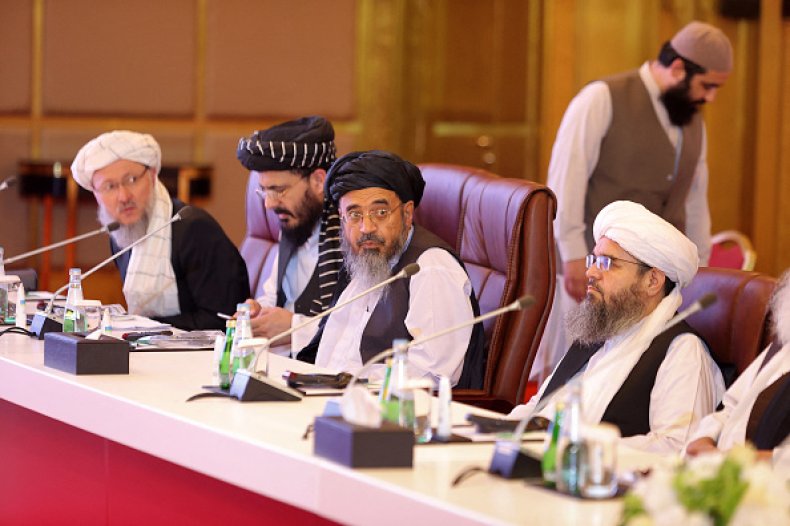 He said the Taliban currently has no plans to make a military push on Kabul given that most of their territorial successes have come from negotiations and not battle.
"Those districts which have fallen to us and the military forces who have joined us ... were through mediation of the people, through talks," he said. "They (did not fall) through fighting ... it would have been very hard for us to take 194 districts in just eight weeks."
"You know, no one no one wants a civil war, including me," he added.
The Taliban controls about half of Afghanistan's 419 district centers but have yet to capture any of the 34 provincial capitals. Shaheen said the Taliban has intentionally "restrained" from doing so but warned they could with the weapons they have acquired.
In the interview, Shaheen also denied other reports of violence in the captured districts, including a video that appears to show the Taliban killing captured commandos and reports that the group has threatened journalists working in Afghanistan.
He contended that the footage was fake, but noted that several Taliban commanders have ben put before a military tribunal and punished for ignoring the new orders against drastic violence.
He also claimed that the Taliban has "not issued letters to journalists (threatening them), especially to those who are working for foreign media outlets."
"They can continue their work even in the future," Shaheen said.