Exclusive: Taliban Warns Biden Going Back on Afghanistan Deal 'Causes Problems'
The Taliban has warned that President Joe Biden should live up to peace deal commitments made by the United States under his predecessor, or risk complicating the already precarious situation in Afghanistan.
As the May 1 deadline approaches that was set in that agreement struck a year ago this month by President Donald Trump with the organization officially known as the Islamic Emirate of Afghanistan for a total U.S. troop withdrawal, Taliban spokesperson Mohammad Naeem urged the U.S. to stick to its word.
"There is no doubt that adherence to the agreement and its provisions will contribute greatly to ending the war and solving problems, because it was the result of tremendous efforts," Naeem said in a statement sent to Newsweek.
He said Washington risks a setback for the burgeoning intra-Afghan peace process if it doesn't follow through on the agreement.
"Just as commitment will help in solving problems, so lack of commitment not only does not help in solving problems, but also causes problems and increases them," Naeem said. "Therefore, it is necessary for all parties concerned to abide by the agreement."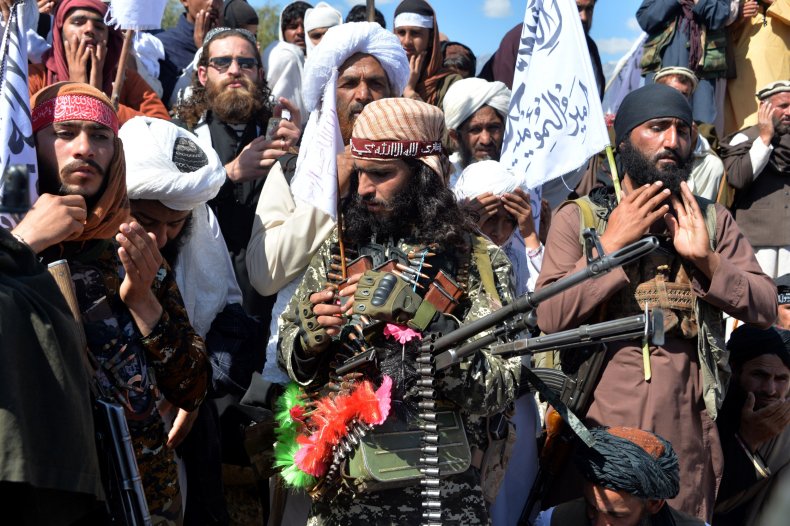 The U.S. has been involved in Afghanistan since funding mujahideen rebels against a Soviet-backed intervention to salvage an embattled communist government there in the 1980s. Moscow's loss saw renewed conflict among competing factions in the 1990s, and a rise in influence for Islamist militant group Al-Qaeda and the newly formed Taliban, both of which became the targets of a U.S.-led invasion after Al-Qaeda orchestrated the 9/11 attacks from Afghanistan in 2001.
Nearly two decades of warfare have seen Afghanistan's lines of control ebb and flow, but the Taliban has regained considerable ground. Meanwhile, more than 2,300 U.S. troops have been killed, as have tens of thousands of Afghan soldiers, fighters and civilians.
Trump's deal last year promised a breakthrough after successive rounds of unprecedented direct diplomacy between the U.S. and Taliban representatives in the Qatari capital of Doha. Its terms offered a U.S. military exit from Afghanistan by May 1 in exchange for a Taliban promise to combat any international jihadi forces such as Al-Qaeda and the Islamic State (ISIS), and their committment to peace talks with the internationally recognized U.S.-backed government in Kabul.
But as the Taliban pushes for all sides to commit to this framework, Afghan officials say lingering violence proves conditions for peace have yet to be met.
"If there is a decision to extend the outlined withdrawal deadline, it is because withdrawal is meant to be conditions-based and the United States needs time to assess the Taliban's compliance and hold them accountable," Afghan ambassador to the U.S. Roya Rahmani said in a statement sent to Newsweek. "Concerns that the Taliban may have a violent reaction to the United States' decision to abide by the February 29th deal are indicative of the Taliban's lack of commitment to the peace process."
She pointed out that "violence in Afghanistan has only increased since the agreement was signed."
An annual report released Tuesday by the United Nations Assistance Mission in Afghanistan showed that while civilian casualties throughout 2020 were 15% less than in 2019, more than 3,000 Afghanis died, including as part of a "surge" as the Taliban and government gathered for their first peace talks in September.
UNAMA also released a special report focused on "the killings of human rights defenders, journalists and media workers in Afghanistan from January 2018 to January 2021." A series of assassinations of prominent women in civil society has also sparked concerns about the country's future.
These actions were attributed to "anti-government forces," which also include ISIS' local Khorasan branch, but the bloodshed has been largely blamed by Kabul on its primary rival, the Taliban.
"Should the Taliban choose to continue to pursue such a horrific course of action, we must raise questions about their motives and sincerity," Rahmani said. "Do they truly want peace in Afghanistan? If being held accountable for not fulfilling their end of the deal causes them to increase violence against innocent Afghans, then no."
She urged for an immediate ceasefire for armed forces and civilians alike.
"The lives of Afghan men, women, and children should not be used as leverage to strong-arm the world into giving in to their demands," she said. "The Afghan people are paying the price as both lives are lost and development is hampered. If the Taliban were truly committed to peace, they would allow for a ceasefire so that Afghans have the opportunity to live in peace, grow their economy, and build a better future for generations to come."
The Taliban has denied involvement in a systematic campaign of targeted killings, and maintains it stands ready to negotiate in good faith. In a statement, spokesperson Zabihullah Mujahid said Tuesday the Taliban rejected the UNAMA report "on the basis of false information" as he argued it disproportionately blamed his side for civilian casualties throughout last year, and too readily absolved Afghan security personnel and foreign forces.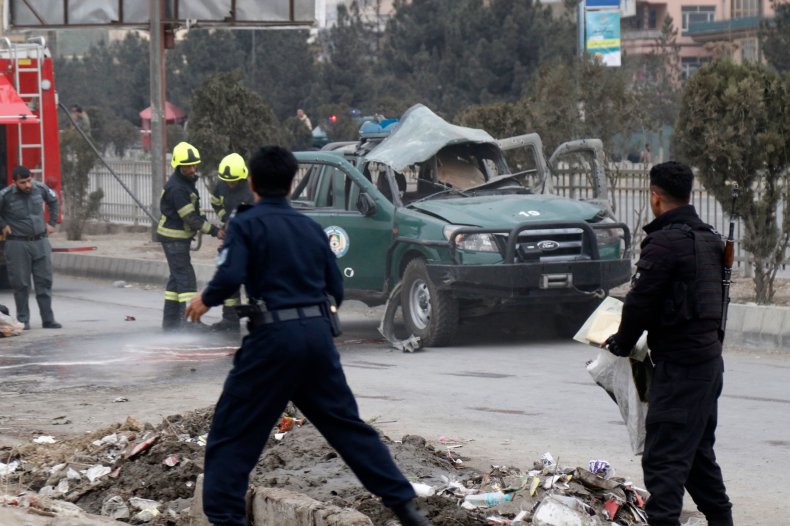 As for the Biden administration, media reports indicate a growing aversion to adhering to the last administration's commitments on pulling U.S. forces out of Afghanistan. Public statements suggest no final decision has been made as officials continue to review Trump-era foreign policy moves.
Reached for comment, the State Department referred Newsweek to comments made Monday by spokesperson Ned Price regarding the administration's deliberations on Afghanistan.
"I would just stress that we are still very much reviewing what has been agreed to," Price told reporters. "I think it would be wrong for anyone to presuppose the outcome of that review at this point. We haven't completed that review; it's ongoing."
He emphasized, however, that Washington sought for all sides to "reach full and timely compliance with all of the commitments" outlined in its deals last year with both the Taliban and Kabul, and warned the current level of violence across the country is "unacceptably high."
"We are troubled by indications that violence may increase further," Price said. "The Afghan people want and deserve peace, and that is precisely what we are evaluating – how best to bring that peace, that stability, that prosperity to the people of Afghanistan through a just, through a durable, negotiated political solution to this long-running conflict."