'Talking Tom' Developers Want To Build a Theme Park Starring the Virtual Pet
You might not know about Talking Tom, but you're living in his legacy. The computer-generated cat has been a perennial App Store superstar since his debut, dominating downloads for nearly a decade. The company behind Tom, Outfit7, believes he's ready for his biggest adventure yet: a physical theme park.
Nine years ago, Slovenian couple Samo and Iza Login started Outfit7 with $250,000 of their own money and a handful of other investors. It struggled to find its niche, first developing apps about soccer, healing crystals and travel guides that never really took off. Then came Talking Tom, a virtual pet cat who repeats words said into the device's microphone, smiles when you pet him and even goes to the bathroom if you've given him too much to drink.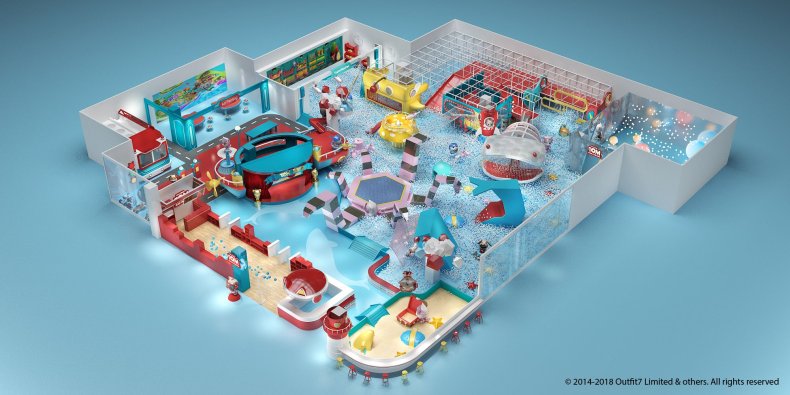 "It all started as a fun game with a funny cat," Žiga Vavpotič, chairman of Outfit7, told Newsweek. The Talking Tom apps have been downloaded more than 8 billion times, enough for each person on the planet to have listened to the cat's farts. "[The creators] saw its potential of awakening the inner child in people. We managed to create something that's universal, a fun friend that you bring in your pocket wherever you go," he explained.
Nearly a decade later, Talking Tom remains one of the most successful mobile franchises in the iTunes App Store, hugely popular with kids around the world. Tom, who Vavpotič describes as "the charming but chaotic leader," is now accompanied by a full cast of characters across 19 apps with 350 million monthly users. There's Tom's girlfriend Angela, Hank the spotted dog, Ginger the Garfield wannabe, Ben the scruffy pooch and Pierre the parrot, all of whom have talking apps of their own.
Then there's the CGI animated series, Talking Tom and Friends. What started as shorts and game trailers on YouTube quickly ballooned into a full series now in its third season. So far, it's received more than 23 billion views. The most-viewed episode, "Friends Forever," has 86 million. The popularity of the show can't be overstated. It's currently running on Netflix and on television in more than 160 different territories.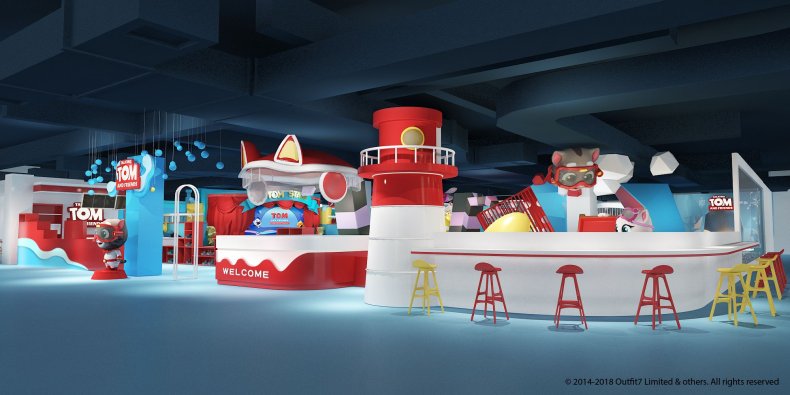 Vavpotič joined Outfit7 four years ago as a talent acquisition specialist. In 2017, Chinese chemical company Zhejiang Jinke Culture bought Outfit7 for $1 billion and the new management made Vavpotič chairman of the board. The acquisition allowed the company to expand while staying true to its talking feline roots. The team grew to 250 employees from 28 different countries and began to focus on newer technologies, like augmented reality and becoming a "family entertainment" company.
Outfit7's new owner, Zhigang Zhu, has a vision for the company that blends the virtual space with the real world. "Under the vision of Mr. Zhu, we are trying to create a place where families can bond," Vavpotič said. Zhu, a father of two, believes families need to spend more quality time together.
Outfit7 is currently testing the waters for a Talking Tom theme park. "What better place to bring Talking Tom to life than a forum of play areas and amusement parks around the globe?" Vavpotič said. The company has started by setting up "inner theme parks," or small play areas inside shopping centers. "We just opened small parks inside shopping malls in Shaoxing, which is in the Zhejiang province, close to the hometown of Mr. Zhu," Vavpotič said. "It's about going home."
At least three more of these inner parks are set to open in China by the end of 2018, and Outfit7 is currently discussing options for one in Cyprus. They'll have different themes like candy or under the sea and will start being built soon. Vavpotič explained the company is also seeking a location in Europe, but possibly anywhere in the world, that would support a 215,000-square-foot Talking Tom amusement park.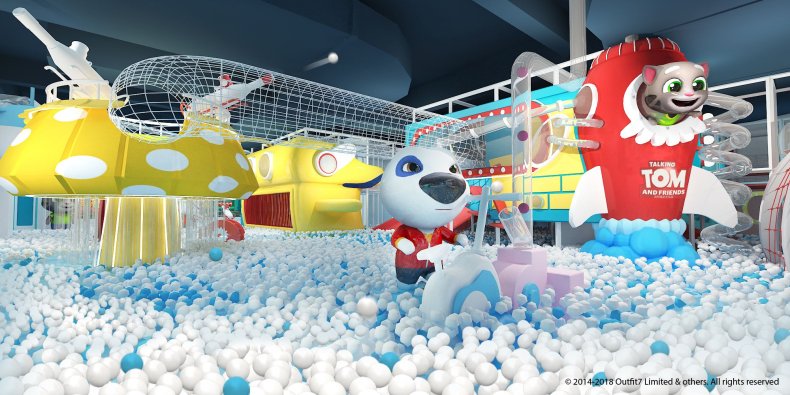 Talking Tom is huge in China and has a significant following on video-hosting site Youku, but it's unclear if the character has the same level of reach around the world. Outfit7 is working on other IPs, but Vavpotič believes that if people are talking about Tom in 10 or 15 years, then the sky's the limit.
"With the world becoming a complex place, who knows how many smiles Talking Tom can create in the real world?" Vavpotič said. "It sounds optimistic, but we're up for the challenge."