Talks Between Kellogg's And Striking Workers Will Resume Next Week Despite Company's Threat
Union workers representing the 1,400 workers that have been on strike from Kellogg's cereal plants since Oct. 5 are set to return to the bargaining table next Tuesday to continue negotiations for a new agreement, according to The Associated Press.
The announcement came a day after the company publicly stated its plans to begin the process of replacing striking workers.
"We recognize the hardship that this prolonged strike represents for our employees," the company said in a statement Tuesday. "After 15 negotiations sessions in 2021 – and no proposals put to membership for a vote – we are left with no choice but to best serve the short- and long-term interests of our customers and consumers by moving to the next phase of our contingency plans."
The Battle Creek, Michigan-based cereal manufacturer has been negotiating with the Bakery, Confectionery, Tobacco Workers and Grain Millers International Union, representing the 1,400 workers from Kellogg's four plant locations across the U.S.
The main issue of the discussions has been the company's two-tiered wage system, with approximately 30 percent of the newer employees receiving lower wages and fewer benefits because they are newer employees.
The company said one of their offers included workers being elevated to the higher pay level after four years of experience, which the union wasn't satisfied with.
The union and striking workers believe they have the leverage to continue their demonstrations given the labor shortages across the country and the sentiment that they're burnt out after laboring to meet increased demand under pandemic-caused working conditions the past 18 months.
Kellogg's filed a lawsuit earlier this month in an attempt to control how picketers could behave outside the plants, claiming they were blocking semi trucks and buses from entering the facilities. The company said it was in an effort to prevent an accident from happening during the strike of John Deere workers in Illinois, where a picketer was hit and killed by a car.
The Deere strike is a recent example of workers using their labor shortage leverage for improved conditions. Over 10,000 workers received an immediate 10 percent raise and improved benefits in a six-year deal signed Nov. 17 after striking for over a month.
For more reporting from The Associated Press, see below.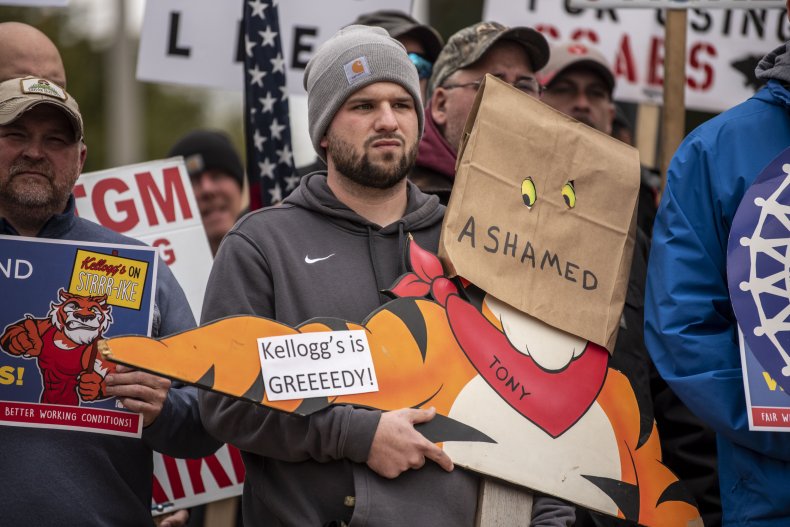 The two sides met for one day earlier this week, but didn't make much progress.
The strike includes four plants in Battle Creek; Omaha, Nebraska; Lancaster, Pennsylvania; and Memphis, Tennessee that make all of Kellogg's brands of cereal, including Frosted Flakes and Rice Krispies.