The body of a 1,300-year-old man has been found on the site of a future Intel chip manufacturing plant in Germany.
The discovery came during excavation work that has revealed 50 building floor plans belonging to a 3,500- to 4,500-year-old settlement on the site, which is near the city of Magdeburg.
"The dead man was 1.65 meters long [5 feet, 5 inches] and quite tall for the time," Susanne Friederich, archaeologist and project manager at the Halle State Office for Monument Preservation and Archaeology, told local news outlet Tag24.
"The man wore a knife on his right thigh. The metal tip of a sword scabbard, a belt buckle and the remains of a bronze brooch that held the man's garment together have also been preserved," she said.
The weapons included in the grave suggest that the man was most likely a warrior.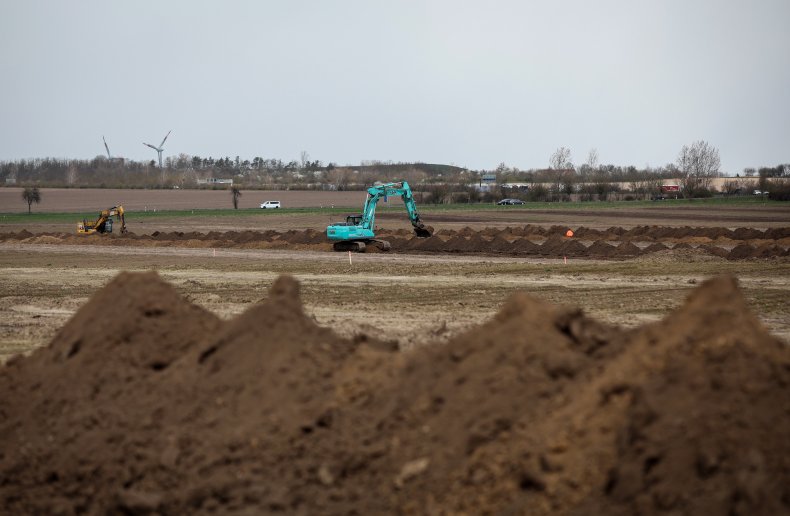 The body is believed to have been from the so-called Migration Period, known also as the Dark Ages, which lasted from the year A.D. 500 to 1000. This period was marked by the movement of Germanic tribes across Europe to escape the advances of the Huns from Central Asia.
The houses in the settlement are also unusual. "What's special is the elongated oval shape of the surrounding walls," Friedrich said.
Houses of this type have been found in Northern Germany and Scandinavia, but it is unusual to find them as far south as Magdeburg.
Most of the houses are about 33 feet long and 13 feet wide, although one large building measures 49 by 16 feet. The site also features a pit house—a building constructed from an underground pit with a roof on the surface that would most likely have been used for craft purposes.
Some of these houses are thought to date back to the Bronze Age, which lasted from 2500 to 800 B.C.
The archaeologists expect to find additional graves and traces of the settlement as they continue to excavate the site. "By the end of the year, the number of houses could increase to 100 to 200 on an area of ​​around 300 hectares," Friedrich said.
However, the team does not have long to complete its excavations because of the development schedule for Intel factories. The company has discussed starting construction of its two new semiconductor plants in 2024, giving the archaeologists until the end of the year to complete their research.
"Then there will be nothing standing in the way of the Intel settlement," Friedrich said.