When Tallahassee-based community leader Talethia Edwards first made contact with an anonymous woman in May, she had no idea her life was about to change.
Edwards didn't know the woman, who was facing homelessness, but she saw her on the streets from time to time. The woman certainly didn't know Edwards as anything other than a prominent figure in her community. The woman had given birth to a healthy baby boy named Milo on Mother's Day. Within a week, Talethia Edwards and her husband Harold were raising the infant themselves.
Edwards, a 36-year-old mother of seven, is an advocate for the working-class families in her area, particularly where children are concerned. A founder of the Greater Bond Neighborhood Association, she also spends much of her days in meetings with local schools and various organizations to help bring attention to the needs of residents in Tallahassee's Bond neighborhood. A teacher and football coach to a number of the kids in the area, Harold Edwards also stands as a pillar of the community.
Given the family's reputation, it seemed logical for the new mother, who Edwards says was also battling drug addiction, to seek out the couple for help.
However, it wasn't long into the relationship before the woman appeared on the Edward's doorstep for the last time—this time with a hand-written note that read: "I, being in sound mind, give my son to the care of Mr. and Mrs. Edwards."
In the days that followed, Edwards rolled up her sleeves and took to social media with the hashtag #CommunityBaby, requesting donations to help the Edwardses care for the surprise addition to their family. Along the way, baby Milo also became an important part of the community.
"How do we shine a light on the real issues in a community like mine?" Talethia Edwards mused to Newsweek. "How can we activate leaders in our communities, so that kids aren't thrown in the trash?"
The Edwardses would like to adopt the infant. After receiving no response from Milo's birth mother, the family has started moving forward with the adoption process.
"We don't want to give him up, not know where he is or what type of system he'll be going into," Edwards told Newsweek. "He's been with us. We've been loving him and keeping him safe, so he's a part of our family and we plan to keep him here."
However, should Milo's mother ever return to claim her baby, the couple has no intention of standing in her way. "I believe a child is best with his or her mother," said Edwards, whose seven biological children range in age from 5 to 14 years old.
The community activist firmly believes that Milo's mother loves her baby and is quick to address what she feels are common misconceptions about her actions. "I saw the same love I have for my own children in her eyes," she told Newsweek.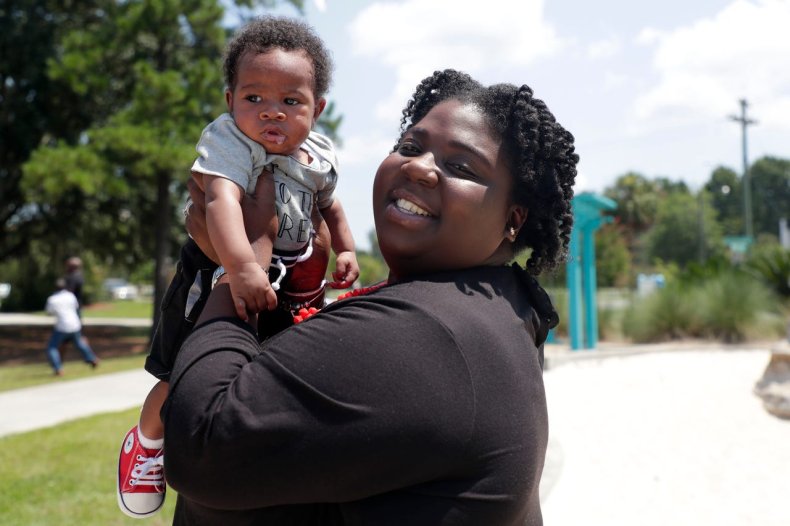 Though happy for the attention Milo's story is drawing to their efforts, the Edwards believe there are much larger issues at play. The family maintains that the baby's appearance in their life opened their eyes to issues such as poverty, drug addiction, and the housing crisis.
"We have a grand opportunity to tell a larger story," Edwards told Newsweek. "It's an opportunity to highlight that this is not just happening in my community. I am not an anomaly."