From tiny seeds, grow the world's tallest trees—soaring incredible distances into the sky.
Such trees are considered sacred among some communities, notes Emmanuelle Berenger of the Rainforest Alliance.
"Many communities have revered their ancestral forest homes for centuries, and in particular, the oldest and tallest trees as sacred, recognizing how they provide people with livelihoods, shelter, water, and medicine," she tells Newsweek.
These giants clean the air, absorb greenhouse gas emissions, and stabilize the climate, Berenger adds.
"Borneo in South-East Asia harbors some of the tallest trees on Earth.
"In this tropical forest, such trees play the role of seed providers, nurturers of the younger trees, regulate the water cycle through their evapotranspiration, produce oxygen, store carbon and stabilize soil through their root system.
"A single tree can transpire up to 1,000 liters of water a day."
Listed below are the tallest tree species in the world. The list ha been ordered using the tallest reliably measured tree for each species.
25. Sydney Blue Gum (Eucalyptus Saligna)
81.5m (267ft)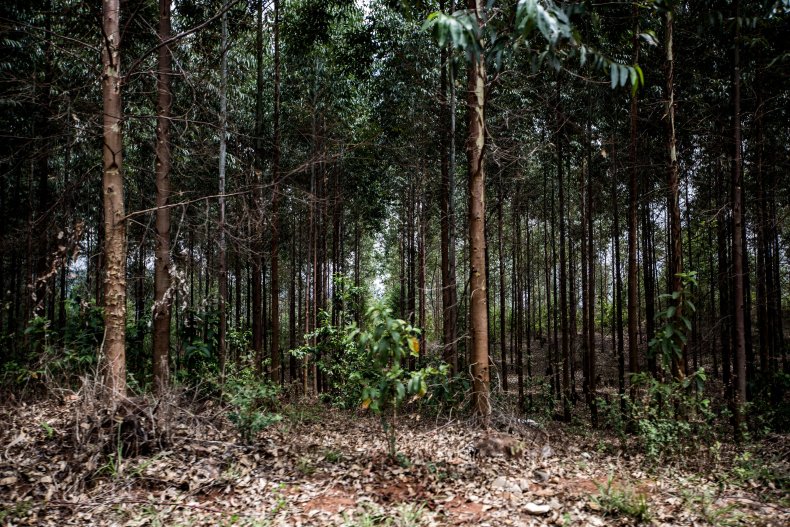 Blue Gum is considered the world's tallest planted tree and is found in Woodbush State Forest, in Limpopo, South Africa.
Eucalyptus saligna has an attractive rose-coloured timber suitable for commercial production due to its rapid early growth under favourable conditions.
24. Entandrophragma Excelsum
81.5m (267ft)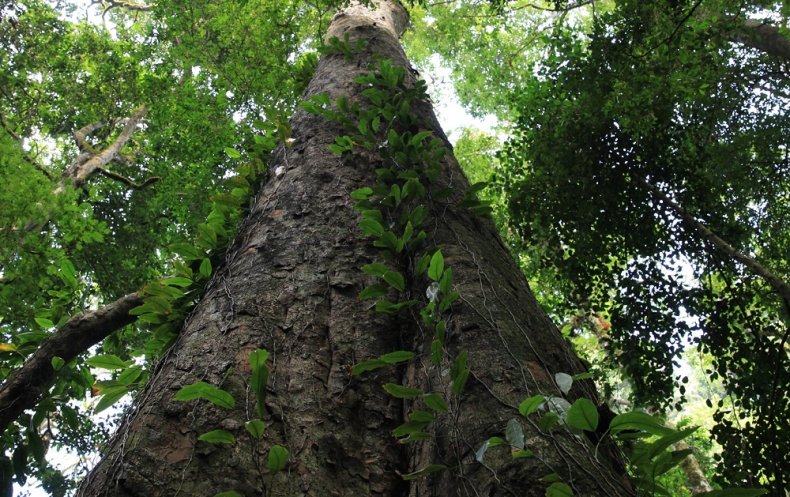 Africa's tallest indigenous tree native to tropical East Africa took root in Kilimanjaro, Tanzania.
Habitat loss is a serious threat to this species of tree, according to the International Union for Conservation of Nature (IUCN) Red List of Threatened Species.
23. Ponderosa Pine (Pinus ponderosa)
81.7m (268.3ft)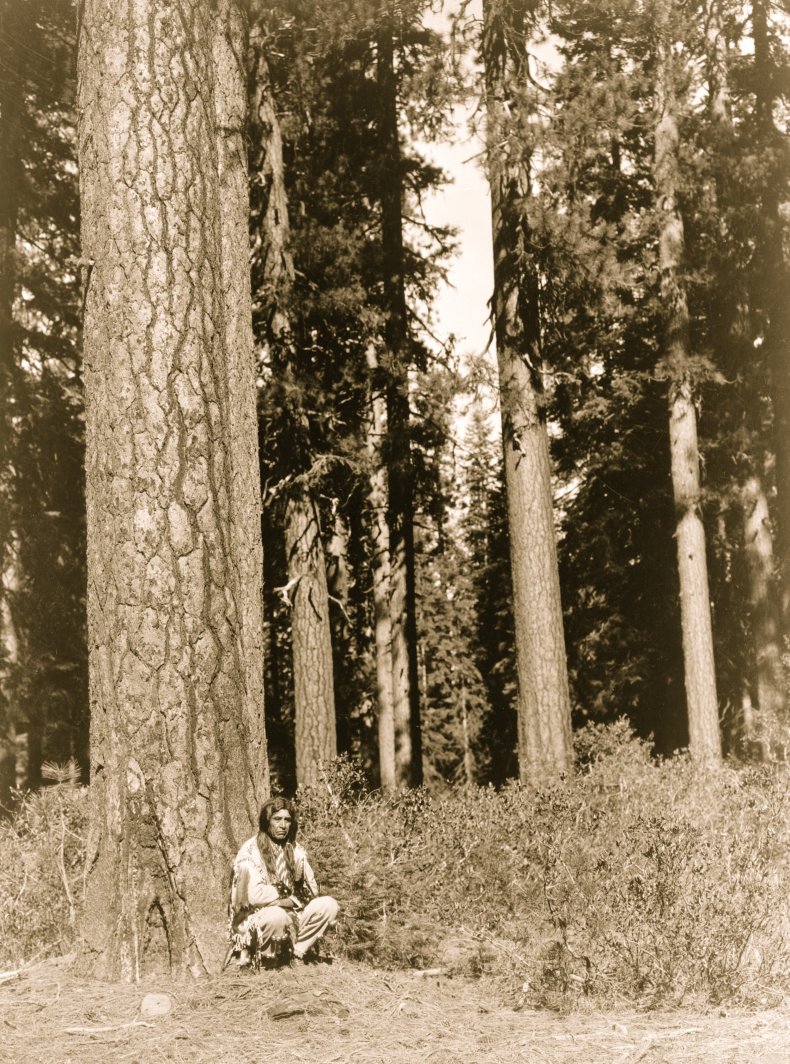 This rangy flowering plant is located near the Rogue River, in Oregon's Siskiyou National Forest.
The most widely distributed pine species in North America is also known as the bull pine, blackjack pine and western yellow-pine.
22. Shorea Smithiana
82.27m (269.9ft)
This 82m monster was spotted in Coco-Park boundary of Tawau Hills National Park, in Sabah, on the island of Borneo.
The tree is threatened by the current rates of exploitation. The plant is classified as "Critically Endangered" in the IUCN Red List of Threatened Species.
21. Shorea Johorensis
82.39m (270.3ft)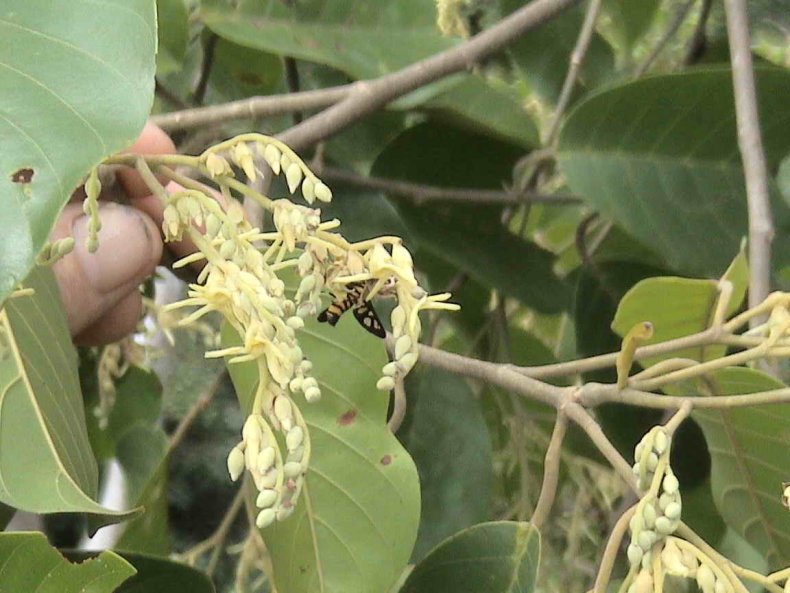 Also found in Borneo's Tawau Hills National Park, is the former entry's slightly taller relation, the Shorea johorensis.
While there are no known edible and medicinal uses of this tree, it is a source of hard resin used for caulking boats and baskets, as an adhesive and a fuel.
20. Hopea Nutans
82.82m (271.7ft)
Tawau Hills National Park is also home to large rainforest tree species Hopea nutans.
The tree is harvested for its giam timber, which is very hard, heavy and durable, and its opaque yellow resin.
19. Western Hemlock (Tsuga Heterophylla)
83.34m (273.4ft)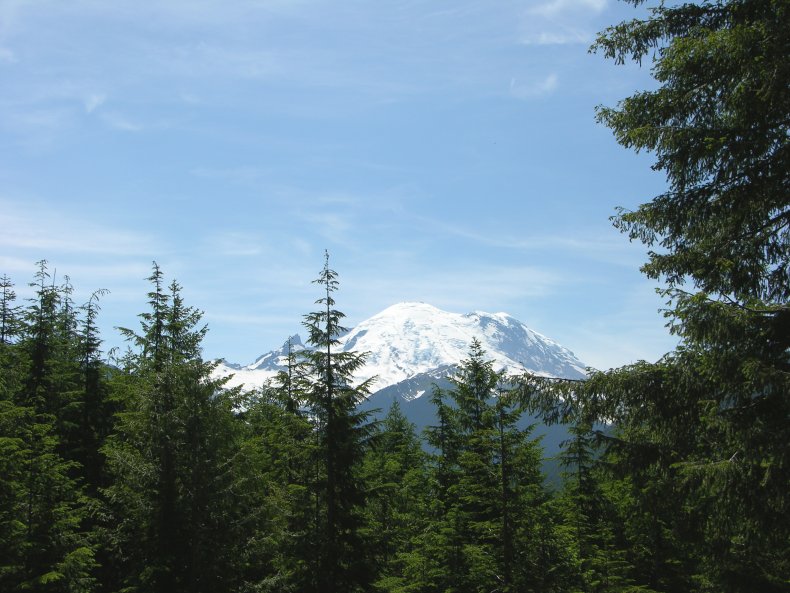 This tall conifer is found in California's Prairie Creek Redwoods State Park, where it is a native species.
Conifers.org suggests the tallest conifers there are simply trying to keep pace with the even taller redwoods growing nearby in order to get enough sunlight.
18. Sugar Pine (Pinus Lambertiana)
83.45m (273.8ft)
The tallest and most massive pine tree is located near California's Yosemite National Park.
The species was named in honor of the English botanist, Aylmer Bourke Lambert.
17. Shining Gum (Eucalyptus nitens)
84.3m (277ft)
This particular species of tree is also known as Silvertop, and is found in O'Shannassy Catchment, Victoria, where it is native.
The tree has a startlingly shiny bark, while its young growth stems are almost square.
16. Shorea Superba
84.41m (276.9ft)
This vast emergent tree is found on Gergassi Ridge of Borneo's Tawau Hills National Park.
Its name is derived from Latin for "magnificent" and refers to the stature and elegance of the tree.
15. Shorea Argentifolia
84.85m (278.4ft)
This particular tall tree flourishes on the clay-rich alluvium soils Gaharu ridge of Borneo's Tawau Hills National Park.
The tree is harvested from the wild for its wood, which is a source of "light red meranti" timber and is traded internationally.
14. Karri (Eucalyptus Diversicolor)
85m (279ft)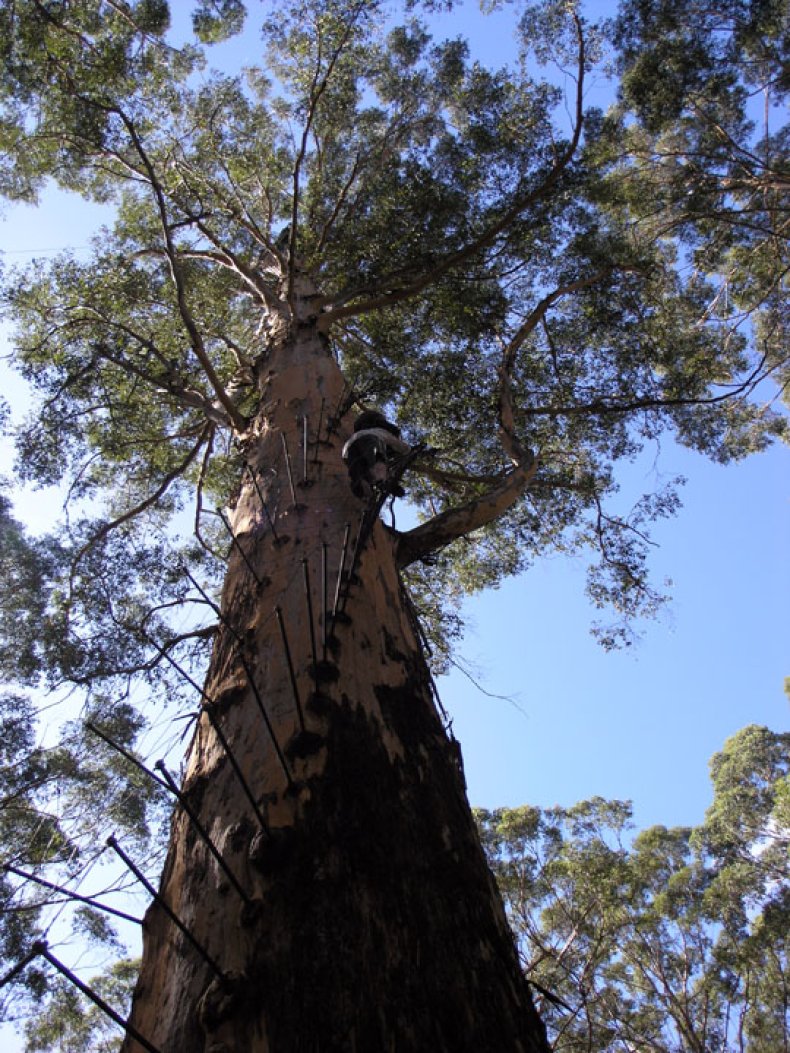 This awe-inspiring example of a flowering plant species is located approximately 12 miles (20km) west of Manjimup, near an eastern tributary of Donnelly River, in Western Australia.
This tall tree boasts smooth light gray to cream-colored, often mottled bark, lance-shaped adult leaves and oddly barrel-shaped fruit.
13. Mengaris (Koompassia Excelsa)
85.76m (281.4ft)
The tallest known example of the emergent tropical rainforest tree is found in Borneo's Tawau Hills National Park.
The species is highly flammable, especially when alive, meaning the most prominent examples are often protected from lightning strikes and open fires.
12. Alpine Ash (Eucalyptus Delegatensis)
87.9m (288ft)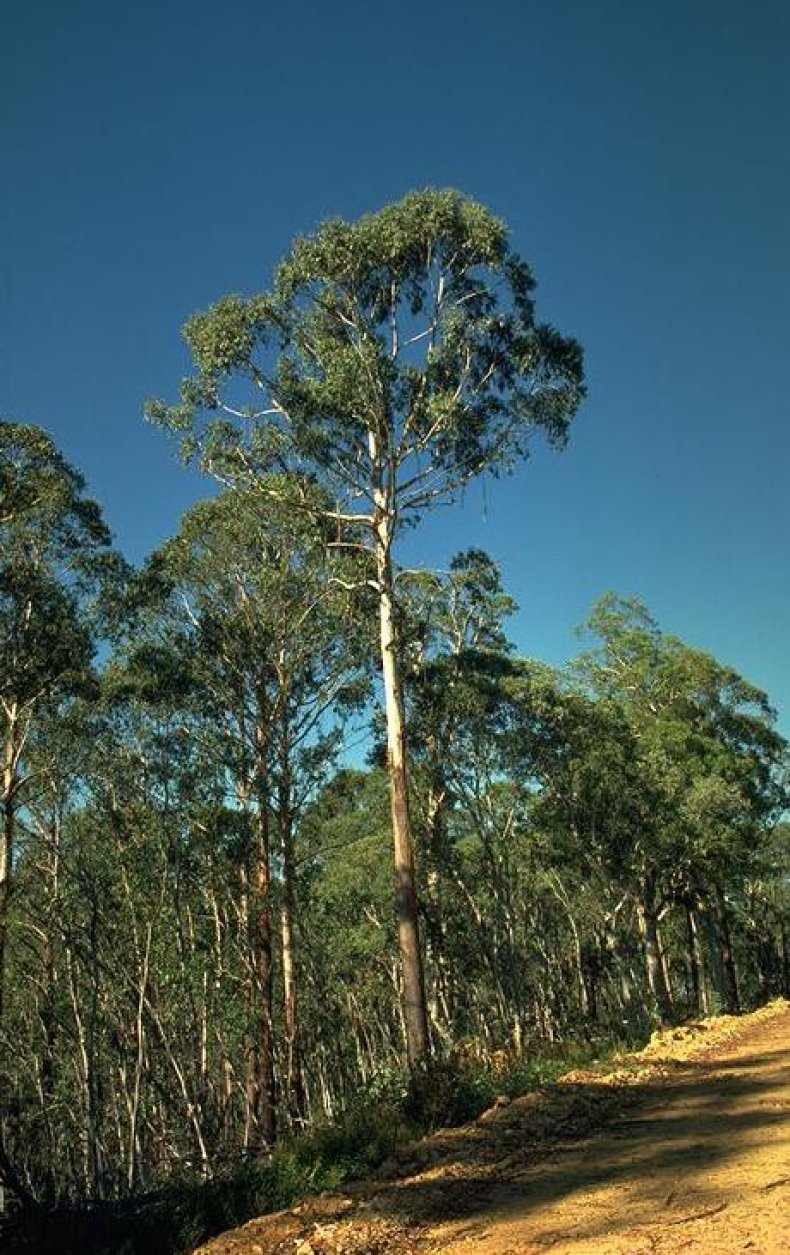 Also known as the gum-topped stringybark, the tallest specimen of species of tree endemic to southeastern Australia is located in Tasmania.
The handsome, moderate to fast-growing tree, with a very straight trunk, is known for its high-quality wood, considered similar to oak.
11. Brown Top Stringybark (Eucalyptus Obliqua)
88.5m (290ft)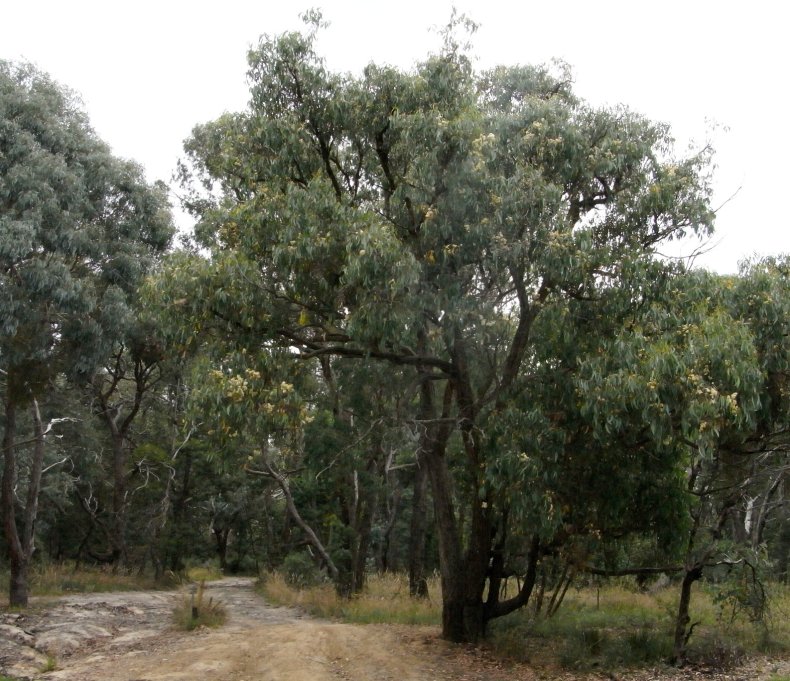 Also commonly known as the Tasmanian oak, this tree's tallest known species is also found in Tasmania.
Its timber has moderate hardness and strength is mostly used for pulp production, as well as construction and manufacture.
10. Dinizia Excelsa
88.5m (290ft)
The tallest example of this South American canopy-emergent tropical rainforest tree species is found near the boundary of Brazil's Amapa and Para states.
The semi-deciduous tree is harvested from the wild for its very strong and durable timber, which is used locally and also traded.
9. Noble Fir (Abies Procera)
89.9m (295ft)
The tallest example of this plant, more commonly known as the Christmas tree, is found in Washington's Goat Marsh Research Natural Area.
The tree was first found by fabled botanist-explorer David Douglas is probably the largest of all Abies in terms of diameter, height and wood volume.
8. Southern Blue Gum (Eucalyptus Globulus)
90.7m (298ft)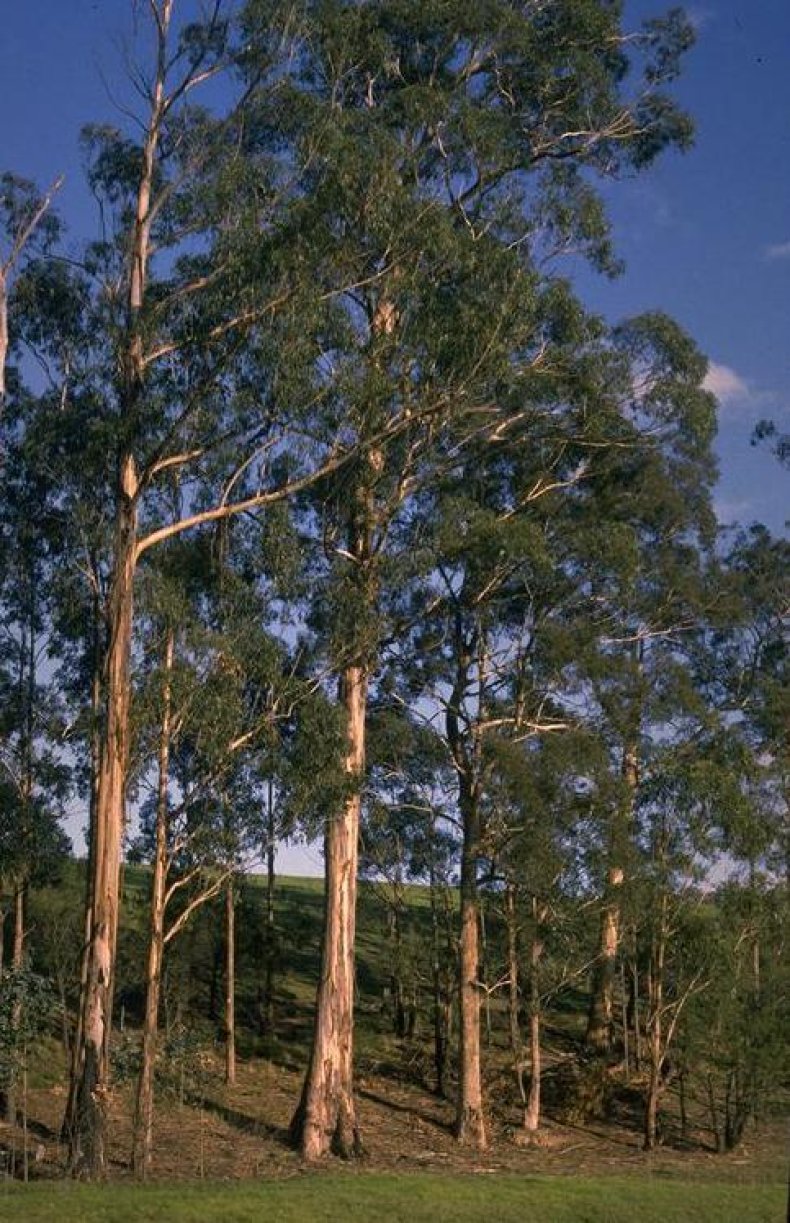 The Blue gum is a fast-growing evergreen tree and its tallest specimen is located in Evercreech Forest Reserve, Tasmania.
This Eucalyptus species has mostly smooth bark, juvenile leaves that are whitish and waxy on the lower surface, glossy green, lance-shaped adult leaves and is capable of producing woody fruit.
7. Manna Gum (Eucalyptus Viminalis)
92m (302ft)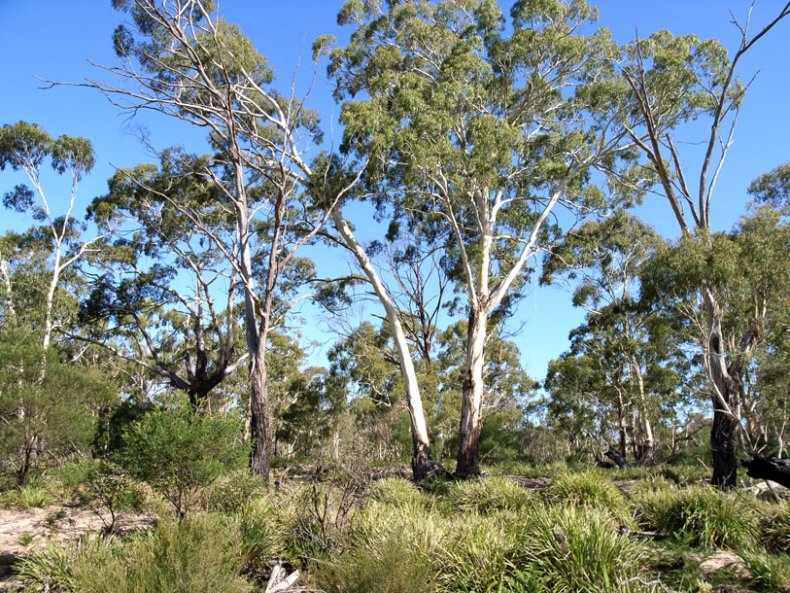 Also known as white gum or ribbon gum, this tree has been recorded at more than 96 meters in California's Sequoia National Forest.
The tree's common name refers to manna, a white sugary exudate that falls from the plant's young foliage.
6. Giant Sequoia (Sequoiadendron Giganteum)
96.3m (316ft)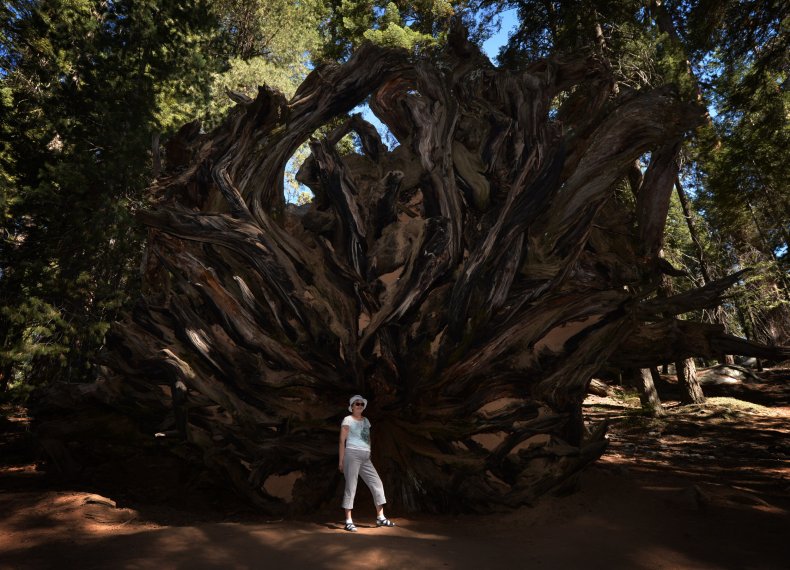 Sometimes known simply as "big tree," it is found in California's Sequoia National Forest.
The giant sequoia is listed as an endangered species by the IUCN, with fewer than 80,000 trees remaining.
5. Sitka Spruce (Picea Sitchensis)
96.7m (317ft)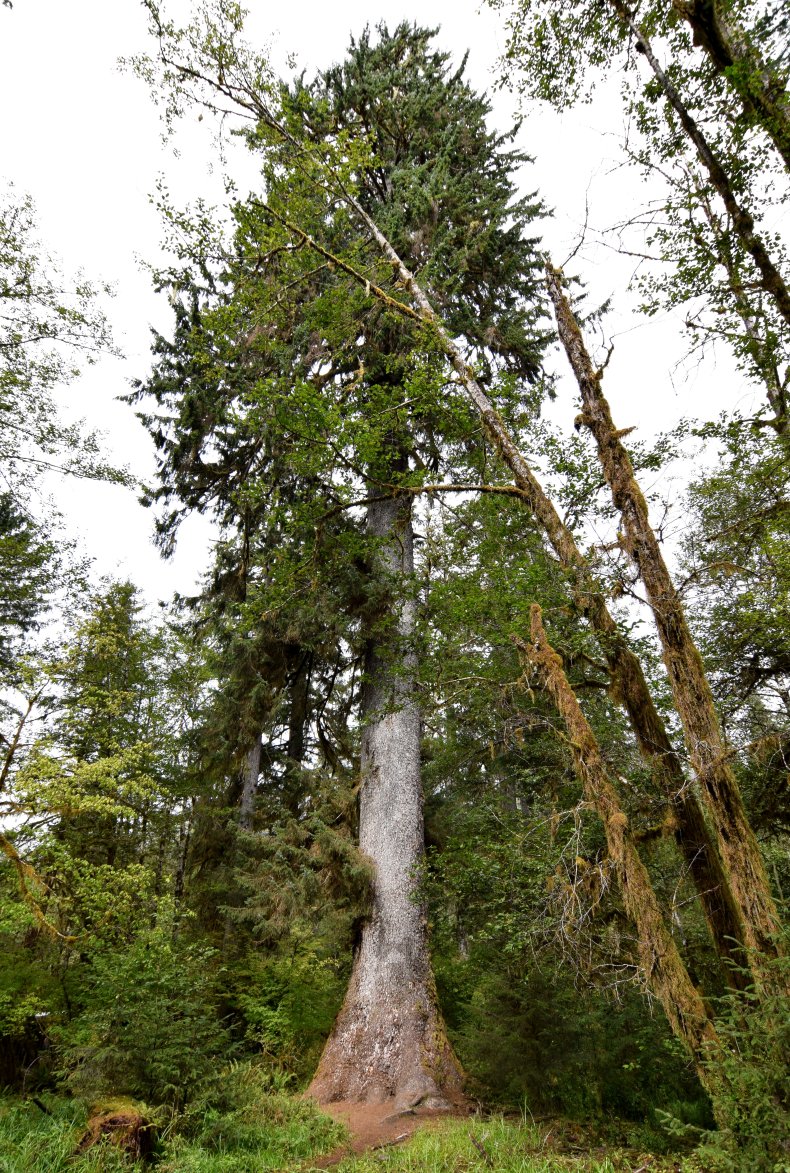 A coniferous, evergreen tree called the Raven's Tower has reached record heights in California's Prairie Creek Redwoods State Park.
The world's largest spruce is also the second-largest species in the Pinaceae, in terms of wood volume.
4. Coast Douglas-Fir (Pseudotsuga Menziesii var. Menziesii)
99.7m (327ft)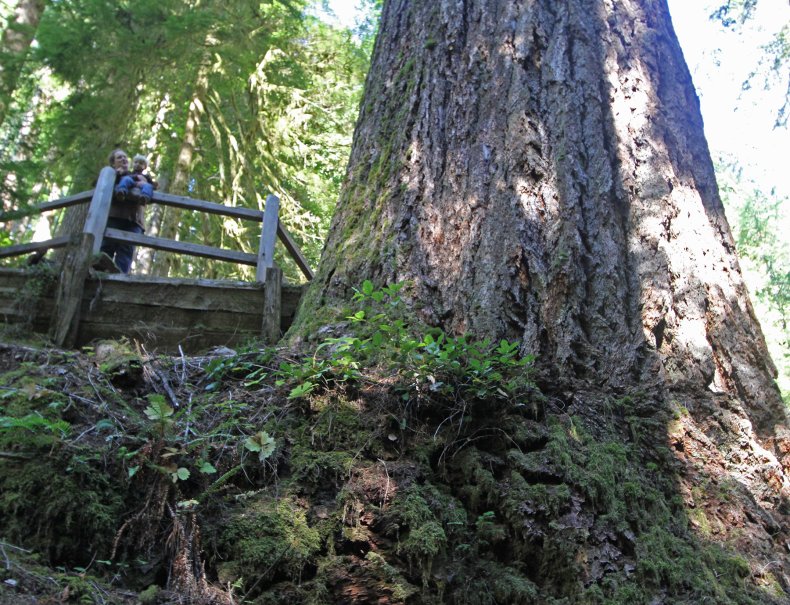 The tallest version of this evergreen conifer native is called the Doerner Fir and is located in Brummit Creek, Coos County, Oregon.
These trees are also known to live for incredibly long periods, with a stump found on Waterloo Mountain, Vancouver Island thought to have lived for 1,307 years.
3. Mountain Ash (Eucalyptus Regnans)
100.5m (329.7ft)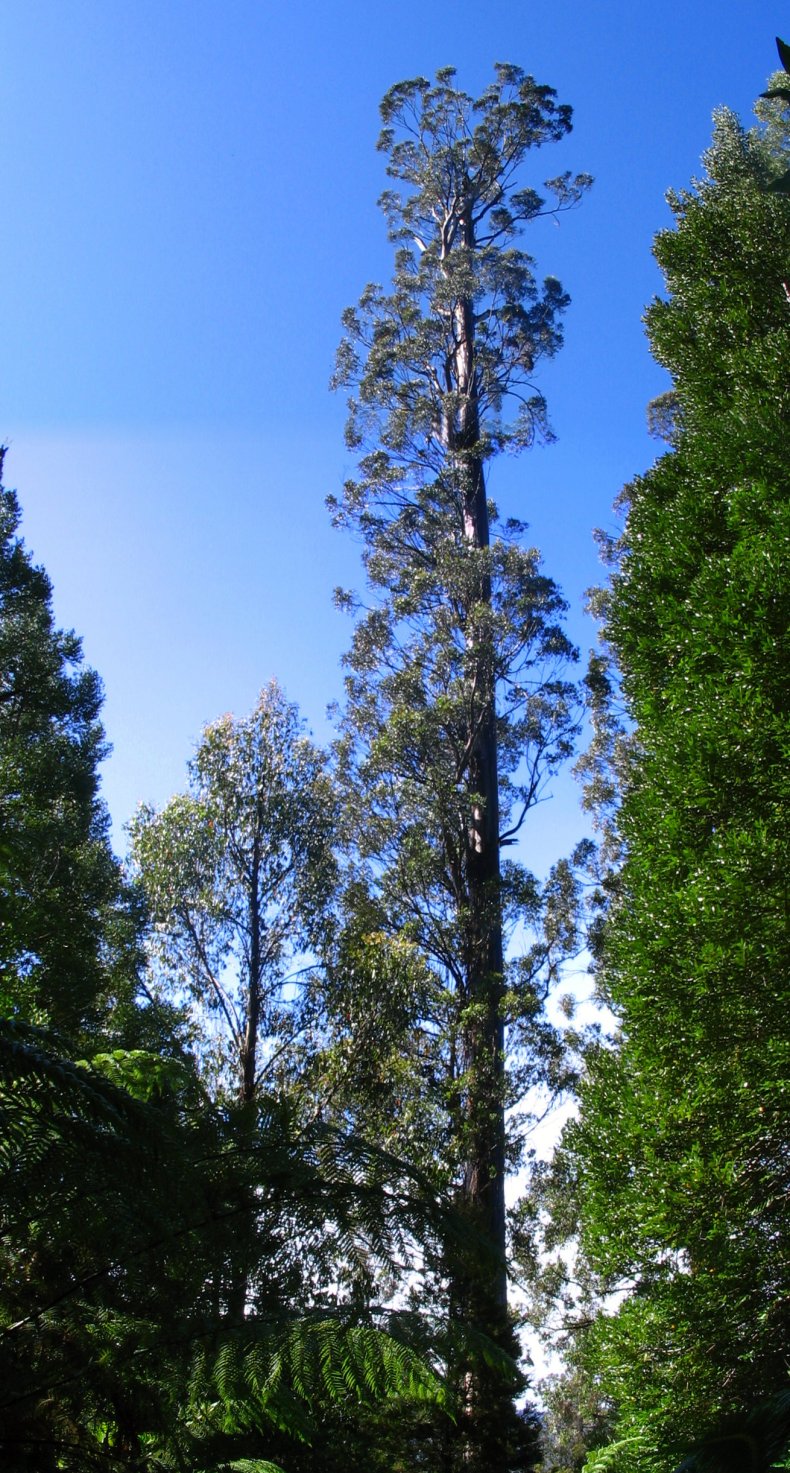 The tallest example of these trees also known as swamp gum, or stringy gum, is called the Centurion and is found in Tasmania's Arve Valley.
This tallest of all flowering plants is valued for its timber, and has been harvested in large quantities.
2. Yellow Meranti (Shorea Faguetiana)
100.8m (331ft)
Menara is the world's tallest tropical tree is rooted in an area of the Danum Valley Conservation Area, in Borneo's Sabah region.
The team who made the discovery claimed in 2019 it remains possible an even taller tree is still waiting to be found in the area.
1. Coast Redwood (Sequoia Sempervirens)
115.92m (380.3)
This colossal tree runs as long as about six standard issue bowling lanes.
Yet the exact location of the world's tallest known living tree has been kept a closely guarded secret to protect the 116 meter conifer from damage.