Tamar Braxton Says 'F**k WeTV' After Network Drops 'Braxton Family Values' Trailer Featuring Suicide Attempt
Tamar Braxton has a few choice words after seeing the Season 7 trailer of Braxton Family Values: "F**k WeTV."
The frustrated singer took to Instagram to vent on Wednesday after the network dropped the super trailer for the upcoming new season of her family's reality show, which included clips of Braxton's mother and sisters' reactions to her suicide attempt. Braxton alleged she was not involved in the seventh season of the reality show and suggested that the series was aiming to capitalize on her medical scare simply for ratings.
"After waking up to that disgusting trailer...F**K @wetv and whomever else participating for using my pain for their pleasure and ratings‼️" Braxton wrote, adding, "at some point this abuse HAS to STOP‼️✨ and P.s. IM NOT FILMING FOR THIS SEASON! THEY ARE DOING THIS WHILE IM NOT ON THE SHOW‼️‼️ #SCUMBAGSHIT."
Braxton added that she planned to open up on her July hospitalization and her reasons for stepping away from Braxton Family Values and the WeTV network in an upcoming appearance on the Tamron Hall Show, scheduled to air on October 28.
Although Braxton quit the series following a tumultuous eighth season in 2018, there were glimpses of her in the Season 7 trailer in scenes that followed her sister Trina Braxton's wedding. While many of the clips in the trailer seemed to hint at the show mostly focusing on the mishaps surrounding Trina Braxton's nuptials and the issues Tamar Braxton's sister Traci Braxton had with the rest of their sisters Trina, Toni and Towanda Braxton, the show also captured the moment Tamar Braxton's family learned of her suicide attempt, including one scene in which Toni Braxton bolts out of a music studio after receiving a harrowing call.
"Toni called. She told me that Tamar was rushed to the hospital because she tried to commit suicide," Evelyn Braxton, the matriarch of the family, said in the clip.
Towanda Braxton said she was "stunned and really numb" after finding out about her sister's suicide attempt while Trina Braxton said, "There was no way to prepare for this.
Toni Braxton added: "It just seemed like a dream—a bad dream."
Tamar Braxton was staying at the Ritz Carlton Residences in Los Angeles in July when she was found unconscious by her boyfriend, 49-year-old David Adefeso. The 43-year-old singer—who was nominated for Grammy Awards for her 2014 and 2016 albums Love and War and If I Don't Have You, respectively—was rushed to the hospital after authorities responded to a call regarding a "possible overdose."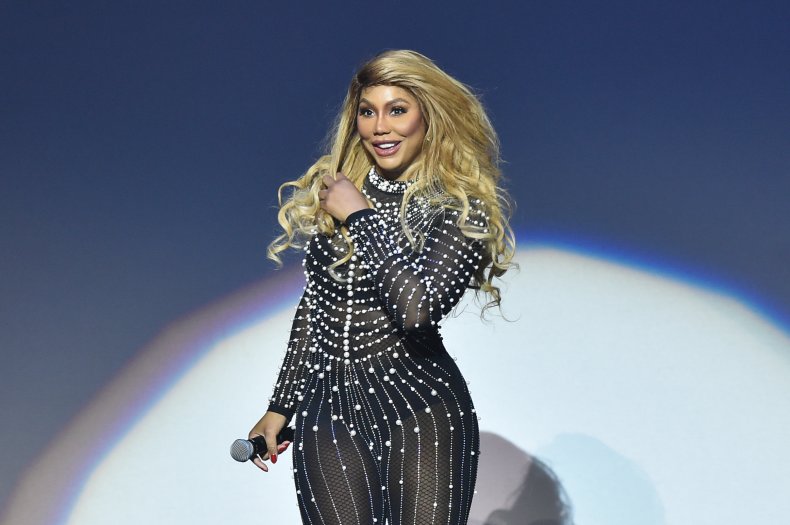 Following her recovery, Tamar Braxton issued a lengthy statement on Instagram thanking fans and friends for their prayers and support. Tamar Braxton, who shares 7-year-old son Logan Vincent Herbert with ex-husband and music producer Vincent Herbert, said that she attempted to take her own life after battling 11 years of "pain" that stemmed from her entertainment career and the turmoil of her personal life being constantly put in the spotlight on the reality show.
"Over the past 11 years there were promises made to protect and portray my story, with the authenticity and honesty I gave. I was betrayed, taken advantage of, overworked, and underpaid. I wrote a letter over 2 months ago asking to be freed from what I believed was excessive and unfair. I explained in personal detail the demise I was experiencing. My cry for help went totally ignored," Tamar Braxton explained.
Tamar Braxton added that over the years, the toll of the series began to make her feel as though she was "existing for the purpose of a corporations gain and ratings."
Noting that she was now on the "path to healing," Tamar Braxton added, "Mental illness is real. We have to normalize acknowledging it and stop associating it with shame and humiliation. The pain that I have experienced over the past 11 years has slowly ate away at my spirit and my mental."
The Season 7 premiere of Braxton Family Values is slated to air on WeTV on November 5.