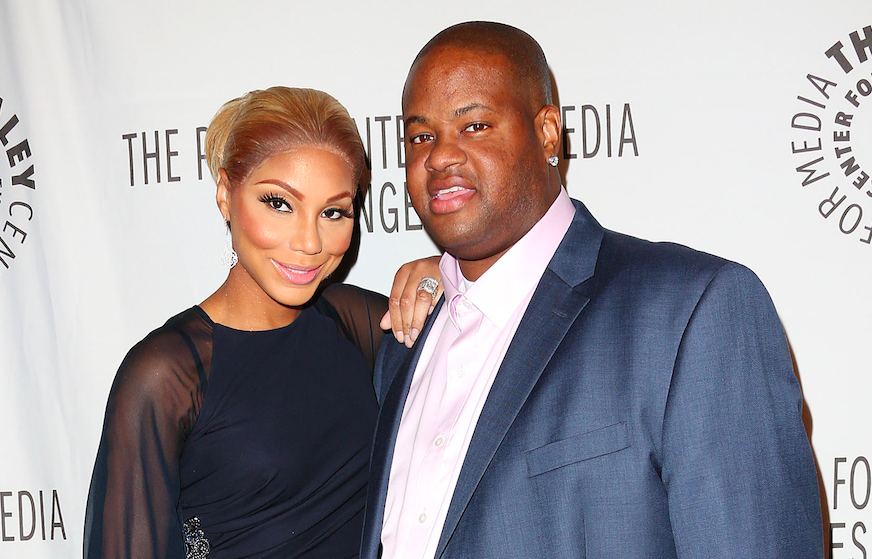 Tamar Braxton took to social media early Saturday morning to tell her fans about the drama in her life: Estranged husband Vince Herbert is apparently having a baby with Basketball Wives star Laura Govan. In October, Braxton filed for divorce from Herbert after nearly nine years of marriage—now fans have a better idea why.
"Say what u want about me...but I'm good & Got Damn tired of the bull," she wrote. "2018 belongs to who DARES to take your life BACK!! I'm FIRST in Line!"
She then accused Herbert of having a baby with his "whore," who fans on Twitter said was Govan. According to Braxton though, Herbert wanted to reconcile and begged to get her back.
"Before you judge me now the FACTS!! He's a real piece of work," the singer said. "Ladies and gentlemen, know that 2018 is a fresh start and if I can leave this liar u can leave yours too."
Neither Herbert nor Govan immediately responded to Braxton's claims.
She didn't mention the Basketball Wives star by name, but fans made Govan's name a top-trending topic on Saturday.
Possible infidelity aside, Braxton's mother, Evelyn, claimed Herbert was physically abusive to her daughter.
"I love Vince, but I don't want him to kill my child. As simple as that," she told TMZ in November. He needs to "keep his hands off of my child. Stop before he hurts her or kills her."
Before the cheating accusations exploded, Evelyn said the couple would have to seek therapy if they wanted their relationship to survive—or the consequences could be fatal. "I think that if a person really means what they're doing, then they'll go and get help," she said when TMZ asked her if she forgave Herbert. "I think he needs to go and get counseling before someone gets killed."
Braxton and Herbert have one child together: 4-year-old son Logan. She is seeking full physical custody.
"At this time, we can confirm Ms. Braxton has made an extremely difficult decision and has filed for divorce from Vincent Herbert," her rep told People magazine in October. "Collectively, their son, Logan, and his well-being during this extremely unfortunate process is most important. We ask that everyone respects her privacy during this incredibly difficult time. She appreciates everyone's love and prayers."
Season 5 of Braxton's reality show, Tamar & Vince, airs Thursdays at 9 p.m. ET on WE tv.