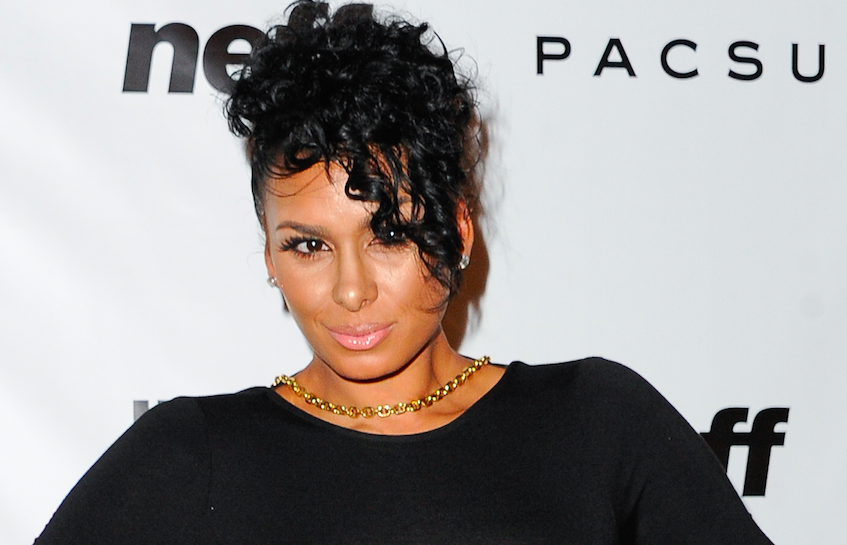 It wasn't her. Basketball Wives star Laura Govan denied rumors she had an affair with music producer Vince Herbert after Tamar Braxton claimed on Saturday some "whore" was pregnant with her husband's baby. Braxton didn't leak Govan's name, but the reality star had an inkling who was responsible. She couldn't name the culprit for legal reasons, she said on E!'s Daily Pop Wednesday.
"Well, I have an idea [who said it], but it's not something I can discuss litigation wise," she said.
Being pregnant with Herbert's baby is "laughable."
"You know at first it's like, 'Is this a joke?' Because I literally woke up to something that is just not true and I was thinking, 'I've worked so hard to get away from certain stigmas and all the drama from before,'" she said. "It's just nothing is true and it's so hard for me to not go in..."
Govan didn't immediately respond to the rumors, saying "can't fight the world." Instead, she is focused on her career and being a good mother.
On Sunday, Govan said she would never hookup with Herbert.
"Vincent is not my type...at all," Govan said, according to The Shade Room. "I have nothing but respect for Tamar and Vince, but none of this is true. Apparently Tamar had been a little inebriated while she was talking reckless on Instagram. I would never, ever disrespect her in that way, but, understandably, she's hurt."
After Govan's comments, Braxton deleted her Instagram page. Before doing so, she dismantled rumors that she and Herbert reconciled, saying the only reason they were pictured together was to support their 4-year-old son, Logan.
"NOPE! Sorry! Not together but since the craziness the other day, we DID agree to create a better environment for my son!!" Braxton, 40, wrote on Wednesday. "Angry or not…it's about my SON!!"
She added, "P.s. we ALSO agreed not to speak on this anymore in public after this! My son can read and he's NOT dumb #2018goals #praymystrengthinthelord I've made LOTS of mistakes and I'm just trying to be a better person."
Braxton filed for divorce from Herbert, 44, on October 9 after nearly nine years of marriage. "At this time we can confirm Ms. Braxton has made an extremely difficult decision and has filed for divorce from Vincent Herbert," her rep told People magazine in a statement.
"Collectively, their son Logan and his well-being during this extremely unfortunate process is most important. We ask that everyone respect her privacy during this incredibly difficult time. She appreciates everyone's love and prayers."