Are Tamar Braxton and Vince Herbert Still Together? New Video of Couple with Son Logan Surfaces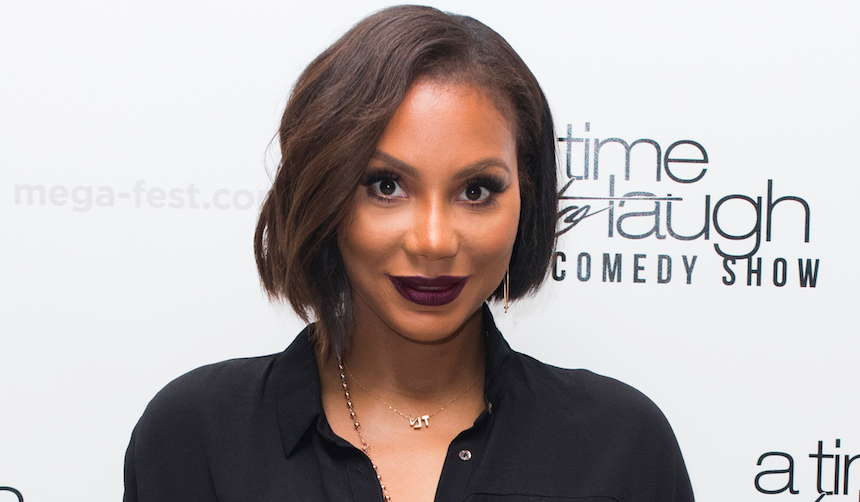 Tamar Braxton was spotted with husband Vince Herbert days after she accused the music producer of cheating on her, getting an unnamed "whore" pregnant and having him put in jail on Christmas. On Tuesday, TMZ published footage of the couple with son Logan at Los Angeles International Airport.
Braxton, 40, didn't address the paparazzo, but Herbert told him, "God is good." When the pap asked him if them starting the new year together meant reconciliation, the 44-year-old repeated his previous statement. Then he got into a van with Braxton and his 4-year-old son.
Braxton called the police on Christmas Day in a fit of booze-fueled jealousy, she told TMZ on Saturday.
"Co-parenting while going through a divorce is not an easy task," she said. "While celebrating the Christmas holiday as a family, after a few drinks and some jealousy, things got a bit out of hand, which is common for most families during the holidays. In the midst of everything our family is going through things got heated and a bit exaggerated."
Braxton added: "There was no physical interaction between Vince and I on Christmas. While I do not appreciate his lack of respect for our family and him allegedly impregnating another woman, I cannot paint him as a vicious abuser that Vince is not."
Apparently, the pregnancy rumors are not true, sources told TMZ. It's unclear why Braxton thought her estranged husband impregnated another woman. Rumors claimed it was Basketball Wives star Laura Govan who was pregnant—though that is now (apparently) debunked.
Braxton did not post to social media since she defended Herbert against former singer Melissa Schuman, who claimed the producer abused her in the 2000s when she was in the band Dream. Schuman said she suffered from PTSD because Herbert "verbally and emotionally abused her," telling her to lose 20 pounds.
Braxton called Schuman out, saying she was trying to garner attention from her family drama. "Ok... now here is what you WON'T be doing thirst bucket!" the singer tweeted Saturday. "Don't EVEN TRY to use out personal Family situation for attention."
Previously, however, Braxton wasn't as cordial toward Herbert. "Say what u want about me...but I'm good & Got Damn tired of the bull," she wrote hours earlier. "2018 belongs to who DARES to take your life BACK!! I'm FIRST in Line!"
"Before you judge me now the FACTS!! He's a real piece of work," the singer said. "Ladies and gentlemen, know that 2018 is a fresh start and if I can leave this liar u can leave yours too."
After nearly nine years of marriage, Braxton filed for divorce from Herbert on October 9. "At this time, we can confirm Ms. Braxton has made an extremely difficult decision and has filed for divorce from Vincent Herbert," her rep told People magazine at the time. "Collectively, their son, Logan, and his well-being during this extremely unfortunate process is most important. We ask that everyone respects her privacy during this incredibly difficult time. She appreciates everyone's love and prayers."
Braxton's famous relatives did not immediately comment on her family situation.
Season 5 of Braxton's reality show, Tamar & Vince, airs Thursdays at 9 p.m. ET on WE tv.