Who Is Tammy Duckworth? Illinois Senator Will Be First Sitting Senator to Give Birth
Tammy Duckworth is about to make history as the first sitting senator to give birth.
The Democratic lawmaker from Illinois is six months pregnant. Duckworth's office confirmed the news to Newsweek after The Chicago Sun-Times published an exclusive report Tuesday.
"Bryan and I are thrilled that our family is getting a little bit bigger, and Abigail is ecstatic to welcome her baby sister home this spring," Duckworth said in a statement. "We are all so grateful for the love and support of our friends and family, and I want to thank the wonderful staff at both Northwestern Medicine and GW for everything they've done to help us in our decades-long journey to complete our family."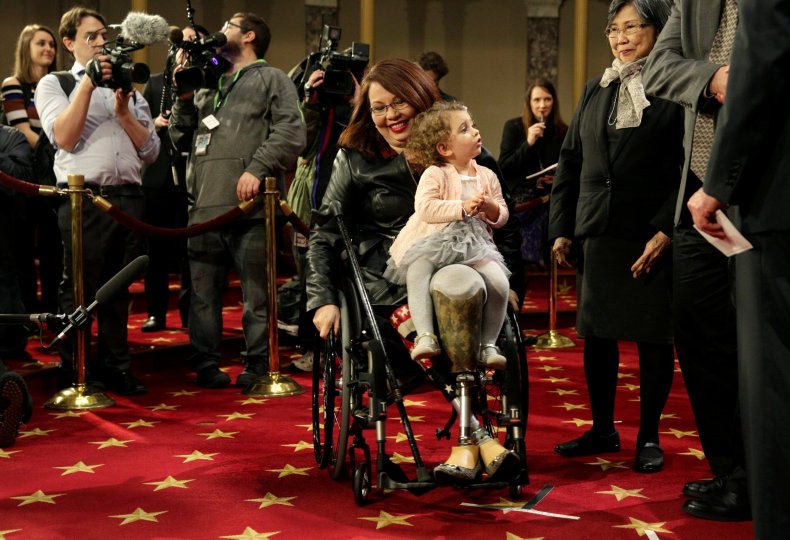 Duckworth told the Chicago Sun-Times she's expecting her second child in late April.
The legislator is part of another record-breaking group: the U.S. Senate currently has 22 female senators—the most in its history. Other women in the Senate have had children, but gave birth before or after serving.
Duckworth is also part of a group of only 10 people to have given birth while serving in Congress. Both she and Democratic Senator Kirsten Gillibrand of New York gave birth while serving in the House of Representatives, the Sun-Timesreported. But no one has ever given birth while serving in the Senate.
"I feel great," she told the Sun-Times.
In her statement, she added, "Parenthood isn't just a women's issue, it's an economic issue and an issue that affects all parents –– men and women alike."
Duckworth has been a senator since last year, and prior to this post, she represented Illinois in the House of Representatives from 2013 to 2017. Duckworth is a veteran who lost her legs in Iraq while serving in the U.S. Army.
She recently came into the news when she criticized President Donald Trump for being a "five-deferment draft dodger."
"I spent my entire adult life looking out for the well-being, the training, the equipping of the troops for whom I was responsible," Duckworth said on the Senate floor on Saturday. "Sadly, this is something the current occupant of the Oval Office does not seem to care to do—and I will not be lectured about what our military needs by a five-deferment draft dodger."