Ponce de Leon proclaimed to find a fountain of youth in Florida, and Tom Brady appears to have found that same pool of water. In his first year with the Tampa Bay Buccaneers, Brady led Tampa Bay to its second-ever Super Bowl title, and seventh in his distinguished career.
And he did it at his home stadium in south Florida on Sunday night.
Brady led the Buccaneers to a 31-9 win over the Kansas City Chiefs at Raymond James Stadium in Super Bowl LV. Tampa Bay made history by becoming the first team to ever play a Super Bowl in its home stadium, and made even more history by winning the game.
Tampa Bay is now 2-0 in Super Bowl games, adding to the title from its 2002 season. Kansas City is now 2-2 in the big game—losing in Super Bowl I and winning Super Bowls 50 years apart in the fourth and 54th games.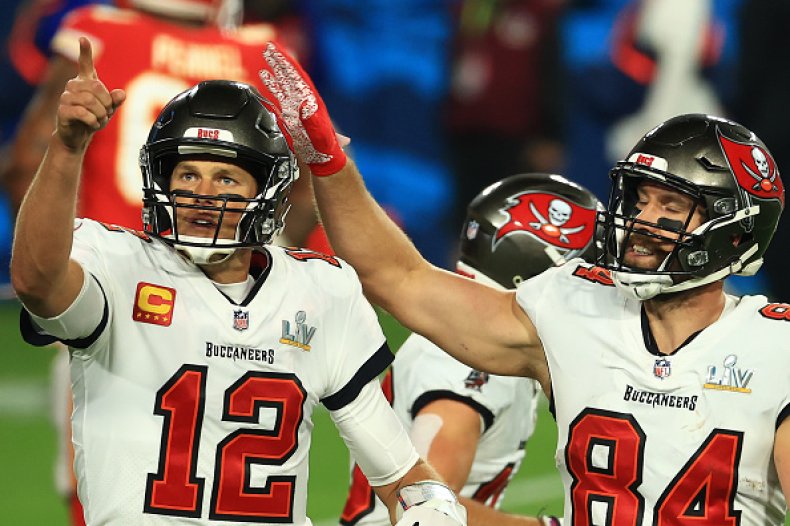 Sunday night's game was pitted as the legendary quarterback against the up-and-comer, and everything went the way of the 43-year-old veteran. Brady, playing in his 10th Super Bowl, won his seventh title in his 10th appearance. Chiefs quarterback Patrick Mahomes was looking for back-to-back Super Bowl titles, but the Buccaneers defense was just too much.
Brady completed 21-of-29 passes for 201 yards and three touchdowns, most of it in the first half. More importantly, the Buccaneers held the potent Chiefs offense to just three field goals in the entire game, and they kept Patrick Mahomes scrambling all night and looking rather confused.
Mahomes had won 25 of his last 26 starts. He had never lost by double digits as an NFL starter, and he had only lost one playoff game as a starter—that was to the Brady-led New England Patriots in January of 2019 in the AFC Championship.
Mahomes passed for 266 yards, but completed just 25-of-48 passes and had no touchdowns with two interceptions.
Brady cements his legacy in the NFL even more than it was before. He has more playoff wins (34), more Super Bowl titles (7) and just about every playoff passing record known in the NFL record books.
Here's how the game got to a lopsided Buccaneers victory Sunday night in Super Bowl LV.
The Chiefs won the opening toss and elected to defer their choice, leading to a kickoff to to the Buccaneers. It was the 11th-consecutive Super Bowl where the team winning the coin toss deferred their decision.
The teams traded punts in the first quarter as both defenses held the opposing offenses in check. The Chiefs broke through with a drive that ended with a 49-yard Harrison Butker field goal, but the Buccaneers responded with an eight-play, 75-yard drive that was capped by Brady tossing an 8-yard touchdown pass to Rob Gronkowski, who was Brady's former teammate in New England. The Buccaneers led, 7-3, at the end of the first quarter.
The touchdown pass from Brady to Gronkowski broke an NFL postseason record of a passer-catcher duo, formerly held by Hall of Fame players Joe Montana and Jerry Rice.
Tampa Bay forced a Kansas City punt, and Brady engineered a drive that got the Buccaneers to a 4th-and-goal, but the Chiefs defense stopped Ronald Jones just short of the goal line, giving Kansas City the ball at their own 1.
Tampa Bay's Ryan Succop drilled a 40-yard field goal, but Kansas City's Antonio hamilton was called for an offside on the 4th-and-5, which gave the Buccaneers a first down. On the next play, Brady found Gronkowski again—this time for a 17-yard touchdown and 14-3 lead with 6:11 to play in the second quarter.
Butker made a 34-yard field goal to slice Tampa Bay's lead to 14-6 with about a minute remaining in the first half, and that's where the score stood at halftime.
Brady drove his team down the field again and drew a pass interference in the end zone with 10 seconds to go. Brady threw a dart to Antonio Brown on the next play for a 1-yard touchdown pass to give the Buccaneers a 21-6 halftime lead.
Kansas City had five defensive penalties for 72 yards in the first half, in addition to the one penalty for five yards on the one special teams play.
In the first half, Mahomes completed just 9-of-19 passes for 67 yards while Brady was 16-of-20 for 140 yards and three touchdowns. When the teams played in Tampa 10 weeks earlier in the regular season, Mahomes passed for more than 200 yards and a pair of touchdowns in just the first quarter.
Kansas City got the ball to open the second half, but settled for another Butker field goal. The Buccaneers didn't need much time to cover 74 yards in just six plays, capped by a 27-yard touchdown run by Leonard Fournette. The Bucs took a convincing 28-9 lead with just more than a quarter and a half to play.
Mahomes threw an interception on the next drive, and Tampa Bay cashed in with a Succop field goal to take a 31-9 lead.
The Chiefs marched down into the red zone late in the game, but a Mahomes pass deflected into the air and was intercepted by Buccaneers linebacker Devin White.
About the writer
Scott McDonald is a Newsweek deputy night editor based in Cape Coral, Florida. His focus is assigning and writing stories across all topics, from news to politics, business, weather, sports and international news. Scott joined Newsweek in 2018 after a lengthy career of print journalism in Texas, including The Dallas Morning News, where he was a sportswriter, and he's a voter for the Heisman Trophy. He has been a newspaper editor-in-chief and also a newspaper publisher. He is a graduate of The University of Texas at Austin. You can get in touch with Scott by emailing s.mcdonald@newsweek.com. Languages: English