Tampa Bay Just One Win Away From A Rarity Never Seen in the NFL
The Tampa Bay Buccaneers are just one win away from earning a spot in Super LV. The only team standing in their way is the Green Bay Packers, which is one of the more storied franchises in league history.
The Buccaneers could make NFL history should they get past the Aaron Rodgers-led Packers this Sunday at Lambeau Field in Green Bay. A Tampa Bay win would place the Buccaneers in a Super Bowl at their home stadium.
What's so significant?
No team has ever played a Super Bowl in their home stadium. Some have played within close proximity, but no team has walked into their own familiar surroundings and dressed in their own locker room in their home town.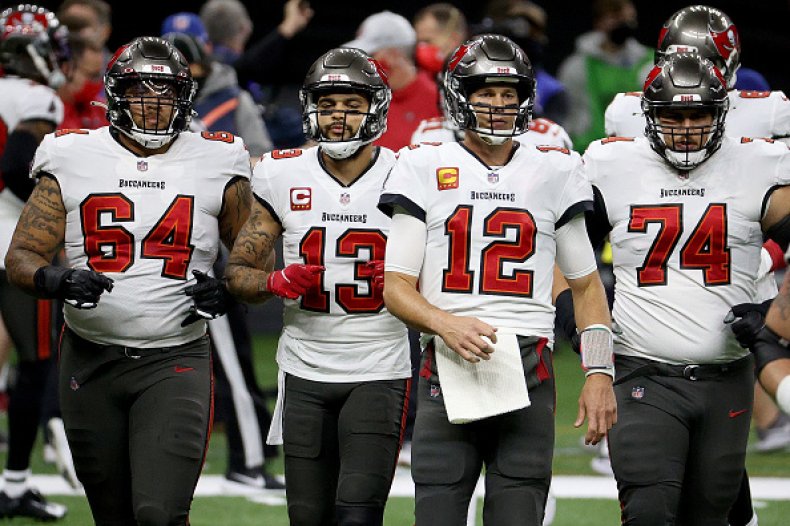 It's not impossible for an NFL team to play a Super Bowl in its home stadium, much less win the big game. But it's never been done.
Not all Super Bowls have been played in NFL stadiums. That is, until the mid 1990s, when new stadiums were built for teams in hopes of landing a Super Bowl, which is a huge moneymaker for both the team and its city.
The Los Angeles Rams won the NFC championship following the 1979 season, and they lost to the Pittsburgh Steelers in Super Bowl XIV at the Rose Bowl in Pasadena, California, which is in the Los Angeles metropolitan area. The Rams played their regular-season games at nearby Los Angeles Memorial Coliseum. Not the Rose Bowl.
Then there are San Francisco 49ers, who won Super Bowl XIX over the Miami Dolphins in a game played at Stanford Stadium, which is in Palo Alto, about 35 minutes south of where the 49ers played their home games at Candlestick Park.
Since then, no other NFL team has even played a Super Bowl in their hometown, much less their own stadium.
How did the Buccaneers get to the point that they're just one game away from playing Super Bowl LV in the friendly confines of Raymond James Stadium?
It started with signing quarterback Tom Brady in the offseason. Brady, 43, had spent the previous 20 seasons with the New England Patriots, winning nine AFC titles and six Super Bowls in that span—more than any quarterback in history. This weekend will be his 14th conference championship game, but just his first in the NFC.
Brady signed with Tampa Bay, and his former tight end in New England, Rob Gronkowski, soon signed with the Buccaneers as well.
The Buccaneers didn't have much of an offseason—and no preseason games—because of the COVID-19 pandemic, so much of it had to be done virtually. The Buccaneers played their first game at New Orleans, and the Drew Brees-led Saints won, 34-23.
Tampa Bay went on a three-game winning streak before falling, 20-19, at Chicago. They went on another three-game winning streak before losing to the Saints again, this time at home. After walloping the Carolina Panthers at home, the Buccaneers lost back-to-back home games to the Los Angeles Rams and Kansas City Chiefs—each by a 27-24 score.
Tampa Bay has since reeled off six-straight wins, which includes two road playoff victories. They beat the Washington Football Team, 31-23, and then got revenge at New Orleans, 30-23, in the NFC's divisional round.
The Buccaneers are 13-5 on the season, including the playoffs. Their five losses this season were all to playoff teams, including the top-seeded Chiefs from the AFC.
Now, awaiting them are the top-seeded Packers in the NFC. The Buccaneers beat Green Bay, 38-10, in Week 6 of regular season. Tampa Bay made Aaron Rodgers look miserable that day. It may have been the worst game of the season for Rodgers, who's the odds favorite to win the MVP this season.
Rodgers completed just 16-of-35 passes for 160 yards with two interceptions and no touchdowns. Although Green Bay took a 10-0 lead in the first quarter that game, Tampa Bay scored 38 unanswered points to hand Green Bay just one of its three losses this season. Tampa Bay's first touchdown came on a pick six of Rodgers.
Should Tom Brady and the Buccaneers pull off a similar feat, or just a victory, in the NFC Championship on Sunday, then the Bucs will make more history.
Something that Brady's used to doing in this league.