Tampa Bay Lightning Win Stanley Cup Just Hours After TS Elsa Hammers Tampa Area
Just 12 hours after Hurricane Elsa threatened the greater Tampa area, the hometown Tampa Bay Lightning won the Stanley Cup in Southwest Florida. The Tampa Bay Lightning defeated the Montreal Canadiens, 1-0, Wednesday night at Amalie Arena in Tampa. The Lightning have now won two-consecutive Stanley Cup titles.
The win comes just 12 hours after Tropical Storm Elsa threatened the Tampa-St. Petersburg shores and hit just north of the metropolitan area.
It also makes the Lightning the first NHL team to repeat as Stanley Cup champions, and it solidifies the town's crown of "Titletown."
This comes five months—to the day—after the Tampa Bay Buccaneers became the first NFL team to ever win a Super Bowl in their home stadium.
This means Tampa will keep its "Titletown" crown.
The Tampa Bay Lightning become the first NHL team to win back-to-back titles since the Pittsburgh Penguins of 2016 and 2017.
Tampa Bay outshot Montreal, 13-8, in the first period, but rookie Ross Colton got the Bolts on the scoreboard off an assist from David Savard in the second period. The goal would stand up in the end, and the Lightning would hold Lord Stanley's Cup again. Colton and Savard are the only two players for Tampa Bay who had never won the Cup.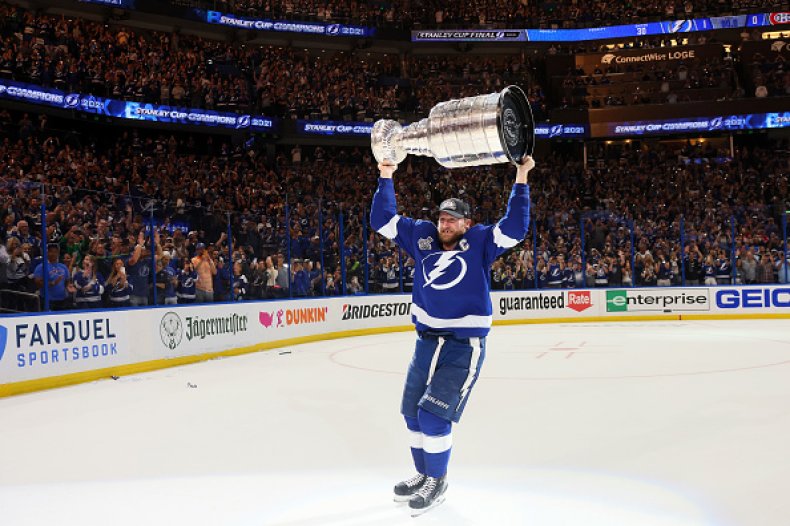 Lightning goalie Andrei Vasilevskiy won the 2021 Conn Smythe Trophy as the Stanley Cup's most valuable player.
The Lightning had a chance to clinch the Stanley Cup on Monday with a sweep during Game 4 at Montreal, but the Canadiens prevailed in overtime. It would have been back-to-back Cup-clinching games on Canadian soil.
The NHL postponed its 2019-20 season because of the COVID-19 pandemic, and the league resumed play entirely in Canada. The Lightning made it to the Cup Finals, where they defeated the Dallas Stars in six games (4-2).
Last NFL season, the Tampa Bay Buccaneers won the Super Bowl at Raymond James Stadium, becoming the first team to ever win the Super Bowl in their home stadium. In addition, the city's Tampa Bay Rays made it to the World Series last season before falling to the Los Angeles Dodgers.
Tropical Storm Elsa slammed the western Florida coast earlier in the day Wednesday, about nine hours before the puck dropped for Game 5 of the Lightning and Canadiens. It was Hurricane Elsa that passed through the early morning hours near Tampa as a category 1 storm before downgrading into a tropical storm and bashing the Big Bend region of the state in eastern Gulf of Mexico.
The storm passed through the state, causing widespread flooding and spawning tornadoes before making its way into Georgia by Wednesday night.