Tampa Bay Rays Can Play in Montreal, but Canadian Taxpayers Won't Fund Stadium: Billboard
A new billboard off of a Tampa freeway sends a clear message to fans of the Tampa Bay Rays: Montreal isn't going to pay for their stadium.
The billboard was recently installed, and every minute the words "Dear Rays, Montreal won't pay for your new stadium. Sincerely, Taxpayers" flash across the digital screen.
The project was funded by the Canadian Taxpayers Federation, a non-profit dedicated to ensuring "low taxes, less waste and accountable government." The group reportedly has 235,000 members across Canada.
Tampa Bay has been looking for a new stadium for a number of years. The lease on their current ballpark, Tropicana Field, ends in 2027. The team has been searching for a replacement for the park, which is often considered among the worst in Major League Baseball (MLB) and has the smallest seating capacity of any MLB park.
One solution the team has been perusing is splitting time between playing in Tampa Bay and playing in Montreal, which the team has said would relieve significant financial pressure. It would also mark a return to baseball for Montreal, as their previous MLB team, the Montreal Expos, left in 2004 to become the Washington Nationals.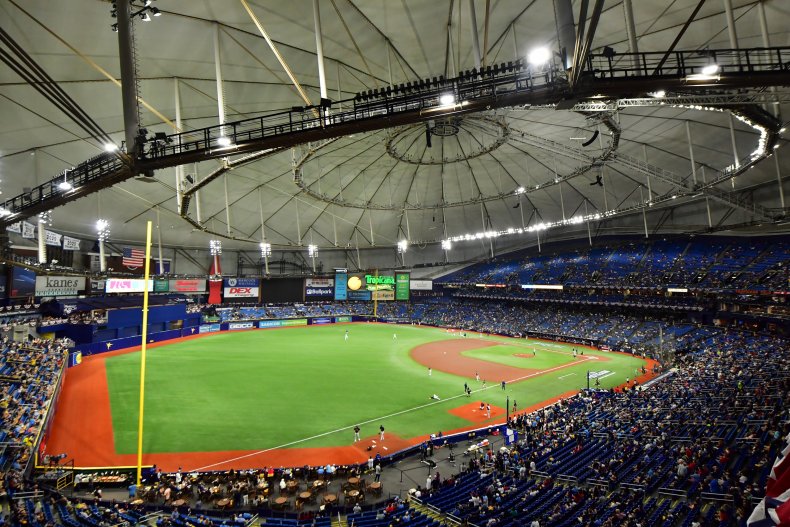 However, the Canadian Taxpayers Federation says that while the Rays are welcome to play in Montreal, Quebecois taxpayers would not help them fund a new stadium.
"We're not going to let [the Rays] use our wallets as an open bar," said Renaud Brossard, the head of the Canadian Taxpayers Federation's Quebec area. "It is not for Quebec taxpayers to pay for a new stadium for a rich group of investors to enrich themselves with a sports team."
It would appear from statistics that most Montrealers agree with Brossard. A March 2021 poll in the Journal de Quebec mentioned that "60% of citizens do not want the state to get involved financially in this project of several hundred million dollars, the objective of which is to bring back a professional baseball team."
The poll had been in regards to a billionaire-led investment project to construct a new stadium in Montreal. The investors, known as the Montreal Baseball Group, have registered to receive a subsidy for the construction of a potential new ballpark.
While the former home of the Expos, Olympic Stadium, sits available for use, the park is often considered a white elephant, and has not hosted a permanent professional team since the Expos left. This is why Brossard believes investors are pushing for a new stadium.
Brossard did not specify how much honus would be on the taxpayers if a new stadium were to be constructed. He told the Tampa Bay Times, however, that Quebec taxpayers were on average $50,00 in debt per capita.
If money was to become available for use, Brossard continued, he believes the funds should be put towards improving infrastructure and lowering the tax burden in Montreal.
The Mayor of Tampa, Jane Castor, shot back, saying in a statement that "the days of taxpayers footing the bill for sports stadiums are over, but we are keeping an open mind as we await more information from the Rays and we definitely want to keep the team in the region."
Newsweek has reached out to Major League Baseball for comment.