Tampa: Seedy Host to Republican Coming-Out Party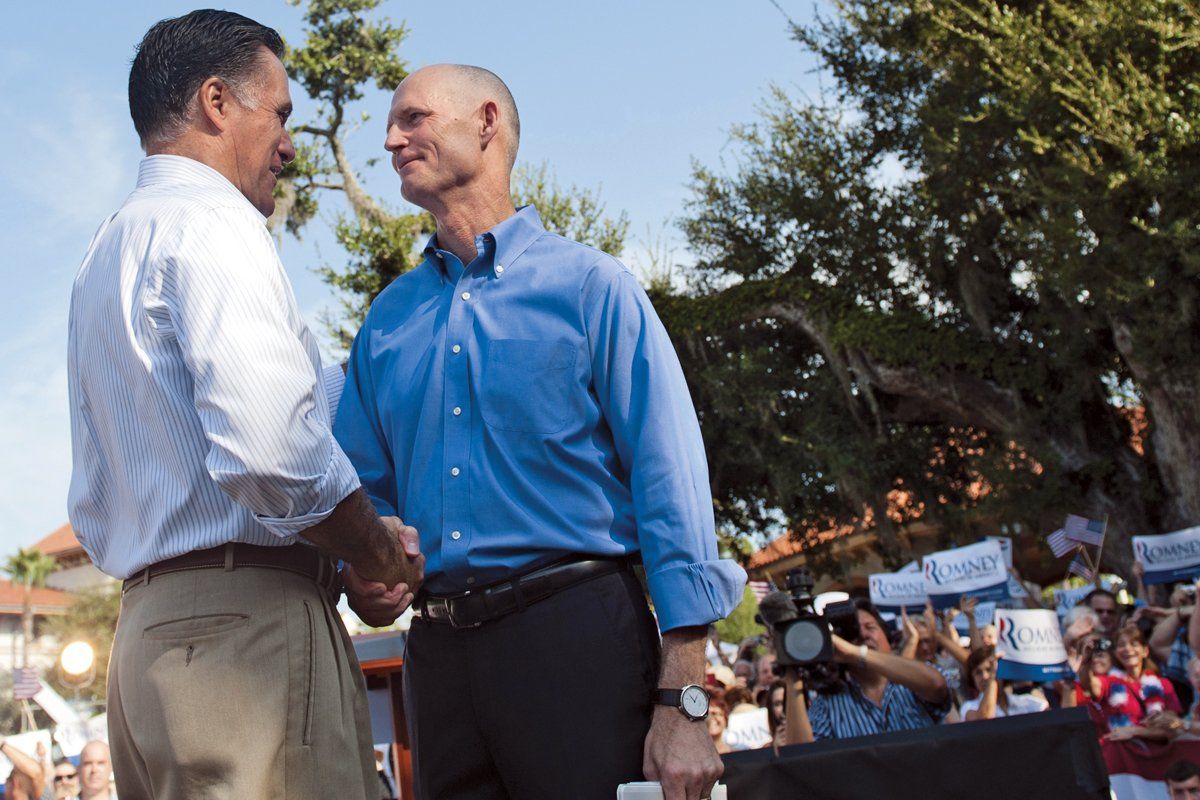 "Do you have a house down here yet?" Florida Gov. Rick Scott asks. "You have to move, right? You don't have a choice. Better buy now. Housing prices are up 16 percent year over year!"
The gaunt, bald multimillionaire—a former hospital-chain tycoon and venture capitalist who depleted his bank account by $78 million to win office in 2010 and since then has been labeled the nation's least popular governor—is pushing the hard sell in a conference room of the Tampa International Jet Center. Scott has just touched down in his Hawker 400, the private plane he uses at his own expense to get around the Sunshine State.
"Think about it," the governor exhorts, his ice-blue eyes twinkling in a surprisingly untanned face. "Florida. Everybody wants to live here."
Tampa is the sweltering site of the Aug. 27–30 Republican National Convention—and is also variously known as Cigar City after its most conspicuous export, as the erstwhile stomping grounds of the late Mafia don Santo Trafficante Jr., and as the strip-club capital of the United States. But the governor is here to preside over a ceremonial bill signing with high-school seniors at Hillsborough County Public Schools headquarters and then hand out free backpacks to African-American students at an Office Depot outlet.
It's all part of the run-up to Mitt Romney and Paul Ryan's coming-out party, for which 50,000 souls (including 15,000 credentialed media, assorted elected officials, lobbyists, political operatives, foreign diplomats, protesters, and 4,411 delegates and alternates) are expected to descend on Tampa Bay. It's a counterintuitive locale for the buttoned-down Mormon and his wholesome Midwestern running mate to introduce themselves officially to the country—a steamy swamp of a city with a rich history of sinners succumbing to so many temptations.
The region is the Gulf Coast anchor of the 132-mile-long I-4 corridor, running east through Orlando to Daytona Beach on the Atlantic, where a mother lode of swing voters is likely to decide whether Romney or President Obama wins Florida's 29 electoral votes and very possibly the White House. As in other parts of this state of 19 million people, Medicare recipients will significantly influence the outcome, and Romney's running mate, House Budget Committee chairman Ryan of Wisconsin, with his grand plans to rewrite the time-honored American social contract, offers the Obama campaign a potentially rich target—though Ryan's impact remained ambiguous in early statewide polls.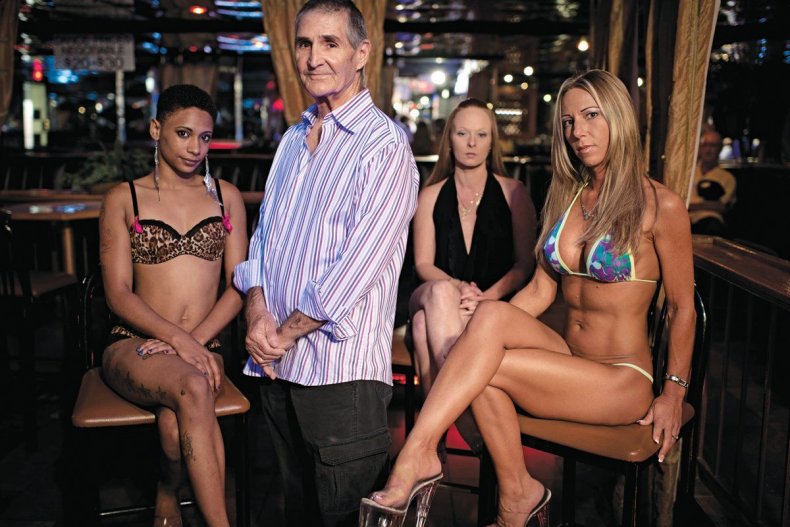 Tampa's Democratic congresswoman, Kathy Castor, a member of Ryan's Budget Committee, likens the pick to "red-flashing warning lights and loud sirens for the future of working American families, demonstrat[ing] the extreme right turn for the Republican Party." But shopping-center magnate Mel Sembler, a Romney bundler and former finance chairman of the Republican National Committee, says he doubts Ryan will hurt Romney's chances in Florida. "They're going to hammer him with whatever they're going to hammer him with," Sembler says with a shrug in his St. Petersburg office, across the bay from Tampa. "But I think this convention will be very important to let people here in Florida see these political leaders project their vision of where the country ought to be going."
The Tampa Bay region itself, an Indian tribal homeland when it was "discovered" in 1513 by Ponce de León, is a place of head-spinning diversity—ethnically, culturally, demographically, and otherwise.
"We are a perfect petri dish of America in all of its extremes," says Tampa Mayor Bob Buckhorn. "You're as likely to hear a Christian radio station as you are Mexican or Cuban music—which is why the I-4 corridor is so important in presidential politics," Buckhorn says. "Most of the major consumer-goods companies roll out their marketing programs in the I-4 corridor. It reflects what America looks like."
Buckhorn, like other local boosters, is calculating that the Republican shindig will do wonders for an economy that, as with the rest of Florida, was "crushed, just crushed" in the recent recession, with housing prices plummeting, foreclosures mushrooming, and jobs drying up.
"Separating the politics of it, the convention is a big lift," Buckhorn says. "I think out of this will come some tremendous opportunities for Tampa we can't even imagine right now—both internationally and domestically." The mayor, a Democrat, adds that even though the Republican brand is associated with social conservatism, he also expects a healthy spike in the strip-club business. "It's not something that we tout as an asset, but it is what it is," he says. "We would prefer folks visit other amenities, but," he trails off, "human nature being what it is ..."
Joe Redner is counting on it. As the publicity-savvy owner of Mons Venus, a venue where young women without a stitch of clothing divert old men on Dale Mabry Highway, the city's somewhat seedy gentlemen's-club jugular, Redner hopes to clear $100,000, a 60 percent increase over his usual take, during the four days and nights of the convention.
"It might be more than that," says Redner, a wiry 71-year-old in a camouflage cap holding court in a dark upholstered corner of Mons Venus while 15 feet away a nude dancer named Monica ministers to a grabby, silver-haired patron (suggested tip: $30). "I don't want to get too excited, because then I'm disappointed. I know the delegates and candidates have been warned not to come."
It will hardly surprise Romneyites that Redner, a registered independent with libertarian leanings, is an ardent Obama supporter. He calls Romney "a liar and a thief who won't give his income-tax records." The former Massachusetts governor's refusal to release more than two years of tax returns particularly offends him. "He wants to be president of the f--kin' United States, and if he's a thief, I want to know about it. I have a right to know about it. He's not some obscure person that's keeping a low profile."
Redner attributes the failure of his own political ambitions—he's run repeatedly for City Council and county commissioner—to the fact that "I call myself a witnessing atheist. And this is the Bible Belt."
Tampa boasts nearly 900 churches of almost every Christian denomination, and Rachel Burgin, an Independent Baptist, is representative of the region's religiosity. A Republican member of the Florida House from the Tampa suburb of Riverview, she recently lost a nasty state Senate primary in which an ostensibly autonomous committee backing Burgin sent out mailers attacking her opponent's divorce and remarriage and linking him erroneously to a pornography scandal.
"Our area is very conservative and very religious—we have more churches per capita than a lot of places," says the 30-year-old. Burgin, meanwhile, is best known for sponsoring legislation requiring women seeking abortions to get ultrasounds, for mistakenly submitting a right-wing group's tax-cutting boilerplate as her own bill, and for her ability to belt out "The Star-Spangled Banner."
Burgin, who has a bachelor's degree in biblical studies from the Tampa branch of Moody Bible Institute, has been a Romney supporter since the 2008 campaign. "I got to spend some time with his wife and his family, and I believe the core fabric of our country is that morality: I have a strong belief in family values," she says. "When I looked around at some of the other candidates, I didn't like John McCain and his lack of family values," says Burgin, the third of seven children.
She acknowledges that Romney's Mormonism bothers some constituents: "There may be folks who don't like the fact that he's a Mormon and doesn't hold the same philosophical beliefs, but they will hold their nose and vote for him anyway."
For all its open piety, Tampa's past contains an equal penchant for depravity. In his new book, The Dark Side of Sunshine, to be published the day Romney delivers his acceptance speech, local journalist Paul Guzzo documents a rogues' gallery of serial killers, gangsters, and practitioners of the bolita, as Tampa's illegal numbers racket was known.
"There's definitely a perverse pride that people here take in knowing that we were once this Mafia capital of the country," says Guzzo. "People go around boasting that they knew Charlie Wall"—a notorious crime lord from the first half of the 20th century—"and they have a sense of pride, forgetting that the man was a murderer. He actually killed people. People like to root for the bad guys."
Not to make invidious comparisons, but Rick Scott's checkered past in the for-profit hospital industry might have disqualified a political candidate in many other states—indeed, his Democratic antagonists in Florida tried to make it so. But he narrowly won the 2010 gubernatorial election over state chief financial officer Alex Sink. He lost Hillsborough County by only a few percentage points, despite ample publicity about the fact that he'd been forced to resign as chief executive of the Columbia/HCA hospital conglomerate in 1997 after federal investigators uncovered millions in fraudulent overcharges. Scott wasn't criminally implicated, but after his exit (with a $10 million golden parachute and $300 million in stock) the company pleaded guilty to 14 felonies and paid out nearly $3 billion in fines and civil settlements.
"I've been gone 15 years," Scott says, breezily dismissing a question about the company, which was the subject of a recent New York Times investigation (as well as one launched by the Justice Department) into expensive and unnecessary heart procedures conducted at HCA's Florida facilities.
The governor has served as a punching bag for Florida's Democrats, and the attacks—for his summary rejection of a $2.3 billion federal grant for high-speed rail from Tampa to Orlando and for cutting funds to public schools, among other unpopular moves—have clearly hurt. "There's a reason Rick Scott is the most unpopular governor in the country, and that's because he has no idea how to move us forward," says U.S. Rep. Debbie Wasserman Schultz of greater Ft. Lauderdale, who chairs the Democratic National Committee.
You wouldn't know it from his fixed grin, but for months Governor Scott has been so politically tainted, his approval ratings upside down in poll after poll, that it was deemed big news—and a risk for Romney—when he was finally given a speaking slot to perform the host governor's mundane task of welcoming the delegates to Tampa. "He's not a politician, and that explains a lot of his behavior; he just looks at things as a businessman would," says Tampa Republican Art Wood, chairman of the Hillsborough County GOP. Wood says Scott remains popular among rank-and-file Republicans—and indeed he's a remarkable fundraiser, having brought in $7 million for the party in recent months—yet a member of the Florida's GOP establishment calls the governor "a goofball."
Lounging in shirt sleeves and an orange paisley tie at the corporate-jet terminal, Scott is at pains to deny reports that the presumptive nominee's campaign has pleaded with him to stop his off-message ballyhooing of Florida's declining unemployment rate (down to 8.6 percent from a high of 11), to say nothing of rising real-estate prices, as evidence that the economy is finally on the mend.
"No, no," Scott says, adding that he's not worried by the possibility that Obama will use Scott's boasts to validate White House policies. "Think about that. What are the chances of anybody getting me to not talk about what I ran on?" Nor will he acknowledge that Romney seems not to have gone out of his way to appear with him publicly during his visits to Florida. "When you get short notice on things, I have other commitments," Scott claims. "I'm the governor of this state."
Still, the governor knows that Florida—where Obama eked out a 51 percent victory in 2008—is a must-win for Romney. Scott has been toiling to boost GOP registration (150,000 new voters since he took office, he says) and is engaged in a protracted battle with the Justice Department over his crusade to purge the voter rolls of "noncitizens," a move seen as an effort to depress the Democratic vote.
"I think he's gonna win the state," Scott says of Romney. "I've got a good working relationship with him. I've tried to do everything I can to help him get elected."