A few women thinking outside the box during a bachelorette party in Las Vegas came up with an idea to put alcohol in small tubes, disguising them as tampons, which has been proclaimed a "genius" idea.
The viral TikTok capturing the moment, captioned, "Tampon flasks for the win #vegas #bacheloretteparty #independentwoman #letsgogirls #pepsiapplepiechallenge, has been viewed 6.1 million times and liked over 890,000 times since it was shared on March 19.
According to Statista, retail spending on vodka amounted to $26.59 billion in 2020 in the United States. BinWise reports that the majority of restaurants are trying to achieve 20 percent pour cost and an 80 percent margin when it comes to liquor sales, equating the average price of a drink to somewhere from $5 to $15.
TikToker @mswanderlyss, or Alyssa Abendschein, who is the soon-to-be bride, shared the 19-second clip accompanied by music. "When you're an independent woman and don't need no man to buy your drinks, but also inflation..." the screen read as a woman poured Tito's vodka from a shot glass into a small slim tube that another woman held over a sink.
The camera panned to a silver tray beside the sink, which held a number of clear vials with blue toppers, presumably filled with the vodka. Next to the tubes was a tampon wrapper. A woman picked up the wrapper and carefully revealed a hidden clear tube with a blue topper inside, disguised as a tampon.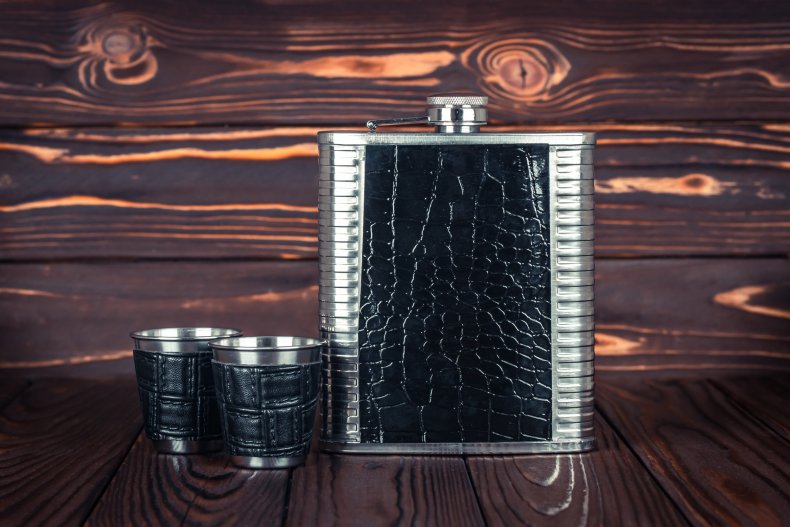 On the counter were other empty tampon wrappers to be used with the rest of the small flasks.
Over 5,600 comments came in over the content, and people are applauding the women's idea. "Since we have to pay for tampons and pads, we deserve this," a viewer said.
Words of appreciation were everywhere for the idea. "I'm actually extremely impressed, and I applaud you ladies," a TikToker admitted.
Some women might be taking the idea and running with it. "Yo, I gotta go to Disney in a couple weeks," a viewer said. "I think my period is coming."
Others would have fun with it while out. "I'd be lit opening them at the bar and pouring it in front of everyone," a TikToker joked.
One viewer had an idea to make some cash with the tampon flasks. "Sell them in the ladies' room, call them Tipsy Tampons," the TikToker said.
But the idea isn't new for some people. "I spent maybe $20 in total for all of 2019 at the bar because I did this," a viewer claimed.
Other TikTokers had comments like, "Genius... This beats the water bottle trick, and "Ladies, I admire your hard work. I will make you proud."
However, not everyone was enthusiastic about the tampon flasks. "Wow, that's a lot of work just to save a few bucks," a viewer weighed in.
Commenter Brit Olson said she's seen this trick firsthand.
"[I] work at a concert venue and we confiscated these and this girl was crying like [I] need my tampons but we have free tampons in all our bathrooms."
Newsweek reached out to @mswanderlyss for comment.