Five Women Sue to End New York 'Tampon Tax'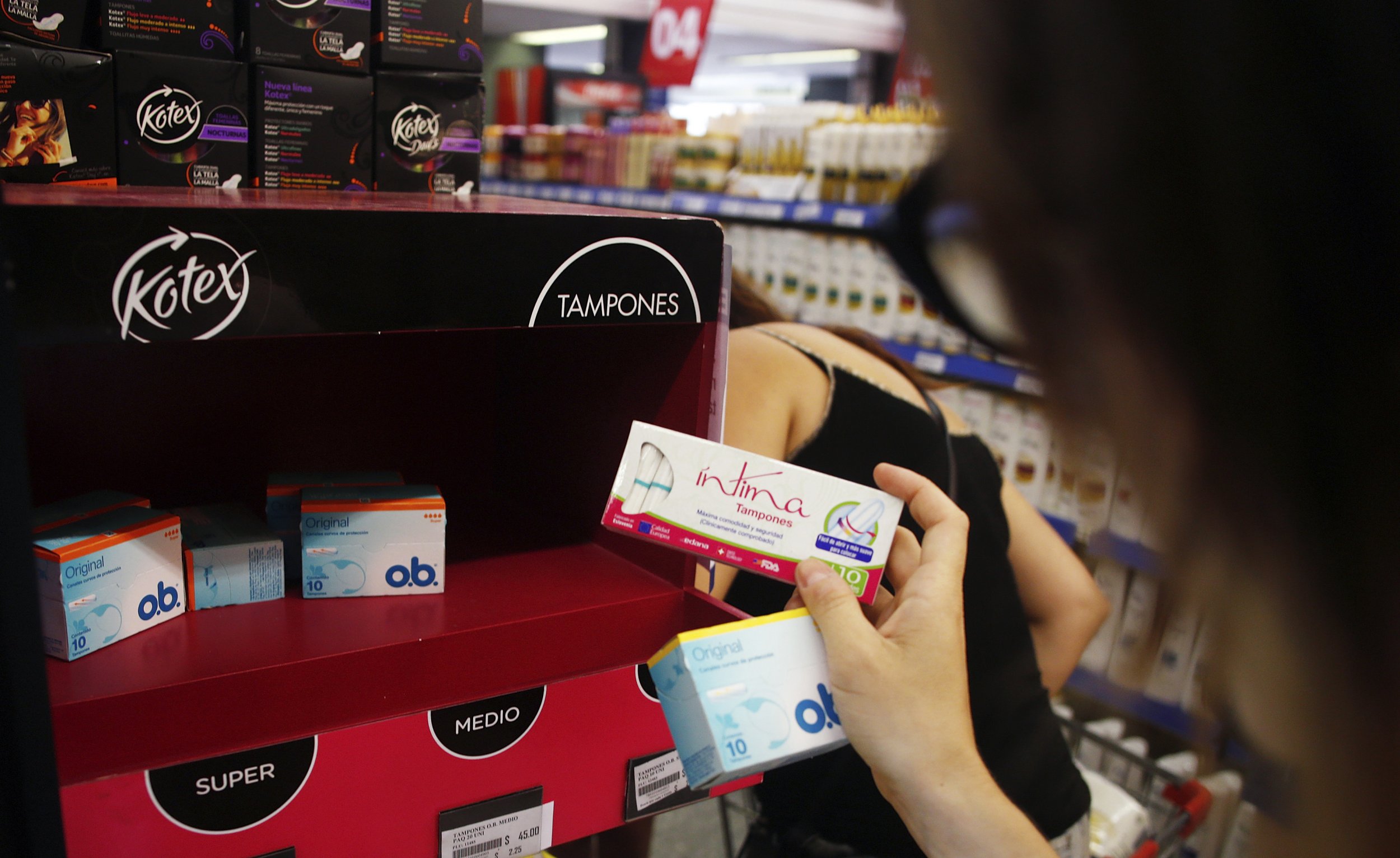 The global fight to abolish the tax on tampons and sanitary pads has reached New York.
On Thursday, five women filed a class action against the New York State Department of Taxation and Finance and its commissioner, Jerry Boone, urging state lawmakers to lift the tax on tampons and other feminine hygeine products. The lawsuit claims that the four percent New York state tax collected on tampons and sanitary pads, which are not considered medical items under state law, "violates the Equal Protection Clauses of the United States and New York Constitutions."
The plaintiffs—Margo Seibert, Jennifer Moore, Catherine O'Neil, Natalie Brasington and Taja-Nia Henderson—say that while New York state doesn't tax items deemed "medical," including Rogaine, dandruff shampoo and lip balm, tampons and sanitary pads—items used only by women and classed as "general merchandise"—are taxed.
The defendants "should be required to follow the law, and return the many millions of dollars they took illegally at the expense of women's health," the suit states.
"It is a vestige of another era, and now is the time to end it," the lawsuit says. Tampons and sanitary pads "are not luxury items, but a necessity for women's health," it goes on to say.
The federal Food and Drug Administration (FDA) classes tampons and pads as "medical devices," according to the lawsuit. The products help prevent illnesses, the suit states.
"Without access to tampons and sanitary pads, women are forced to use unsanitary and dirty rags—which can lead to infections and an increased risk of diseases such as cervical cancer—or have nothing at all to staunch the blood—which poses a risk to the health of women and the public," it says.
According to the lawsuit, women spend on average more than $70 a year on tampons and pads, and women who menstruate constitute more than one-quarter of New York state's 20 million population. The plaintiffs estimate that the state collects around $14 million in taxes by imposing a four percent sales tax on tampons and pads, less than one-hundredth of one percent of the state's annual budget of $142 billion.
Low-income women or women living in poverty are particularly hard-hit by the tax, according to the lawsuit.
New York Governor Andrew Cuomo said on Thursday that the tax should be repealed. Earlier this year, Manhattan Assemblywoman Linda Rosenthal introduced a bill seeking to end the state's taxation on tampons and pads.
Several U.S. states, including Pennsylvania and Minnesota, have successfully stopped the tax, while Connecticut and Illinois are considering changes to the law. Earlier this month, an all-male panel of lawmakers in Utah voted against removing the tax on feminine hygiene products. President Barack Obama in January said he doesn't agree with the tax.
"I have no idea why states would tax these as luxury items," Obama said in an interview with YouTube personality Ingrid Nilsen in January. "I suspect it's because men were making the laws when those taxes were passed."
The campaign has also been picked up internationally. More than 300,000 people in the U.K. signed a petition calling on the government to abolish the tax on tampons and sanitary pads, while Canada got rid of the tax last year.