Is Tana Mongeau's Marriage to Jake Paul Real? What The YouTube Stars Are Saying
Two giant YouTube stars tied the knot on Sunday, but fans have questions on if the relationship and marriage are real. Jake Paul married Tana Mongeau in a live-stream event in Las Vegas, but the legalities don't mean the relationship is true love. Even those close to them have expressed doubts.
In a new video, Mongeau revealed the relationship isn't necessarily true-love. Instead, the marriage is something for "fun" and for "content."
Mongeau released an episode of her MTV YouTube series Tana Turns 21 on Monday, that specifically addresses the questions. The fourth episode in the series is titled "The Truth About Tana & Jake's Marriage." In the episode, Mongeau opens up about the reality of the relationship and vows.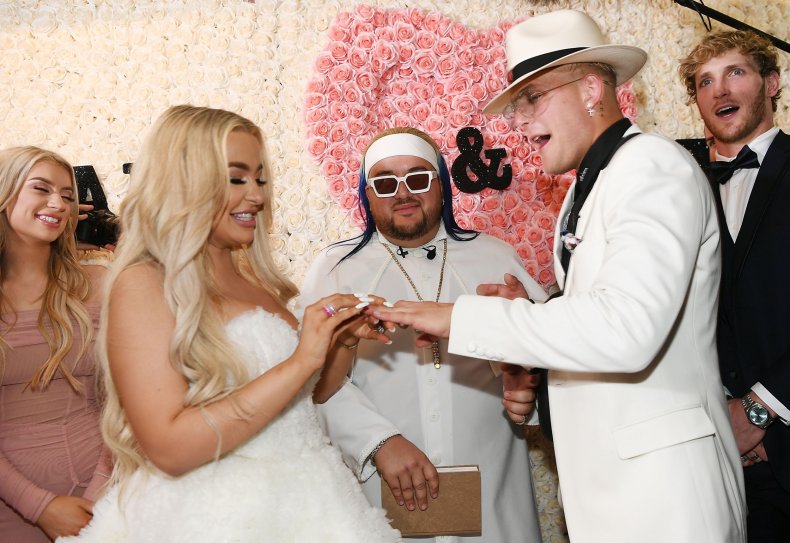 In the first few minutes of the episode, Mongeau reveals she and Paul have an open relationship and will plan to bring the same mentality to a marriage. In the conversation, though, Mongeau uses air quotes when saying "marriage." It's unclear if this is because the marriage is fake entirely, and being used as something like a YouTube challenge, or if it's because their marriage won't follow the typical, exclusive marriage formula.
Mongeau also shared her opinion on her proposal. Though she said it wasn't her dream proposal—Paul posed at her wild, Vegas 21st birthday party—she said if it wasn't then, it wouldn't have fit the couple's "brand."
The YouTube star's manager, Jake, spoke against the marriage in the episode. "When Tana told me first that she was gonna get married, I, of course, thought it was a joke. After the first wedding got canceled, we rescheduled the wedding to be in a few days from now," he shared. "I don't think they should be engaged, personally. You know, they're not in love."
Mongeau then admitted she and Paul don't "take things seriously." "Don't get me wrong, I know a marriage is a very serious thing, but at the same time, I think Jake and I don't take things very seriously, and I have a lot of love for him. But it's still, obviously, something fun and lighthearted that we're obviously doing for fun and for content."
From the video, it seems many of Mongeau's team don't support the marriage, and don't necessarily think it's worth the content. Jake told Mongeau if the marriage was a business deal, he would have canceled it by now.
Paul's side doesn't seem much different. In real-time, Mongeau and Paul are married, and Paul's brother, YouTuber Logan Paul, doesn't think their relationship will last more than a month. He told journalist Stephanie McNeal why he gave them a time frame of one month to one month and a half. "It seems a bit hasty in my opinion. Seems a bit preemptive one may say," Logan explained.