CNN's Jake Tapper Presses U.S. Surgeon General on Whether Trump Is 'Artificially' Keeping Coronavirus Figures Low
CNN host Jake Tapper pressed U.S. Surgeon General Jerome Adams on President Donald Trump and his administration's handling of the coronavirus outbreak on Sunday, asking whether the president's desire is to "artificially keep the numbers low."
More than 400 cases of the coronavirus have been confirmed across the U.S. on Saturday, and over a dozen people have died from the disease domestically. The total number of cases increased by 117 on Saturday, as community spread was confirmed on the East and West coasts.
Newsweek subscription offers >
During a one-on-one interview, Tapper asked Adams to comment on the various health officials who warned that they are not equipped to contain the new virus' outbreak.
"You're going to see more cases. Unfortunately, you're going to see more deaths, but that doesn't mean we should panic," Adams responded. "It means we should take the things that we know work for individuals to protect themselves and make sure everyone is doing those things."
Adams went on to defend the Trump administration's handling of the COVID-19 when asked by Tapper to explain "confusing information" perpetuated by government officials in recent weeks.
Some have claimed the virus has been "contained," Tapper said. "That's not true, it's not contained, it's not relatively contained."
Newsweek subscription offers >
"Have you expressed your desire for people in the White House to share the facts and be honest?" the host asked.
"This is a novel virus. It's a new situation and the messaging, quite frankly, is hard," Adams said. "From a public health point of view, and I am a public health expert, the first thing you want to try to do is contain the virus, and some parts of the country have contained it."
Tapper then referenced Trump's recent remarks about wanting to keep thousands from leaving the Grand Princess cruise ship in California.
"They would like to have the people come off. I would rather have the people stay," the president said on Friday, "but I told them to make the final decision. I would rather–because I like the numbers being where they are. I don't need to have the numbers double because of one ship that wasn't our fault."
In response, Tapper asked Adams: "Is the president's desire to artificially keep the numbers low by keeping Americans who are off the coast out of the United States?"
The surgeon general continued to defend the president and asserted that he doesn't want to engage in "politics" in discussing the coronavirus.
The president "said directly he doesn't want to bring people in because the numbers will double. That's not a medical decision, that's a public relations decision," Tapper added.
Newsweek reached out to the White House for comment.
The cruise ship was heading to Mexico after stopping in Hawaii when it was flagged as a risk and sent to San Francisco. After 21 people on board the vessel were tested positive Friday, Princess Cruises announced earlier Sunday that officials had given the ship the green light to dock in the Port of Oakland on Monday. Following disembarkment, all passengers on the ship will be required to undergo a 14-day quarantine.
Those who "require acute medical treatment and hospitalization" will disembark first, California Governor Gavin Newsom told reporters Sunday afternoon, adding that the boat will "come in sometime tomorrow."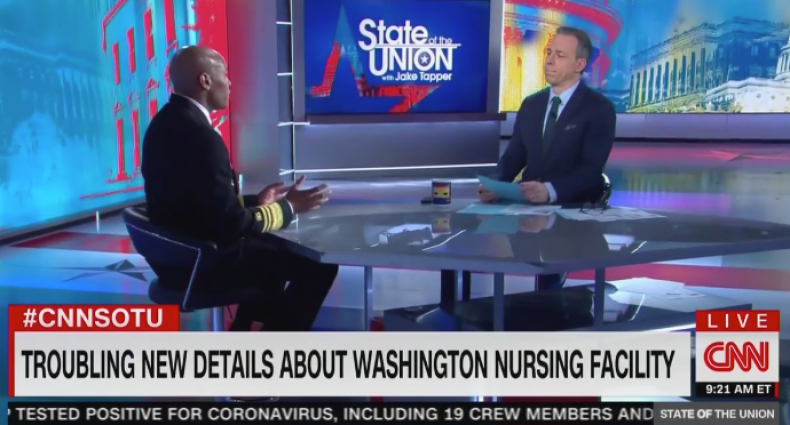 CNN's Jake Tapper Presses U.S. Surgeon General on Whether Trump Is 'Artificially' Keeping Coronavirus Figures Low | U.S.