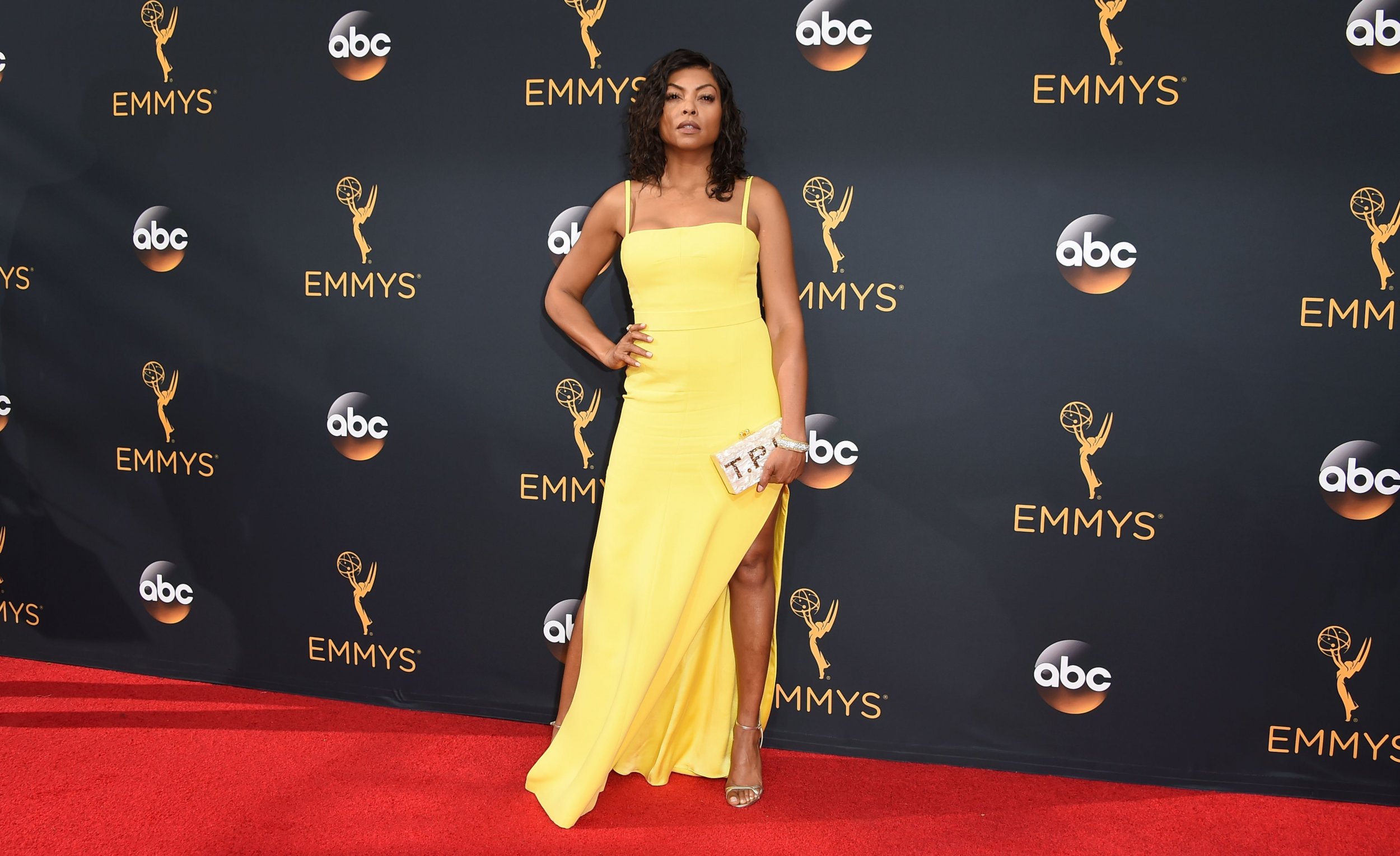 Empire actor Taraji P. Henson has made claims that she was paid just 2 percent of what her co-star Brad Pitt earned on the Oscar-nominated The Curious Case of Benjamin Button.
The star, who won the Golden Globe for Best Actress in a Drama Series in January for her role as Cookie Lyon on Empire , said she was paid "sofa change" in comparison to Pitt and co-star Cate Blanchett for the David Fincher-directed drama.
Henson earned an Academy Award nomination for Best Supporting Actress for playing Pitt's adoptive mother in the film based on F. Scott Fitzgerald's short story.
She spoke about the purported pay gap in her new memoir, Around the Way, released Tuesday.
"Both Brad and Cate got millions," writes Henson (via The Guardian). "Me? With bated breath, I sat by the phone for hours, waiting for Vince [her manager] to call and tell me the number that I thought would make me feel good: somewhere in the mid six figures—no doubt a mere percentage of what Brad was bringing home to Angelina and their beautiful babies, but something worthy of a solid up-and-coming actress with a decent amount of critical acclaim for her work.
"Alas, that request was dead on arrival," the actor continues. "'I'm sorry, Taraji,' Vince said quietly when we finally connected. 'They came in at the lowest of six figures. I convinced them to add in a little more, but that's as high as they'd go.'"
Henson went on to claim that she was told she would have to pay her for her own accommodation in New Orleans where the film—produced on a reported $150 million budget—was shot.
According to the actor that meant "three months of hotel expenses would be coming directly out of my pocket. Insult, meet injury."
Ultimately, Henson took the role because she felt there were so few parts with weight for black actors at the time.
Black actresses are "consistently charged with diving for the crumbs of the scraps, lest we starve," she says.
"This is exactly how a studio can get away with paying the person whose name is third on the call sheet of a big-budget film less than 2 percent what it's paying the person whose name is listed first," the actor explained. "I knew the stakes. No matter how talented, no matter how many accolades my prior work had received, if I pushed for more money, I'd be replaced and no one would so much as a blink."
In another chapter of the book, titled "On Being a Black Woman in Hollywood," Henson spoke about being edged out of a role that was specifically written for her.
The actor alleged she was initially eyed for the part of a pregnant Russian sex worker named Daka in 2014's St. Vincent, starring opposite Bill Murray and Melissa McCarthy, but the role ended up going to Naomi Watts.
"Time and again, I've lost roles because someone with the ability to greenlight a film couldn't see black women beyond a very limited purview he or she thought 'fit' audience expectations," the actor writes. "It was a meaty gig. I would have loved it. Alas, I couldn't get served at that particular restaurant."
Henson is currently starring in the third season of Empire, the hip-hop industry drama created by Oscar-nominated filmmaker Lee Daniels (Precious and The Butler).
However, last week it emerged that Henson and her co-star were being paid far less than many of their primetime television counterparts despite Empire being the highest-rated scripted drama on network television in the U.S.
According to figures obtained and published by Variety on October 4, Henson and fellow lead actor Terrence Howard earn $175,000 per episode of the Fox series.
The data also found a disturbing trend that other black actors on television, including the recently Emmy-nominated stars of sitcom black-ish, Tracee Ellis Ross and Anthony Anderson, were earning less than their white contemporaries.