Target to Pay Some New Hires $24 an Hour Amid Competition for Employees
Retail chain Target plans to pay up to $24 an hour to some hires amid mass competition for workers throughout the U.S.
The company's current universal starting wage sits at $15 an hour, but new employees hired in some of the country's most competitive markets could see the higher starting sums, the Associated Press reported.
"The market has changed," Target CEO Brian Cornell told AP. "We want to continue to have an industry-leading position."
Many retailers trying to draw in more workers amid the labor shortage have resorted to offering incentives like higher pay. A recent survey conducted by global consulting firm Korn Ferry in January found that 96 percent of surveyed major retailers were having trouble finding store workers.
The survey, which looked at more than 100 retailers with annual revenues from $500 million to more than $20 billion, also found that 88 percent of the companies said they encountered issues finding distribution-center employees.
Target's plan to offer some new hires the increased starting wage is part of a larger plan to spend an extra $300 million on its workforce this year, according to a company press release. The potential to earn up to $24 an hour right off the bat is at the top of an hourly wage range that still goes as low as $15 an hour.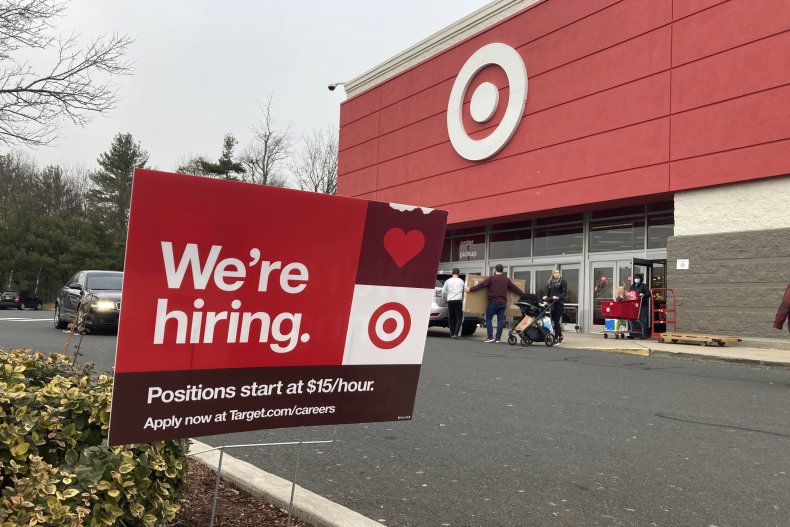 Employees in Target stores, supply chain facilities and headquarters locations will be eligible for the wage range.
"The exact starting wage within the range will depend on the job and the local market, with market-level wages set by the retailer based on industry benchmarking, local wage data and more," the release said.
Target's spending goal will also include providing broader, faster access to health care coverage for hourly employees, the release said.
About 20 percent of the company's workforce will become eligible for comprehensive health care benefits. The minimum average of weekly hours that make workers eligible to enroll in a Target medical plan will be decreased from 30 to 25, according to the release.
Hourly workers will also have a shorter wait to enroll in a medical plan, while the company's medical plan will offer new benefits like no-cost virtual physical therapy.
The COVID-19 pandemic has played a huge role in the current labor shortage. Many people lost their jobs, either temporarily or permanently, at the onset of the pandemic in 2020. Then, in 2021, more than 47 million workers quit their jobs as many sought a better work-life balance, increased pay and better company cultures, according to the U.S. Chamber of Commerce.
Many workers, particularly lower-income ones, have been successful in their pursuit of higher wages. Pay for the poorest one-quarter of workers increased 5.8 percent in January compared to a year earlier, according to the Federal Reserve Bank of Atlanta.
Average pay for retail workers, managers aside, rose 7.1 percent in January compared to a year earlier to $19.24 an hour, AP reported.
The growth rate is faster than before the pandemic. In January of 2020, for example, pay jumped 4.2 percent from the year before.
Still, consumer prices rose 7.5 percent in the past year, a jump that has eaten away most of the pay gains, according to AP. Research by the Dallas Fed indicates that pay increases for workers over the past two years have been high enough to leave them with slightly higher pay even when adjusted for inflation, AP reported.
Update 2/28/22, 10:15 a.m. ET: This story has been updated with additional information.