'Target Tammy' Filmed For 'Bullying' Cashiers Over Mask Mandate in Viral Video
Mask mandates have split public opinion throughout the course of the coronavirus pandemic, and one man came across an unhappy customer who he said was "bullying" the cashiers at a Target location in Manhattan.
He filmed his interaction with her and posted it to TikTok where his video received nearly 900,000 views.
In TikTok user @rossisfunny's video, which can be viewed here, a woman is seen holding her phone, apparently recording the employees.
"I'm in Target by Columbus Circle and this idiot is bullying the cashiers because she doesn't want to wear a mask and she's streaming on Instagram, and they love drama so let's give them drama," @rossisfunny said.
According to the New York City Department of Health and Mental Hygiene, everyone, regardless of vaccination status, must wear a mask on public transportation, in school and when in a store, restaurant or other public space where the owner requires masks.
The department recommends that everyone, again, regardless of vaccination status, wear a mask in public indoor settings, even if it is not required.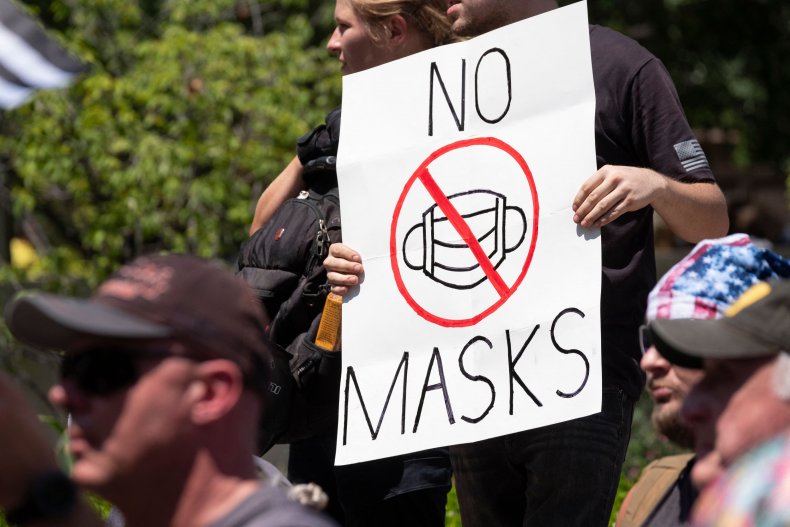 The woman in @rossisfunny's video continued to point her camera at the employees before directing her attention to him.
"So f*****g what? A mandate is not a law," she said. "I don't have to."
She then called him the f slur.
"Oh my god, do it again, I'm obsessed with that," he retorted.
When she turned her attention back to the cashiers, @rossisfunny asked her for her name.
"Well, if you're strong in your convictions, just say your name," he said.
The woman ignored the question and shook her head at something the employee told her before the clip ended.
@rossisfunny closed the video by also noting that he saw earbuds fall out of the woman's bag. Though he was going to give them back to the woman, he overheard her "tirade" and ultimately decided to pocket them.
However, in a follow-up video, @rossisfunny returned to the Target location to return the earbuds.
"The way u handled this was perfect," @amorraytravels commented. "I'm sorry u had to encounter this horrid woman tho."
"Not her bringing Walmart behavior into Target," wrote @arielleedwards87.
Speaking to Newsweek, @rossisfunny explained that the cashiers were not allowing someone to pay without wearing a mask.
"So when she opened her mouth, I was like 'My God, now I'm gonna be on this line forever," he said. "But it's when she started recording the employees that I went, 'Oh hell no, I want to give her a taste of her own medicine."
The TikTok user said she was yelling at the employees and said she was being discriminated against before telling them she was going to put them on social media.
"She was threatening them," @rossisfunny said. "Trying to dox them."
It was then that he pulled out his phone and recorded the woman.
Looking back on the incident, he said store employees need to be better protected against "people doxing them and using them as props in a political performance."
And, while he recorded the interaction with the woman, he urged other bystanders to similar situations to exercise caution.
"Engaging with any unhinged stranger is potentially dangerous, so keep yourself safe first and foremost," @rossisfunny said.
Newsweek reached out to Target for additional comment but did not hear back by press time.
It is not uncommon for confrontations over health policies to be recorded.
In December 2021, Newsweek reported that five people were arrested following a protest at a Burger King regarding COVID-19 protocols. Several videos were posted that showed what happened at the eatery.