Target Fires Employee Who Hid Neo-Nazi Messages In Diaper Boxes
Target have fired an employee who slipped cards featuring a white supremacist slogan into boxes of diapers sold by the store.
Laminated cards featuring the words "It's Okay to be white" have appeared inside boxes of diapers purchased from Target either in store or delivered to customer's homes across the U.S.
In each case, the back of the cards also feature URLs to several far-right and Neo-Nazi websites.
After launching an investigation to "urgently address " the situation, Target have now said they have found the person responsible and fired them.
"We sincerely apologize to guests who received an inappropriate message in their Target purchase and thank them for calling it to our attention," a spokesman for Target told Newsweek.
"After being made aware of the situation, we immediately launched a thorough investigation to address the concerns and put a stop to it. We have identified the source, and given this is a violation of our policies and our commitment to inclusivity, terminated the team member."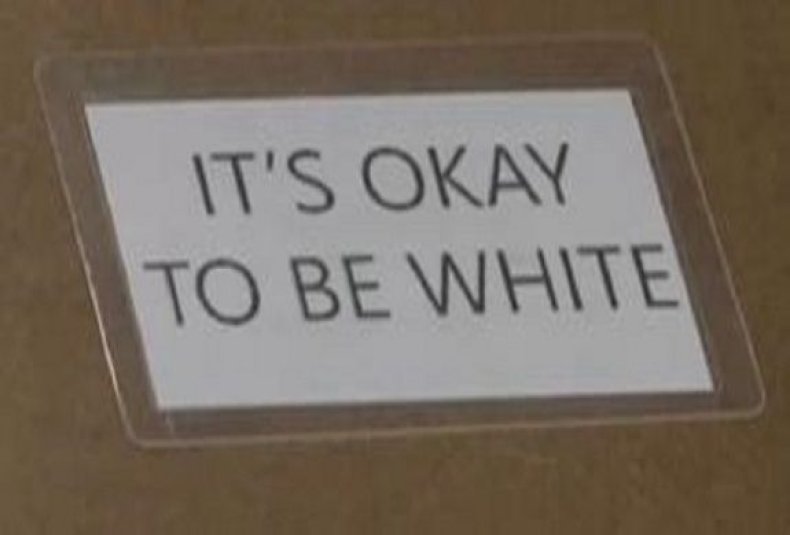 Target did not say how they identified the employee in question or where they were based. However, since the 'It's okay to be white' messages appeared across the country including Washington, Tennessee and sent to a family in Florida via a facility in Indiana, it is likely the employee worked at one of the retailer's warehouses.
The Anti-Defamation League (ADL) said they received two complaints from families after discovering the cards in March, with a family in Hixson, Tennessee, also speaking to local media after finding one in a box of Pampers purchased from Target.
"It said 'It's okay to be white,' and I looked on the back and it was just five or six websites that I recognized the language that was used from the Charlottesville incident late last year," Tad Russell, told WRCB.
The ADL said the phrase 'It's okay to be white' has been linked to white supremacy for several years, with members of Klu Klux Klan group United Klans of America using the hashtag #IOKTBW on Twitter since 2012. White power group Aggressive Force also had a song title using the phrase back in 2001.
The phrase gained prominence late last year after infamous forum site 4chan used it as part of one of their troll campaigns.
The idea was to post the seemingly innocent message in public places such as school campuses and watch as it causes a "massive media shitstorm" as the slogan was perceived to be racist.
"Normies tune in to see what's going on, see the posters saying 'It's okay to be white' and the media and leftists frothing at the mouth," one anonymous 4chan user explained. "Credibility of far left campuses and media gets nuked, massive victory for the right in the culture war."
After the slogans started to appear across the country, resulting in the expected media coverage, the phrase was soon jumped on by the alt-right in the U.S.
"'It's OK to be white' is a brilliant political provocation" said prominent right-wing blogger Nick Land. "Any response other than 'Of course it is' looks preposterously demented."