Vulnerable Republicans Show Signs of Breaking with Donald Trump on China Tariffs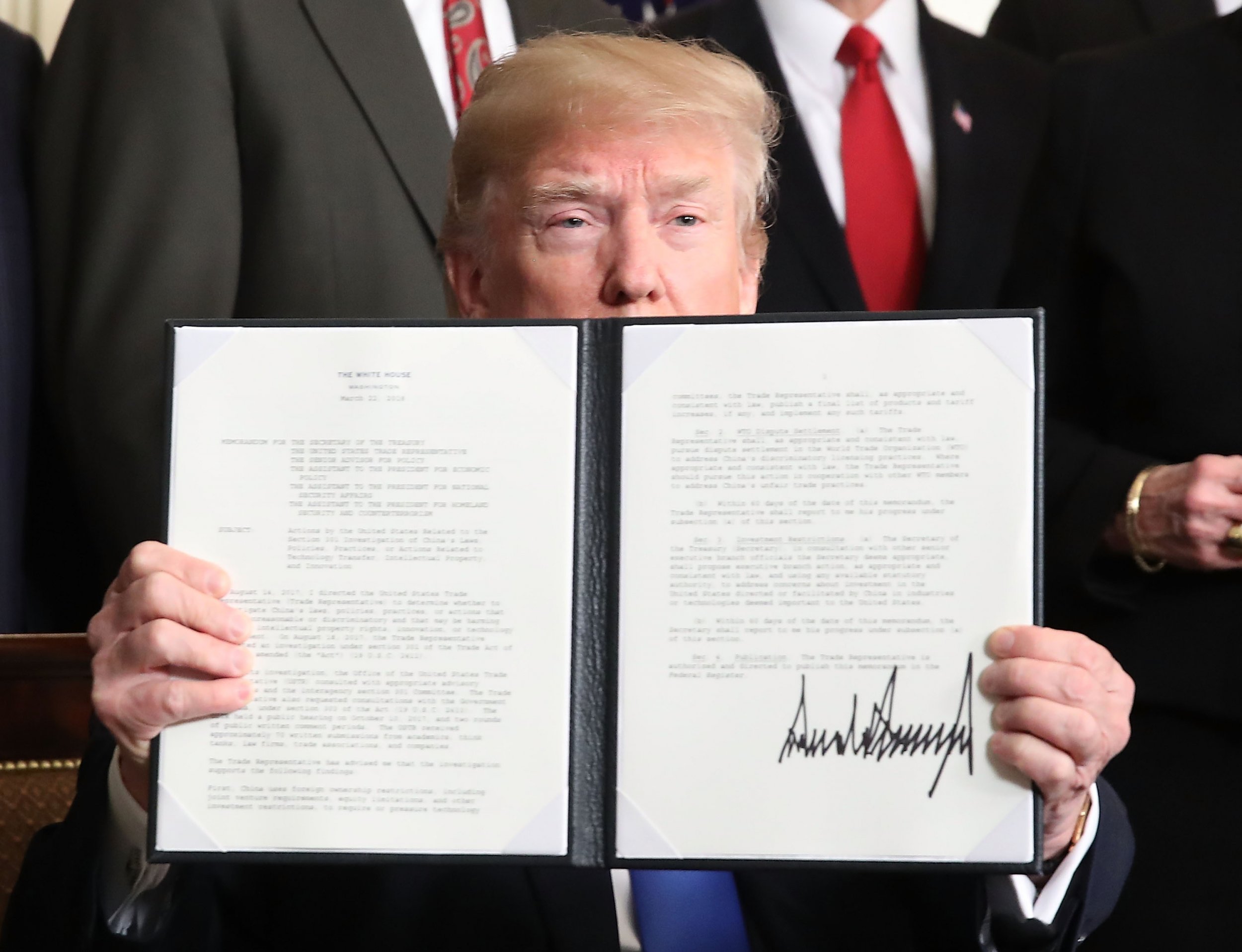 President Donald Trump is continuing his hard-line stance on a trade deal with China, to the detriment of the stock market and some members of his own party.
Last week, negotiations between Washington and Beijing broke down. Trump added another $200 billion in tariffs on Chinese goods, and China responded on Monday by leveraging an extra $60 billion in tariffs on U.S. imports. Since then, markets have fallen (though they're beginning to rebound), and some congressional Republicans have voiced concern with the route the president has taken.
Republicans who preside over districts and states with lots of farmers are particularly worried about the impact the trade wars may have on their re-election campaigns.
Farmers have been the target of a number of tariff increases. A report from the U.S. Department of Agriculture showed that the amount of soybeans in storage is up 29 percent since last year and an April survey by Purdue University and the CME Group found that only 22 percent of farmers believe it is a "good time" to make large farm investments. Farmer sentiment, according to the monthly survey, plummeted 18 percent between March and April alone.
Senator Johnny Isakson of Georgia told reporters on Monday that he was concerned about the impact the tariffs would have on the 2020 election in his state. "We're an ag state in Georgia—21 percent of our GDP is agriculture. Ag is where you most selectively can target tariffs to hurt the quickest, so you're vulnerable from that standpoint," he said.
Republican Senator Joni Ernst of Iowa said she plans to have a conversation with Department of Agriculture Secretary Sonny Perdue about extending more money to farmers in need. "Already the corn farmers have called in. They're very worried that they'll be left behind," Ernst told reporters.
Still, Ernst placed the blame on China. Farmers, she said, are "disappointed but, you know, recognizing that China is the one that is forcing this."
Senate Finance Committee Chairman Chuck Grassley of Iowa has been a vocal critic of the president's tariffs from the beginning, though he said he still backs the president. "Raising tariffs will hurt both US & China economies + more importantly will hurt US farmers/consumers/businesses Enough is enough China needs to negotiate seriously & quit moving the goalpost Enforceable trade deal needed for certainty," Grassley wrote on Twitter.
Kansas Senator Jerry Moran said that while "the retaliatory tariffs will have a significant consequence to Kansans," it's really up to the White House and not the Senate. "Really, this authority rests in the president," he said.
The president showed little concern for his party's worries on Monday. "I love the position we're in," he told reporters. "It's working out really well."
On Tuesday, the president acknowledged that farmers were hurting because of the trade war.
"Our great Patriot Farmers will be one of the biggest beneficiaries of what is happening now," he tweeted. "Hopefully China will do us the honor of continuing to buy our great farm product, the best, but if not your Country will be making up the difference based on a very high China buy. This money will come from the massive Tariffs being paid to the United States for allowing China, and others, to do business with us. The Farmers have been 'forgotten' for many years. Their time is now!"
The president also took to Twitter to remark on how his tariffs on steel have "rebuilt the industry" in one year. "In one year Tariffs have rebuilt our Steel Industry - it is booming! We placed a 25% Tariff on "dumped" steel from China & other countries, and we now have a big and growing industry," he wrote. "We had to save Steel for our defense and auto industries, both of which are coming back strong!"
The "boom" the president is referring to is an extra 2,300 iron and steel mill jobs.