In Ukraine, Crimean Tatars Haunted By A Second Exile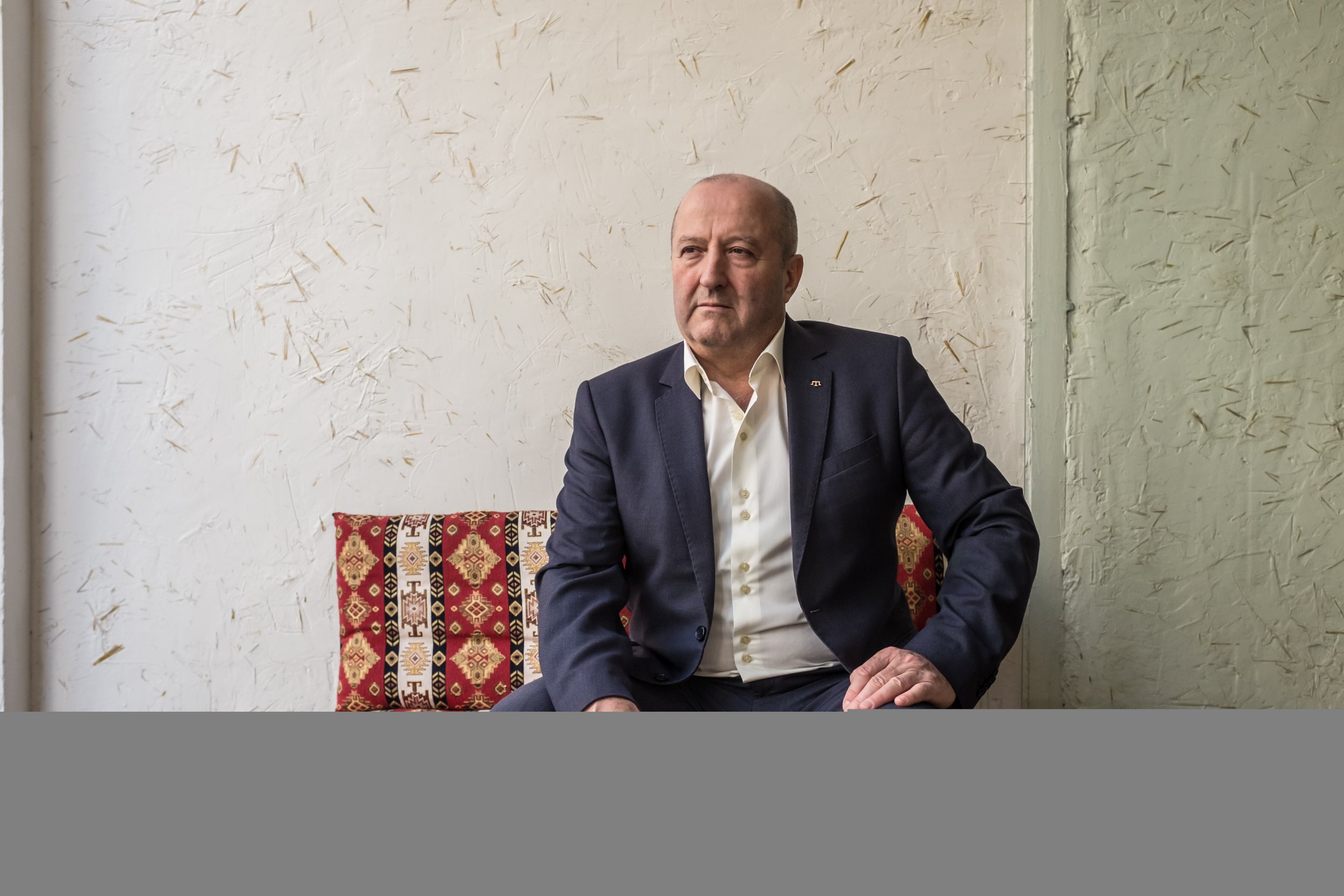 Ever since the Russian annexation of Crimea in early 2014, thousands of minority Muslim Crimean Tatars have fled the peninsula, many to the Ukrainian cities of Kiev and Lviv.
Official estimates say there are 25,000 internally displaced Crimean Tatars in Ukraine—unofficially, that number could be far higher.
The Tatars are living embodiments of the uncertainty and confusion that has been actively promoted since Russian forces took over Crimea in February and March 2014.
As internally displaced people, they are trapped in a form of exile from a home where authorities are erasing signs of their unique identity and casting expressions of Tatar culture as a dangerous separatist threat to the annexation.
Crimean Tatars feel they have more to fear from the annexation than most. For many, there is no distinction between modern Russia and the old Soviet Empire, which inflicted a trauma on the Crimean Tatars from which their society is yet to recover.
In 1944, Lavrenti Beria, the head of Stalin's secret police, oversaw the deportation of tens of thousands of Crimean Tatars and their dispersal across the central Asian republics of the Soviet Union.
The minority Muslim group had been identified as traitors to the USSR by Stalin, an accusation Tatar leaders still strongly reject. After the collapse of the Soviet Union, an estimated 280,000 Tatars returned to Crimea, hoping to rebuild their communities and way of life.
Read More: Russia will pay millions to fence off Crimea from Ukraine
Crimean Tatars have largely aligned themselves to Ukraine, whose government they see as a more reliable guarantor of their rights.
The Mejlis—the Crimean Tatar representative body—was reformed in 1991 and has played an active part in Ukrainian national politics since. In March 2014, after the Russian annexation, the Ukrainian state formally recognised the Mejlis and the Qurultay, the elected body that appoints the Mejlis, as official representative and executive bodies of the Crimean Tatars.
In April 2016, the Mejlis was outlawed as an extremist organisation by the Russian authorities.
Extremism is an increasingly common charge against Crimean Tatar activists, with the Russian authorities keen to exploit anti-Islamist rhetoric, in particular claiming that many Tatars are in fact members of the banned organisation Hizb ut Tahrir.
Human Rights Watch reports that the Russian authorities in Crimea have arrested at least 26 people on charges connected with Hizb Ut Tahrir membership since 2015. It suggests that charges of membership of Hizb Ut Tahrir are frequently made against people who practice their religion outside of official channels. (The Crimean activists I spoke to were keen to distance themselves from extremism).
While the annexation becomes entrenched, human rights abuses in the peninsula show no sign of abating. Tatar journalists and media outlets have been subject to harassment and closure.
One NGO, Crimea SOS, reported that in the first half of 2017, there were at least 91 unlawful politically-motivated detentions of Tatars in the region, along with frequent raids on Tatar areas. Some of those detained say they have been tortured by authorities, while denial of medical access and family visits is frequently reported by prisoners facing political charges.
In September 2017, Akhtem Chiygoz, the deputy chair of the Mejlis, was sentenced to eight years in prison for his part in a pro-Ukrainian protest in 2014. His trial was described as the latest in "a wave of spurious and demonstrably false criminal and administrative cases" by the head of Amnesty International in Ukraine.
In September 2017, working with Swedish NGO Civil Rights Defenders, I met exiled Crimean Tatar politicians, activists, journalists a in the Ukrainian capital Kyiv to learn about their fears for country, their culture, and the challenge to Europe represented by Russia's annexation of Crimea.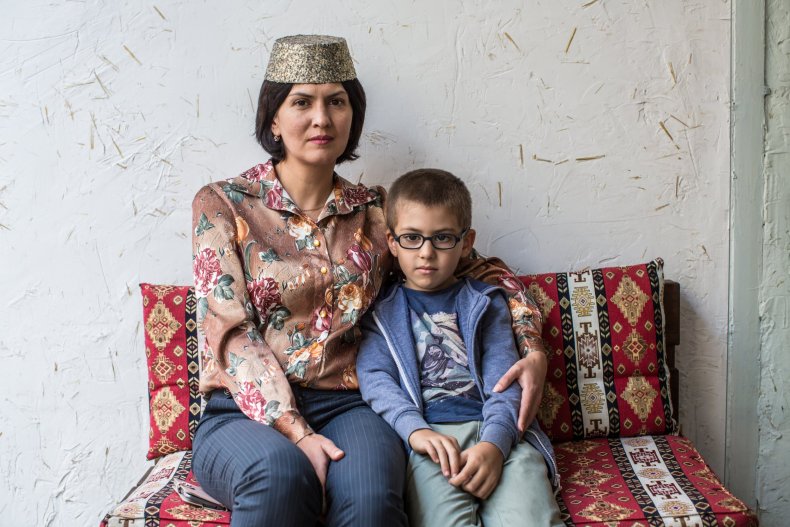 In the courtyard of Musafir, a Crimean restaurant not far from Kiev's Maidan Square, Elmira Katakli is one of thousands of Tatars who have fled the Crimean peninsula since the Russian annexation in early 2014.
Katakli, who was a lawyer in Crimea, was brought up in Uzbekistan. Her family returned to Crimea when she was 12.
Katakli says she fled the annexation because she remembers what life was like for Tatars in the Soviet Union, and does not want her children to grow up with the same experiences. She sees Putin's Russia as just an updated version of the Communist empire.
"There are no rights in Russia," she says. "At least in Ukraine you can fight in the courts."
Riza Shevkiev is the head of the Crimea Fund, the Mejlis's financial wing. He fled Crimea in January 2015 after being informed he risked arrest if he stayed. In November 2014 he had been fined 350,000 roubles ($6,000) for alleged irregularities in the leasing of the Mejlis's building in Simferopol, the Crimean capital.
Tatar activists also often find themselves accused of "separatism" usually for crimes as minor as displaying Ukrainian colours, or the Crimean Tatar "Tamga" symbol.
Shevkiev, wearing a Tamga lapel pin, said that there is an ongoing debate among Mejlis members over whether the assembly members in Kiev should convene it there while many senior members of the assembly remain in Crimea.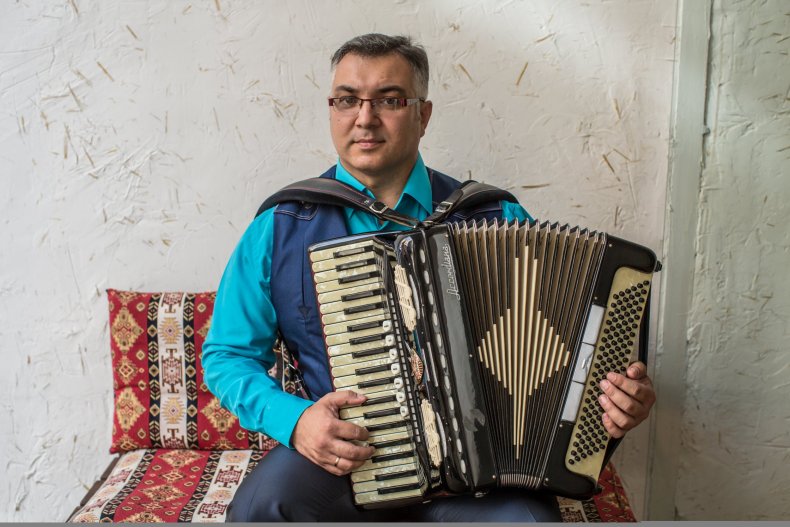 Shevket Zmorka, a musician, regularly plays his accordion at the Musafir restaurant. Born in Kazakhstan, to where his grandparents had been deported by the Soviets, Zmorka developed a passion for music from the age of three. In 1995, his family returned to Crimea, where he became a music lecturer at the University of Culture and Arts in Simferopol. After the annexation, Zmorka said, university staff were "told we would be fired if we did not take up Russian citizenship".
Zmorka was in Kiev in 2014 as the Russian annexation of Crimea unfolded. He was offered a job in Kiev, and has not returned to Crimea since.
Zmorka says music plays a big part in bringing exiled Crimean Tatars together, with many turning up for concerts in Lviv and elsewhere.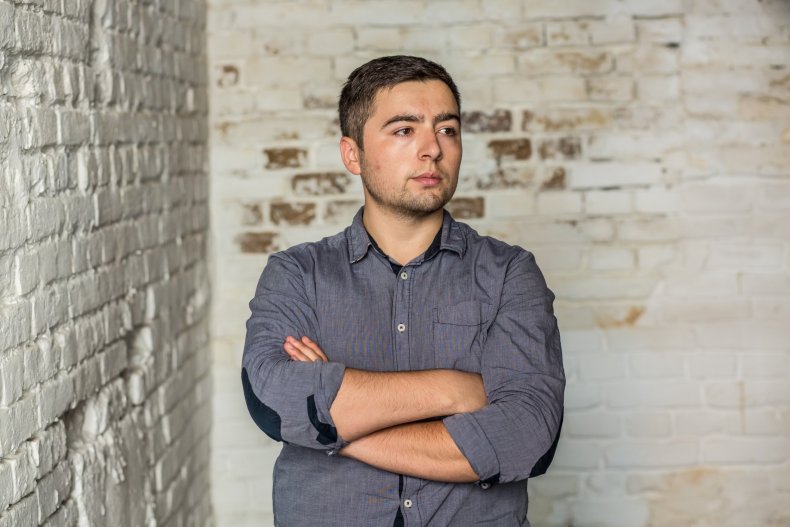 Crimean Tatars outside of the annexed peninsula are often warned to maintain a level of discretion about their activities. Shevket Namatullaiev is a young journalist with the Crimean ATR network, which operates out of Kiev, having been banned in Crimea.
In spite of the ban, he says, the network manages to smuggle footage out, with activists and reporters on the peninsula using Facebook Live to record and broadcast footage of protests and police actions on their phones. Namutallaiev, who recently had twins, says he is occasionally warned that family and friends in Crimea could be put in danger because of his work. His parents remain in Crimea.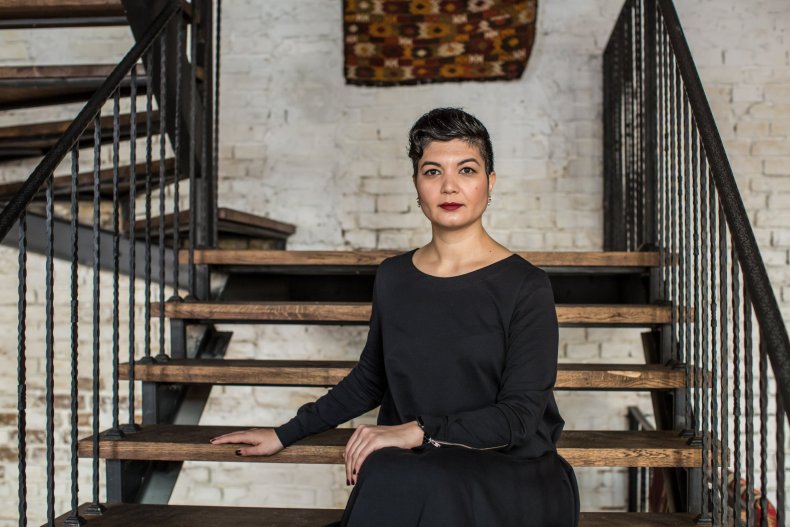 Tamila Tasheva is co-founder of Crimea SOS. As well as issuing reports on human rights abuses on the peninsula, Tasheva's organisation produces feature films, including Mustafa, a 90-minute docu-drama on the life of Mustafa Dzhemilev, a former dissident and head of the Mejlis from its post-Soviet reformation in 1991 up until 2013, seen by many as the figurehead of the Crimean Tatar national movement.
Crimea SOS has also built innovative campaigning tools including a continuously updated interactive map of human rights abuses in Crimea.
Tasheva was born in Uzbekistan, where her family had been exiled by the Soviet Union. Now, she is certain if she attempts returns to Crimea, the authorities will consider her a Russian citizen and try her as a separatist and extremist.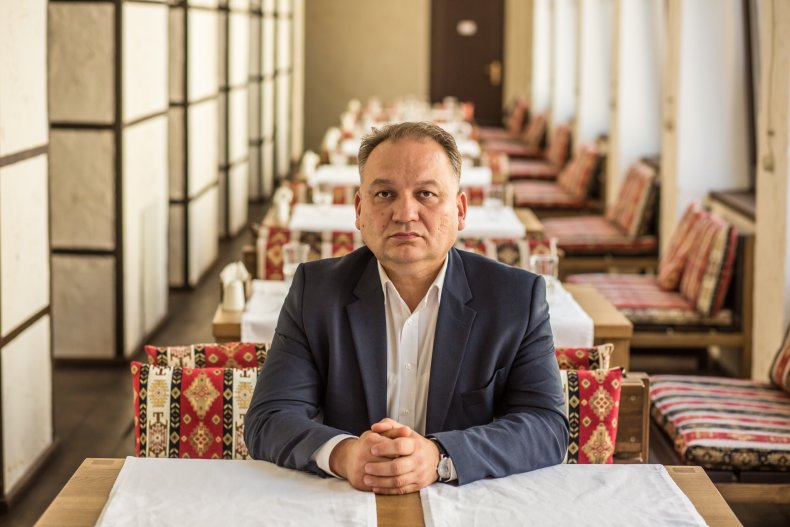 For Eskender Bariiev, a Mejlis member and head of the Crimean Tatar Resource Centre, which advocates for Tatar rights on the Ukrainian national and international stage, the fate of Crimean Tatars should reverberate around the world, and serve as a warning for the European countries that border Russia.
"[The Annexation of Crimea] is against European values, a violation of international law, and a threat to Europe," he says. "If Russia can do this in Crimea, where will be next?"
Padraig Reidy worked as a consultant for Civil Rights Defenders on its work with Crimean Tatars.