Tash Sultana Will Leave the Past Behind with 'Flow State'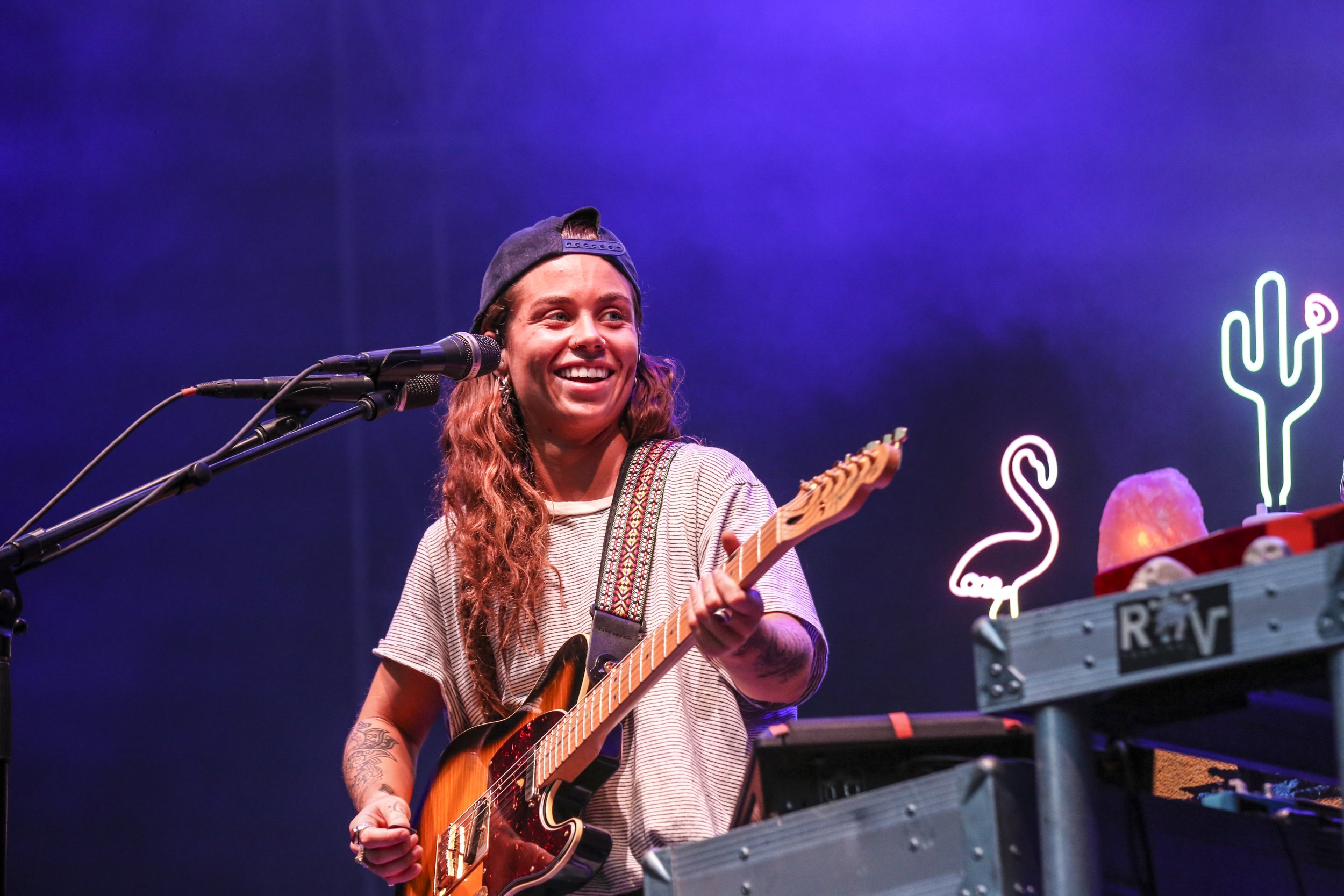 Tash Sultana takes the stage alone at Lollapalooza, the way they always do: a one-person act. They control their own sound, their vision and their fate—and even their own pronoun. Sultana is open on social media about being nonbinary and preferring the pronouns they and them.
Though they've got a coveted spot on the Saturday lineup, just before the headliners, they don't consider themselves famous. Instead, their path in life is one of performance, one that allows themselves to live inside their own world on stage.
Sultana is quick to speak and clarify their own life with fans and viewers. They've also been transparent about a former drug-induced psychosis and struggles with mental health, though that is a chapter which, for Sultana, has been closed.
With only 45 minutes for their Lollapalooza set, the Australian artist is cramped for time. Though they've only released one EP, Notion, in 2016, and a handful of singles, the psychedelic rock artist normally plays a two-hour set filled with instrumentally fueled creation. Their goal at Lollapalooza is to "pump it up a little," and to embrace a "collision of different things."
Sultana is scheduled to release their first full-length album, Flow State, on August 31, though they're not playing that set of songs just yet. Unlike most artists who use the festival circuit as a way to promote their upcoming releases, Sultana's set is living in their past, one they're ready to leave behind.
"I can't wait to drop Flow State so I can progressively just move on from that...that section of my life...and make space for all of the new s***," Sultana told Newsweek.
In the era of Notion lies Sultana's biggest hit: "Jungle." The song skyrocketed the 23-year-old artist to the spotlight, and for many of Sultana's listeners, it's all they care to hear.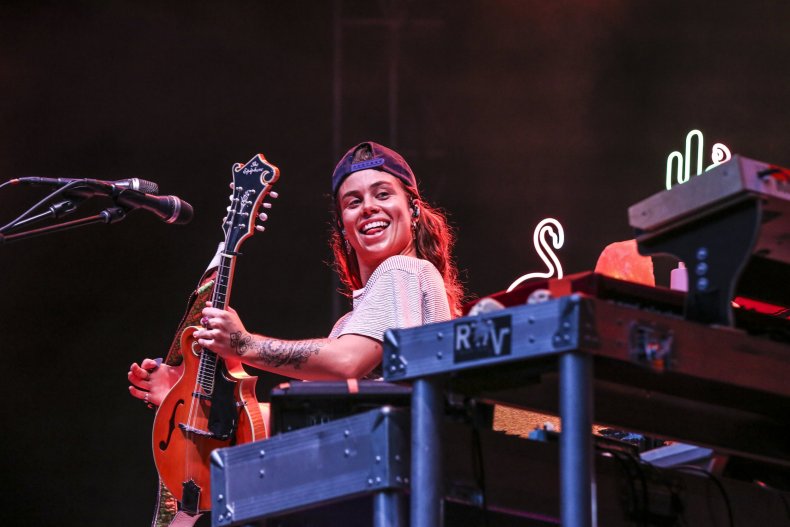 "I think when you have one song that does really well, people love you from that song, or they hate you from that song," Sultana said. "You know what I mean? For some people, there's no further interest into hearing the other stuff that you've worked your a** off to produce. They kind of just label you as that one song."
When asked if they're sick of playing "Jungle" live, Sultana quickly responds yes. After a second of thought, they negate the answer.
"I still find it fun. I do. I'd be lying if I said I still didn't find it fun," Sultana said.
"Jungle" has also sparked a movement of clarification for Sultana. After seeing lyrics posted online, and even misprinted lyrics on fan's tattoos, Sultana has vowed to upload the lyrics of released songs to their official website.
"Somebody thought that I was saying "single daddy" in 'Jungle' somewhere. I don't know how the f*** you get that," Sultana said with a laugh.
There's anxious excitement in Sultana's voice as they speak of their future. Their path ahead looks bright. Their status as an artist is clear from the size of their Lollapalooza crowd, packed even though they're playing a side stage. But the message in Sultana's music is what's intriguing. In writing Flow State, Sultana has left behind the moments of their life that inspired Notion and walked into something erring on positive.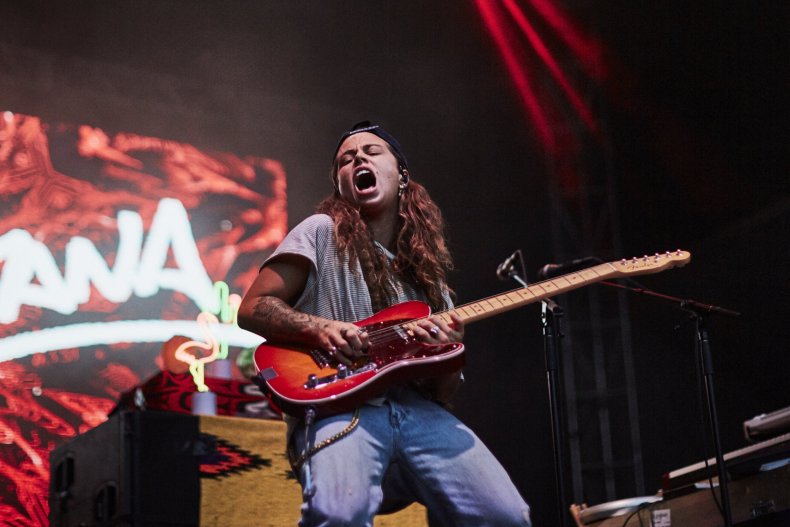 "I'm really in a good place in my life, to be honest," Sultana said. "And I'm in a really beautiful relationship with my partner. It's kind of changed my mindset. I've been living a healthier life, and therefore, writing healthier music."
Sultana has already released "Harvest Love," a stripped-down track that veers from their typical, instrumentally dense loop pedal tracks. The song embraces Sultana's eclectic voice in a coffeehouse setting, still designed with echo and depth for a large stage. They've also released the sultry, empowering track "Salvation," with lyrics "I found myself between the dirt and desperation, I don't need you for my own validation."
Sultana's next direction is clear: It's a path of self-empowerment and inspiration, stepping out of the shadows and into a role of musical advocacy. And for them, music is the answer to it all.
"I've got to deal with some stuff in my mind that's pretty scary," Sultana said. "But I've already spoken about that. Music is the management for that, really. It's the medicine for that."
And for Sultana, music is also the commonality that connects them to their fans, listeners and the world.
"Pretty much everybody loves music. Like there are those weird people that don't like music, and I don't really understand that at all, to be honest," they said. "I think it's a pretty cool experience to share with people because you don't get to choose when you're born, but you kind of get to choose what you do in life. And my path is this way, and it's to bring people together. And we all jam out, and it's f****** sick."
Sultana hopes their fans and new listeners give Flow State a few listens before ultimately deciding what they think of it. When asked what they hope listeners gain from the collection, Sultana's answer is clear: "Whatever they need."