Task Force Hopes to Save 1 Million Lives By Sending Oxygen Concentrators to India
A U.S.-based task force is striving to deliver 100,000 oxygen concentrators to India in the hope that the supplies will help save one million lives, as India struggles through its latest wave of COVID-19 infections.
Fueled by public organizations and private companies in the U.S., the effort began last month as reports spread of India's fractured health care system and photos emerged of people surrounded by funeral pyres watching their loved ones' bodies burn.
Oxygen quickly became a point of focus for health officials in India as supplies ran low, and countries around the world began responding with offers to contribute their own supplies.
Dr. Mukesh Aghi, the president and CEO of the U.S.-India Strategic Partnership Forum (USISPF), said the demand for oxygen in India is overwhelming.
"At the moment, all of the focus is saving lives by moving as much as we can to bring the supplies," Aghi told Newsweek.
USISPF is supporting the Global Task Force on Pandemic Response, an effort led by the U.S. Chamber of Commerce, which has additional support from Business Roundtable and the U.S.-India Business Council.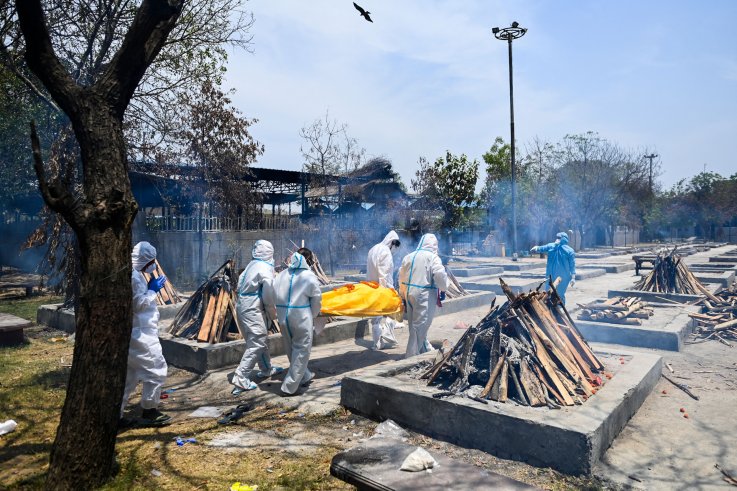 Relatives bring the body of a COVID-19 victim to cremate at a cremation ground in New Delhi on May 11, 2021.
SAJJAD HUSSAIN/AFP via Getty Images
Nearly 23 million people in India have been diagnosed with COVID-19 since the start of the pandemic, according to a Johns Hopkins University data tracker. India ranks third in the world in reported virus deaths behind the U.S. and Brazil.
On Tuesday, Reuters reported that India had reached a new high, with an average of more than 390,000 new cases recorded every day.
Among the country's concerns is the B1617 virus variant, which was first identified in India. The World Health Organization (WHO) said Monday it has data to suggest there is "increased transmissibility of B1617."
Dr. Maria Van Kerkhove, the WHO's technical lead on COVID-19, told reporters during a Monday press briefing the WHO decided to identify B1617 as "a variant of concern at the global level."
In response to the surging numbers of new virus infections, Aghi said the CEOs of Adobe, Mastercard and Microsoft reached out to him last month to inquire how they might contribute to USISPF efforts in India. From there, the group began reaching out to other CEOs of major U.S.-based companies, many of which employ people in India, and quickly assembled the Global Task Force on Pandemic Response. The task force includes representatives from about 40 companies, including Amazon, Apple, UPS, Walmart International and others.
In a news release announcing its efforts to support India, Microsoft said it has "several thousand" employees who work out of 11 locations in India.
"Microsoft has had a presence in India for nearly three decades and our teams in the country play an important role for the company that stretches well beyond India's borders," the technology company wrote. The release went on to say the task force and other such "cross-industry, public-private partnerships are an essential part of an effective response, and we're working to play our part."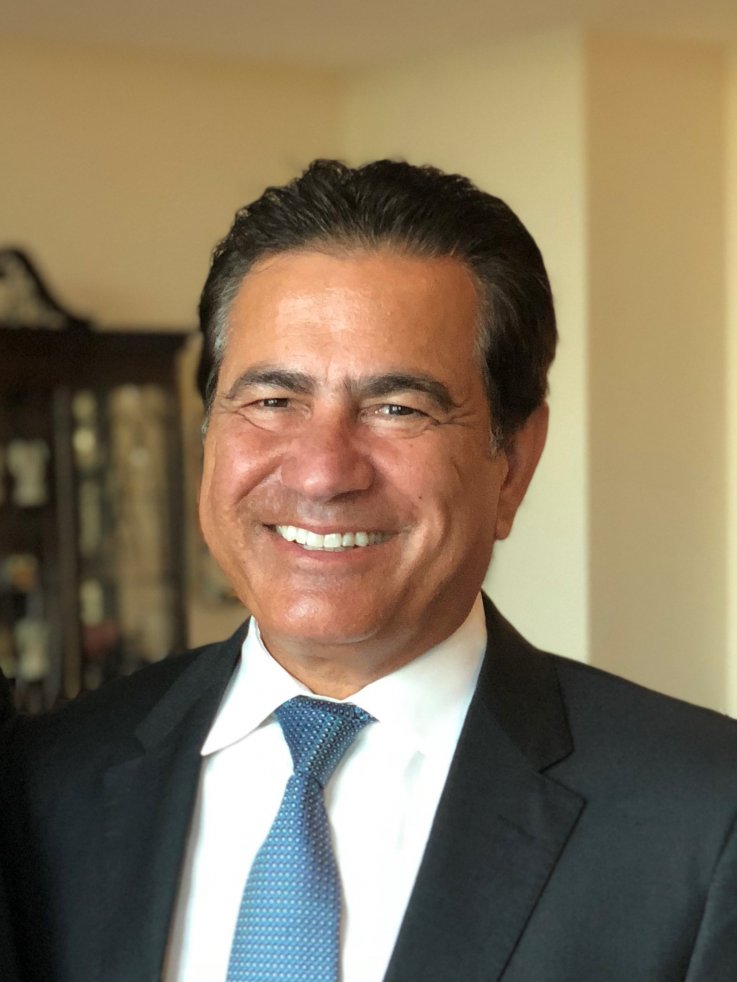 Dr. Mukesh Aghi, the president and CEO of the U.S.-India Strategic Partnership Forum, which is coordinating efforts to send 100,000 oxygen concentrators to India to fight the COVID-19 pandemic.
Photo provided
Other participating companies released similar statements announcing their contributions to the task force, and the USISPF tagged several of them in social media posts with photos of the materials on route from the U.S. to India, some of which included a "#SaveAMillionLives" hashtag.
"U.S. companies employ directly almost 4 million people in India, and they have their families," Aghi told Newsweek. "I think the impact of this will last for a long, long time."
The task force centered on a mission to provide resources that would help India's health care infrastructure, which Aghi said has "kind of collapsed." The group developed a three-point plan that started with sending oxygen concentrators.
Since India's hospital system is struggling under the surge of new virus infections, Aghi told Newsweek the task force wanted to first provide a way for people to use oxygen concentrators at home instead of having to travel to use them in hospitals.
"Our strategy is to see how we can support the current situation and take the pressure off the hospital system," Aghi said.
The second part of the plan was to move the oxygen concentrators around India so they could reach rural areas that are often without hospitals and doctors, and the third phase of the task force's mission will be to support vaccination efforts.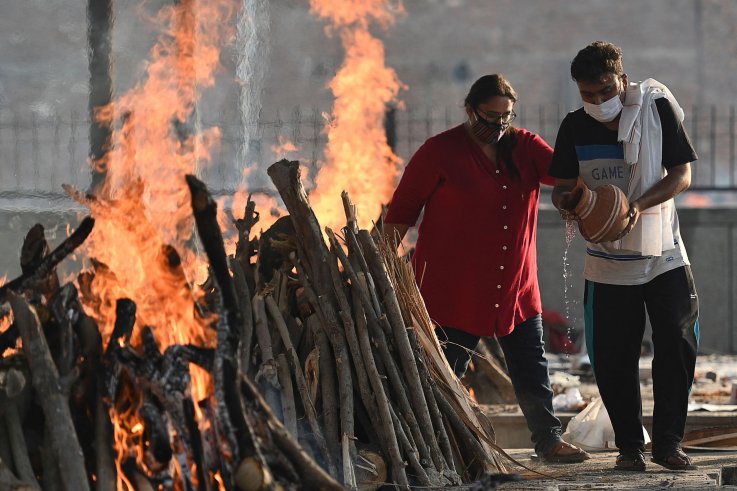 Relatives perform rituals during the cremation of their loved one who died due to COVID-19 at a crematorium in New Delhi on May 11, 2021.
ARUN SANKAR/AFP via Getty Images
About 1,000 oxygen concentrators—which Aghi said collectively weigh about 17 tons—are currently being shipped to India daily, he told Newsweek. The oxygen concentrators are going directly to the Indian Red Cross, which works with India's Ministry of Health to distribute them, he added.
As of May 7, Aghi estimated about 7,000 or 8,000 oxygen concentrators had been delivered to India. The task force aims to deliver at least 25,000 by the end of May, with more on the way in June. The task force's ultimate goal is for each of the 100,000 oxygen concentrators to help 10 patients, with those supporting their efforts helping to sanitize and move the materials from one patient to the next so none are left unused.
The U.S. Department of Defense and the Indian Air Force are assisting when the task force encounters logistical problems with getting the oxygen concentrators into the country, Aghi said.
Also assisting in the task force's efforts is India's special committee on COVID-19, which is led by Amitabh Kant, the CEO of India's public policy think tank the National Institution for Transforming India. Aghi said the task force communicates with Kant's team daily, and the think tank began sharing photos of their virtual meetings on social media in late April.
Aghi told Newsweek the task force has encountered several hurdles in its attempts to ship and distribute oxygen concentrators, including flight cancelations triggered by the latest virus surge. When flight-related problems and other issues arise that threaten the arrival or distribution of oxygen concentrators, Aghi said Kant's team steps in to assist.
"They have the authority to move things very, very fast," Aghi said.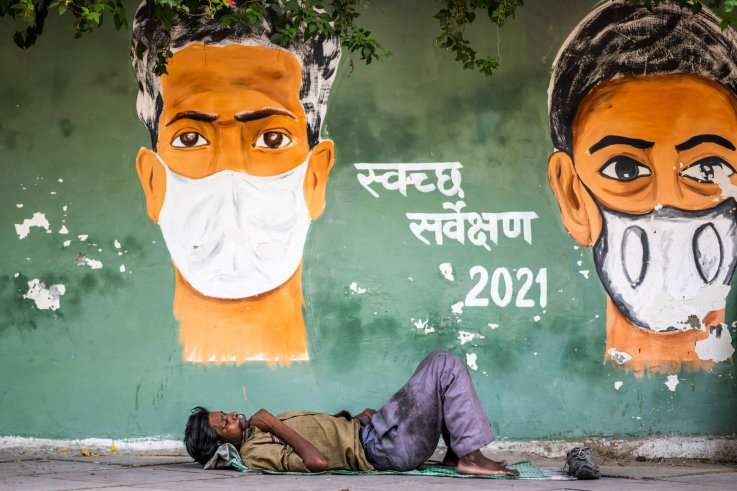 A man rests on a footpath under a Covid-19 coronavirus awareness painting in New Delhi on May 11, 2021.
JEWEL SAMAD/AFP via Getty Images
Though Aghi said most of the task force's efforts to send oxygen concentrators have been quickly "streamlined," he said it remains necessary to communicate with Kant's team frequently to address changing realities on the ground as the situation in India develops and as assistance floods in from other countries.
"Those needs keep on shifting on a daily basis because other countries are also supplying much-needed resources," Aghi said. "Every issue has its own challenges, but the intent of everybody is very positive, so we are able to find a solution and move it very fast."