Tasmania's Dark Mofo Steals Burning Man's Weird Crown
Where the Nexus of wild, weird and downright odd come together for three weeks.
Forget Burning man - the over-commercialized, advertiser bait for festival junkies. For those of us who fondly remember the early days of the festival when it was pure of heart and not full of corporate sponsored camps, the purest, weirdest, performance art and communal festival this year is taking place right now, Down Under... way down under.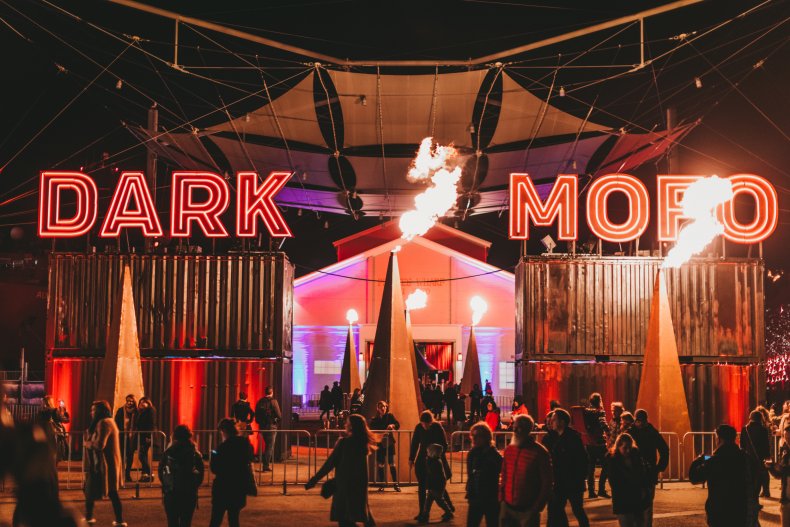 The Dark Mofo festival by Mona, the Museum of Old and New Art, in Hobart, Tasmania, which started on Jun 6 and runs until June 23 is full of large-scale public art installations, food, film, music, and light shows - and a noticeable lack of advertisers slapping their name all over everything.
Started seven years ago as a celebration of the longest night in the southern hemisphere, the three-week party centers around centuries-old solstice rituals that explore links between humans and nature, the religious and secular, and the ultimate renewal of life.
Featuring a heady mix of bold art, music, feasting, and contemporary rituals - Dark Mofo is pushing boundaries (especially culinary) beyond the pale.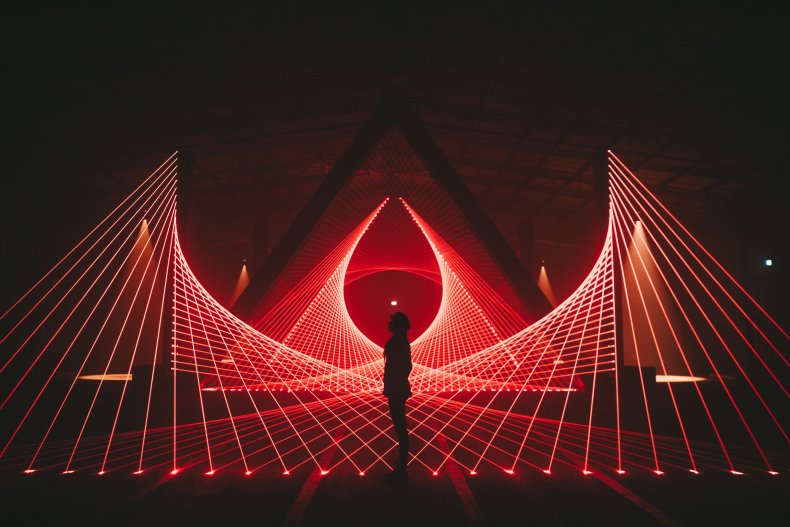 "It seems we have put together the most unlikely program we could have dreamt up," Associate Creative Director Hannah Fox said: it just evolved that way. Intentionally or otherwise, the artists in our seventh festival have become connected through emerging themes of simulated, mediated and real violence, extinction and the supernatural."
"The music program is huge and layered, reaching from subversive electronic protest music from Sao Paulo, to intricate future-gospel out of Alabama, and Blixa Bargeld returning on a standing invitation to visit (Tasmania) every year until he dies."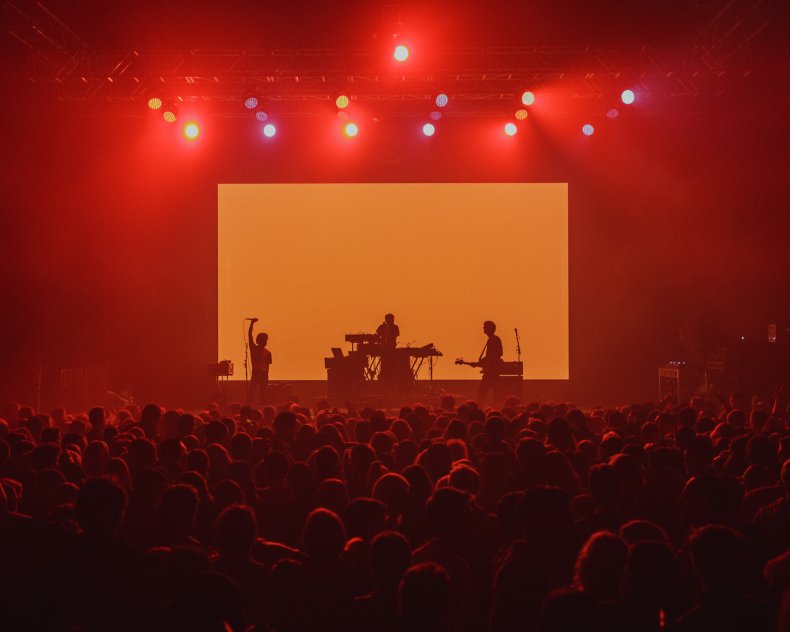 This year there is a new installation, Dark Path (part of Naomi Blacklock's Limbic Resonance), a free outdoor, after-dark art walk with surround sound where visitors hear primal screams and meditative breathing intermittently on their journey. Other artworks include Chris Henschke's Demon Core at the Queen Victoria Powder Magazine on the Queen's Domain, where a radioactive metal sphere will emit flashes of light and sound, causing tanks of luminescent zooplankton, chemicals and a cosmic cloud chamber to glow and fade in the darkness.
On a more populous note, there is also an exhibition by contemporary Berlin-based artist Simon Denny, and a new subterranean tunnel leading to exhibition chambers featuring Ai Weiwei, Oliver Beer, Alfredo Jaar, and Chris Townsend.
Starting next week, there will be a four-day symposium called 'Dark + Dangerous Thoughts' exploring themes including identity politics and a yet-to-be-announced performance artwork by Mike Parr, who last year, buried himself beneath the surface of a busy Hobart road, for 72-hours.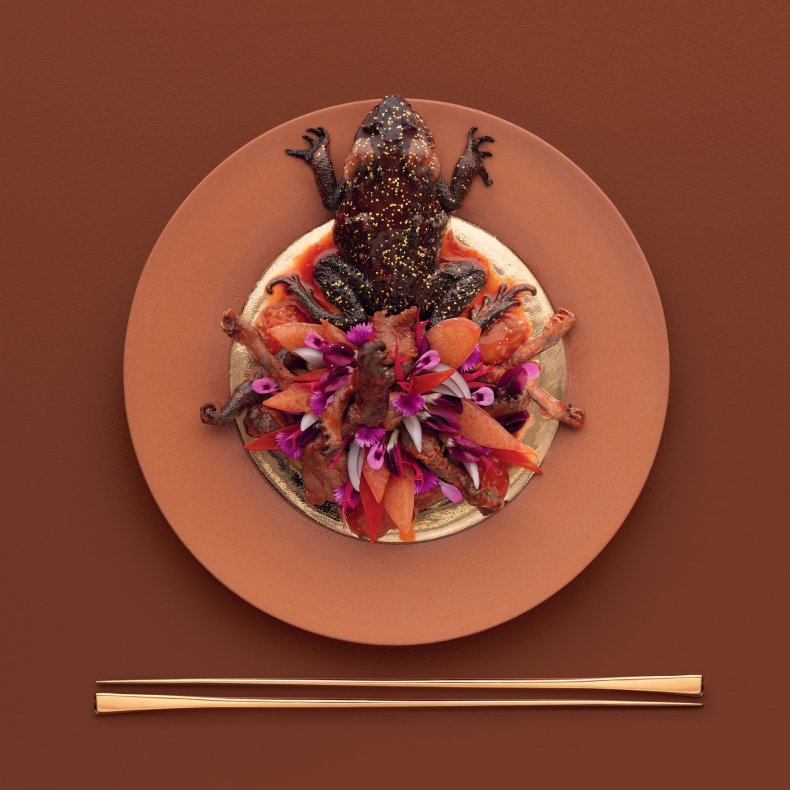 But it's at Mona itself, where things get really odd - and slightly unpalatable as contemporary artist Kirsha Kaechele curates feasts for around $300 a person in which diners will be served 'invasive species' – including include sweet-and-sour cane-toad legs, myna-bird parfait, fox tikka masala for her project, Eat the Problem. In the past, Kaechele has controversially cooked coal-roasted cat, (Questions about where Kaechele got the cats or how she killed them went unanswered).
For those with more refined palates, there is a floating, natural wine and food bar on Hobart's River Derwent. Meanwhile, Government House is inviting guests in for tea and scones while three Aboriginal performers offer a "provocative choice" in dance.
Overstimulated festival goers can become part of the art by popping on monochrome pajamas and settling onto a color wheel, where therapists will do treatments, in front of other visitors as part of another exhibition.
At night, the 'nocturnal neighborhood' features a Night Mass, with artists including Empress Of and Junglepussy - as well as what one organizer described as 'ritualistic' late night partying.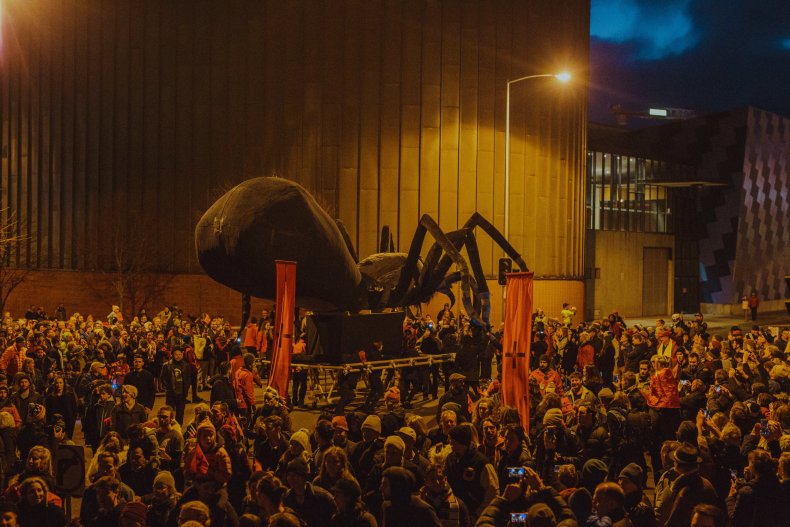 In a Burning Man-esque ritual, the Ogoh-Ogoh fear purging parade and the effigy burning is back, after which, on the final night of the festival, the night of the winter solstice, there is a 'return to the light' - which apparently involves a nude solstice swim, where about 1000 brave souls strip off and run into the icy Tassie sea.
"We need to create an experience of a safe but unexpected nature, something that is not designed to shock you, but is definitely designed to poke gently at your curiosity and life experiences," said associate artistic director Jarrod Rawlins. "It is designed to make you wonder, in moments that are unfamiliar, unconventional, and unexpected, combined with moments that are simply beautiful and fun."
Fun for all that is, except the cats.