Tati Westbrook Returns to YouTube Following James Charles Feud: 'I Don't Think James Is Canceled'
The mother of the YouTube beauty community has broken her silence—again. Nearly a week since she posted the viral "Bye Sister..." video about fellow online celeb James Charles, Tati Westbrook returned to YouTube Thursday to explain her reasoning behind that clip that kicked off a scandal.
Westbrook prefaced the new video—which clocks in at more than 18 minutes—by saying that this isn't her official return to YouTube and she will be "stepping back," but explained that she wanted to ask the masses to "stop the hate" directed at Charles.
Feuds between YouTube stars are usually unremarkable, but what made the drama between Charles and Westbrook extraordinary was the reach and influence of the two makeup vloggers.
Westbrook has built her reputation as a drama-free makeup guru, but in her gone-viral video she explicitly accused Charles of trying to turn straight boys gay and slammed the popular vlogger for promoting a competitor's brand.
Following the release of Westbrook's video, millions of subscribers fled Charles' YouTube account, with the 19-year-old seeing his base drop from a high of 16.57 million on May 6 to around 13.4 million on May 15, according to data from Social Blade. Meanwhile, Tati has seen her fortunes grow from around 5.9 million to 10.3 million over the same period of time.
"Never in a million years would I think that this situation would reach what it did," Westbrook said in the video. "When I made that video I thought that I would be the one to take the hit. I thought I was going against millions and millions of subscribers.... I thought I would be the one to lose subscribers for speaking up. I was going against someone who had a lot more power."
"I knew this would this would cause controversy, but not to this magnitude," she added. "I didn't think it was possible but I really want the hate to stop.... I really hope on both sides it can stop, that is not why I made the video."
"This was really a wake-up call and it was me trying to reach someone that I thought was unreachable," Westbrook explained. "I had tried to deliver the same message [as in the Bye Sister... video] so many times."
The 37-year-old went on to address the issues that were "zeroed-in on" since her initial video. Fans of Charles who initially saw the video claimed Westbrook was simply trying to promote her own business, Halo Beauty, and betrayed Charles.
"It is about a lot and about things I didn't even address in the video," Westbrook said. "It's about a person who reaches 30 million people—that are predominantly children—who is losing the ability to be honest each day."
"The last straw for me was how I was treated in our relationship," she continued. "It was all on his terms and that showed me that there was going to be no getting through to him face-to-face, on the phone or anything like that."
"[The video] was a last-ditch effort to wake up someone I really cared about—and still do," Westbrook added, tears welling in her eyes.
Westbrook went on to say that many private conversations happened before the video went live and she felt it was her duty to bring his behavior to light. The beauty blogger wanted to remind her followers that she "doesn't hate" Charles and there is "no celebration in what's happening."
"If I could give all the new success back and the new subscribers back, I would," she said."That's not why I did this."
According to the video, Westbrook planned on meeting Charles face-to-face Thursday at a "neutral place" to sort things out. It is unclear at the moment if the meeting did, indeed, occur and what the result of the conversation was.
"I don't think [Charles'] career is over, I don't think he is canceled," Westbrook said. "I think he needs help and better people around him, and I don't think I can be that person for him ever again."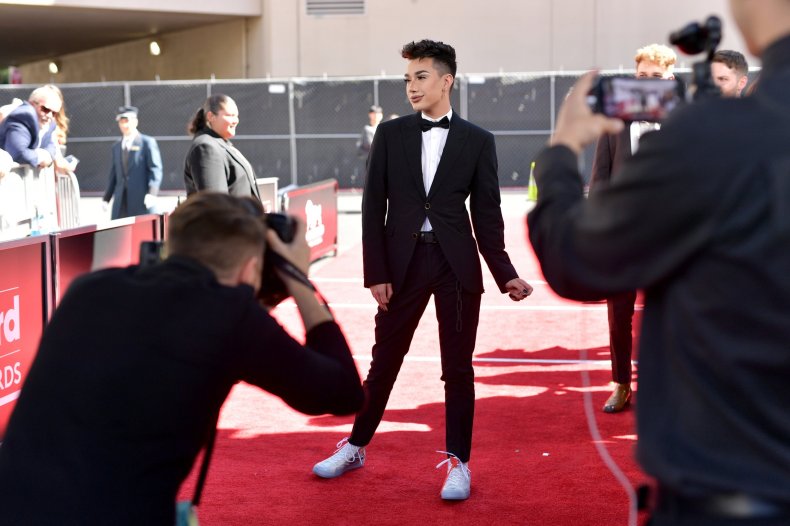 Westbrook tried in the new video to explain how—despite all appearances—the clip should not be seen as her return to YouTube.
"I just need to be off of social media right now because it's a really dark place for me right now," Westbrook said. "I need to figure out what [YouTube] means to me because if it's only about money, I don't want to do it."
"If you feel disappointed in me, that's OK," she concluded. "Try to find a way through this with love and compassion for all sides. I can't say this enough, I love James Charles. I loved him from the moment I met him."
After Westbrook's May 10 video, Charles—who was in Australia promoting a pop-up shop for his merchandise—took to YouTube to deliver this apology. "To Tati and James Westbrook, I'm sorry for everything that is going on and everything I put you through in the last few weeks," he said. "I'm disappointed in myself that I ruined our relationship."
"What sucks the most is that there is nothing I can say or do to ever earn that friendship or trust back, but I don't blame them for it," he continued. "I wish I can say this is the last time I'm going to make a mistake, but it won't be.... I'm going to keep trying my best and keep learning and growing."