Tattoo Artist Covers Body With Black Ink, Including Eyeballs and Inside of His Mouth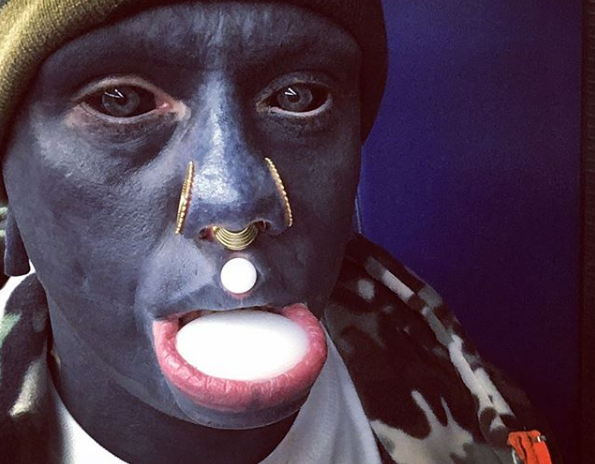 A tattoo artist is making waves because of how far he's been willing to go in order to express himself. Eli Ink, a 27-year-old from Brighton, England, has spent the past 10 years covering his body with tattoos and piercings, and the end result is striking.
He has tattooed the majority of his skin black and even dyed his eyeballs and the inside of his mouth, the New York Post reported. He has also inserted stretchers into his nose and lips, all in an attempt to become a living piece of art.
According to his Facebook page, Ink believes that not every tattoo must be serious. Instead, the artists claims to enjoy creating art that is fun. His body is filled with what he describes as "abstract" art. In addition to tattoos, Ink does piercings and even scarring—purposely removing skin to create scars in the shapes of designs.
Ink belongs to a subculture known as Modern Primitives, the Post reported. Members of this group model their body art after right-of-passage practices in other, more traditional cultures. Their body art is seen as part of a ritual.
Although there is a risk of infection with any type of tattoo, eyeball tattoos, also known as sclera tattoos, are especially dangerous. Body artist Luna Cobra is credited with making the procedure popular more than a decade ago, Newsweek has reported. However, even Cobra now wishes the procedure would be deemed illegal—because of how dangerous it can be when done by the wrong person.
The procedure involves changing the color of the whites of the eyeball by injecting ink between its conjunctiva and sclera sections, PopSci reported. The procedure can be done safely, but when done wrong the consequences can be serious. In September, a model in Canada went partially blind after her eye tattoo went wrong. Catt Gallinger shared her ordeal on Facebook, explaining that her eye oozed purple tears.
According to the Post, Ink is not yet done with his body modification quest. We can follow him on Instagram to see how his body canvas continues to change.