Tattoo of Johnny Depp's Lawyer Criticized as Not a 'Slay Girlboss Moment'
A woman recently gave herself a tattoo of Johnny Depp's lawyers and the internet has thoughts.
The world has been watching the defamation trial unfold as Depp is suing his ex-wife, Amber Heard, for $50 million because an op-ed she wrote in 2018 that was published in The Washington Post. Depp's lawyers argue that the op-ed is obviously about him, even though he wasn't named in the article. Heard is countersuing Depp for $100 million for damages.
A woman named Jazzmyn Wollfe, under the username @tattooedingenue shared a video on TikTok that has gone viral with over 100,000 likes and has been seen at least 800,000 times. In her video, she is shown giving herself a tattoo of one of Depp's lawyers, Camille Vasquez.
"gave myself a Camille Vasquez tattoo," she writes in her video. The tattoo is shown to be an outline of Vasquez with the word "Objection" underneath.
Since the video has been posted, many users on TikTok have thoughts on her tattoo and most are criticizing the woman.
One user said in another viral video, "this isn't the slay millennial girlboss moment you thought it was."
"No you didn't. Oh god you did," wrote another.
"This is quite literally a domestic violence case. Jesus," one user stated.
"why would you do that," questioned another.
Wollfe took to the comments to address the negative comments.
"for all the negative nancys: i explained what it represents in the comments- it holds meaning for me and even if it didn't- it's my body, and it has zero effect on you lol," she explained.
In a new video, she shows a screenshot of a hateful message she's received on social media.
"I don't want to keep responding to the negative comments because there's no use in wasting my energy on that," she exclaimed.
However, other users are defending Wollfe and commenting on their love for the tattoo.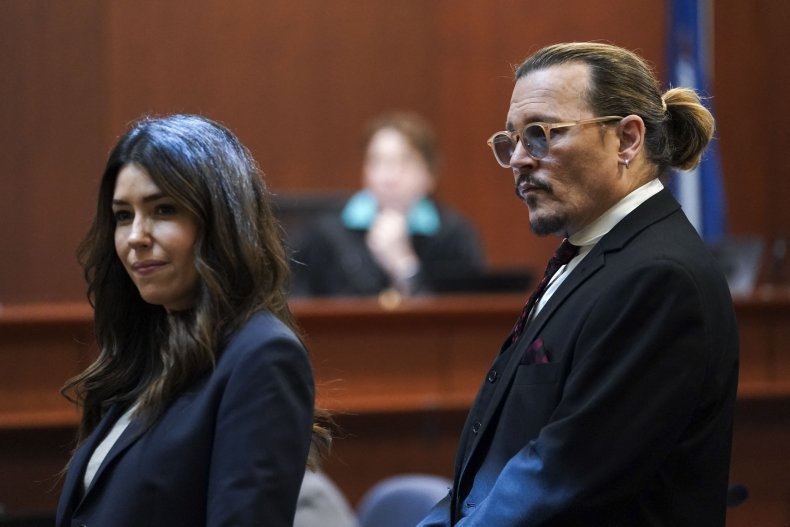 "This is dope girl. Amazing," exclaimed a user.
"Can you all in the comments chill out? It's HER body. I happen to think the tattoo is pretty cool. So relax guys. It's not like that tattoo is on u," one wrote.
"I see it as a representation of someone who is fighting for not just women, but men to be heard in cases of DV. I like it," one exclaimed.
Another wrote, "People be hella pressed about what you're watching in your own time and putting on your own body lol. Your tattoo is lovely!"
"I do most of my own tattoos and have never had anybody respond so passionately to what art I put on my body," Wollfe told Newsweek. "Many of my tattoos have meaning, many don't, but this one in particular symbolized a lot for me."
She also commented on how she admired Vasquez while watching the trial.
"I was blown away by the ferocity and confidence Camille's examination was delivered with. my admiration for her diligence and demeanour has no relation to my opinion about Amber, Johnny, or anyone else who's personal narrative I can't speak on.
"What I saw was a strong woman, holding her ground and doing everything in her power to bring justice to who she believes to be an abuse victim, and shine light on a type of domestic violence society often seems to ignore or refute entirely. I understand she was simply doing her job, however anyone who watched her in action couldn't possibly deny she did so in an incredibly effective, articulate and impressive manner," she continued.
She explained that she created the design herself and didn't want the tattoo to be a picture of Vasquez as she doesn't know anything about the lawyer outside of the Depp-Heard case.
"I wanted it to be a reminder of the much broader things it represented to me. I chose to simply put 'objection' opposed to further using one of the legal phrases that's become popularized/ referenced, such as 'objection, hearsay' because I thought it better to keep it a simple reminder rather than more of an homage to the actual trial."
She explained how she never expected the video would go as viral as it did, especially being bombarded with negative comments including that she is "what's wrong with humanity," how she was "romanticizing abuse," which she says is not true. She tells Newsweek that the hateful messages are "disgusting" as she was told to "kill herself" and that they hope her tattoo gets infected.
"I get that anything you put online is subject to criticism, and at the end of the day there will be people who agree with you, people who don't, and people who fall somewhere in the middle but never should harassment and encouragement of suicide be the response," she stated.
She concludes that people may not understand the concept of her tattoo, but she's proud of it.
"I still maintain my opinion that Camille's somebody who's unwavering pursuit of justice has inspired plenty of women and girls around the world in both personal and professional ways," she said.