'Tattooed and Muscled Man' Models His Ex's Wedding Dress to Try and Sell It
A self-described "tattooed and muscled man" has told the tale of modeling his ex's wedding dress for a prospective buyer, as he tried to sell the gown online.
Morgan Macleod uploaded a clip to TikTok, sharing the hilarious exchange between him and a bride-to-be, who was interested in the dress.
The 29-year-old, from Colorado, revealed he was "tired" of having his ex's wedding gown in the house, so decided to try and recoup some money by selling it.
The business owner listed the size-10 Melissa Sweet gown online for $500 on Facebook Marketplace and Still White.
He explained to Newsweek he and his ex-fiancée had been dating for around three years, when the relationship broke down just before Christmas.
Macleod said: "My ex and I got engaged in 2019. Unfortunately, COVID hit us pretty hard, and we both had to go through some things that we weren't ready for, and it ultimately ended our relationship about a week before Christmas in 2020. While that was quite sad, my mental health has taken a dramatic turn for the better since. Initially the dress held a little bit of emotional value to me, but once I decided to get rid of it, it became less so."
The pair had planned "a lot of the wedding," and Macleod revealed he still had the dress as he'd initially bought it.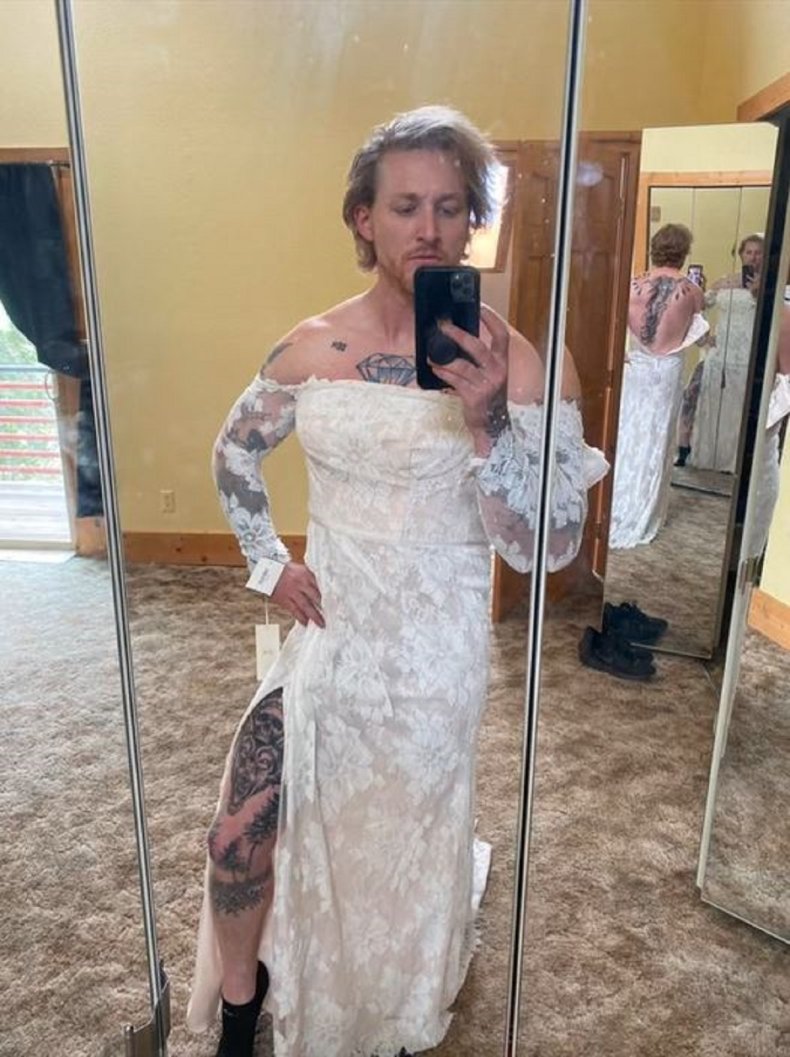 The dress is thought to be the Large Floral Lace Long Sleeve Wedding Dress, costing $599, currently on sale for $549, at David's Bridal. It comes in three colors—solid white, solid ivory and ivory stone—in sizes 0 to 12.
Macleod reckons with all the alterations his ex had done, the total cost of the dress was around $600—$700.
"She didn't take the dress because when she bought it, I handed her my credit card and told her to go have fun. She knew that I bought it, and so she let me keep it," he explained.
After listing it for sale a woman, named Sarah, got in touch asking for more information, and crucially she wanted to see what the dress looked like on.
So instead of enlisting the help of a female friend or relative, Macleod said he "did what needed to be done."
He wore the dress himself, and shared the brilliant snaps in a TikTok video, uploaded on Monday.
Macleod captioned the montage: "Me remembering when I was trying to sell my ex's wedding dress. She wanted to see it on someone. I was really tired of having it in my house, so, I did what had to be done."
Macleod included screengrabs of the conversation with Sarah, who asked: "Do you have any photos of this on a person? Or do you have the designer and style so I can look it up? I love it and it's in my budget but I'm having trouble visualizing what it looks like on."
He replied: "If you want me to put it on I can, but I'm a guy with muscles and a ton of tattoos so idk how it'll look."
After Sarah said she was keen to see him modeling the frock, Macleod said: "I'll see if I can fit."
"Only if you want! I'm not in any rush if you'd rather someone else try it on," Sarah replied.
But Macleod followed through and shared a selection of photos of himself wearing the off-the-shoulder, lacy number.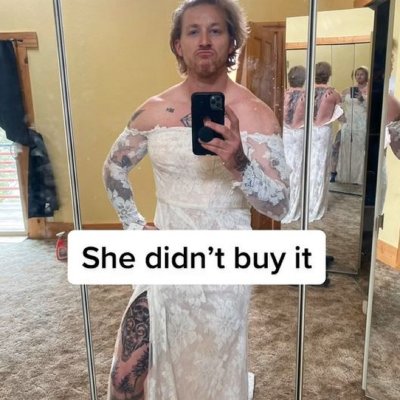 While the zipper wouldn't close, he ensured to include snaps from the front and back, showing off all the angles.
Despite his dedication, Macleod added: "She didn't buy it."
He revealed the process of selling the dress online has been frustrating, as he said: "It's been a very slow and irritating process to sell, but I was excited to finally have a buyer... but she wanted to see it on someone. Instead of waiting a few days for my friends to be free, I just said screw it and put it on (after warning the buyer that I was a man).
"I figured the comedy would make her laugh, and possibly motivate her to buy it. After posting the TikTok a few days later, I ended up sending her a text message letting her know. She then told me that her aunt had found a dress and she decided to go with that one—since it was free for her, which makes sense. So here we are... still no buyer."
The clip has been watched thousands of times, as Macleod confirmed to Newsweek he still had the dress.
"Dress looks beautiful. Especially on me. But even MORE beautiful on someone else," he added.
Numerous people have praised Macleod's dedication, with Paige Nichole writing: "I would have bought it and included the photos in the wedding slide show for sure.
"How could she not buy it after that though??" Elizabeth asked.
Ainebegonia thought: "She didn't buy it because she knew she could never looks as good as you did in it."
While Jocelyn Tucker wrote: "I love it. So would have bought it instantly lol."
In response to the interest the dress received, Macleod added: "I didn't expect this to blow up. I have another dress of hers, should I do a round 2?"
Update 6/11/21, 6a.m. ET: This article was updated with comment from Morgan Macleod.