From Tattoos to the Coney Island Mermaid Parade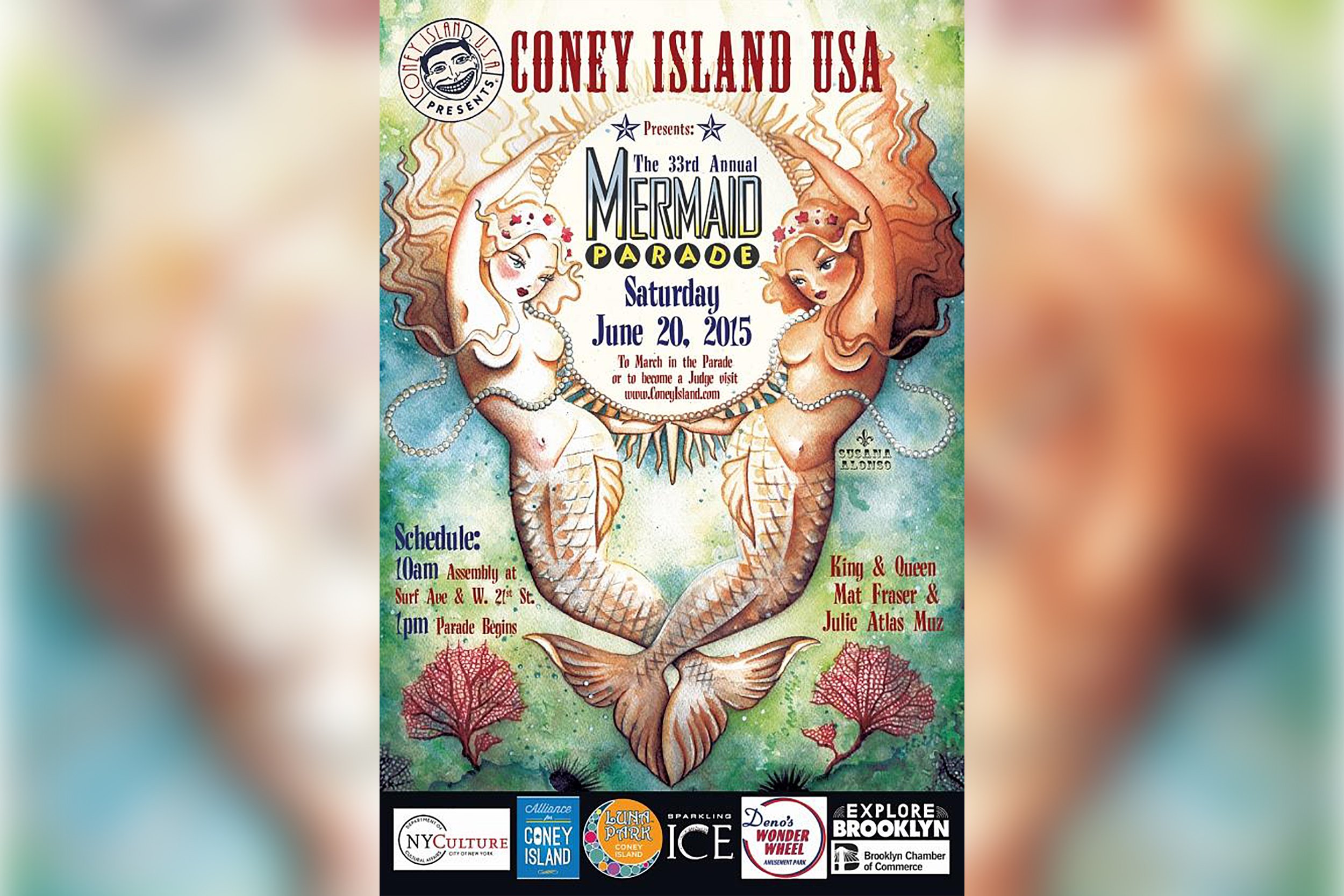 Mermaid sightings are rare experiences, mainly reported by sailors of old who had perhaps overindulged on their rum rations. Not so on Coney Island in New York, where each summer solstice brings the nation's largest art parade and with it a whole host of the mythical creatures. This year's Coney Island Mermaid Parade takes place Saturday, continuing a three-decade tradition.
Every year, one artist aims to capture the spirit of the Mermaid Parade by designing a single poster to represent the event. For 2015, the task fell to Susana Alonso, who had been primarily a tattoo artist in the U.K.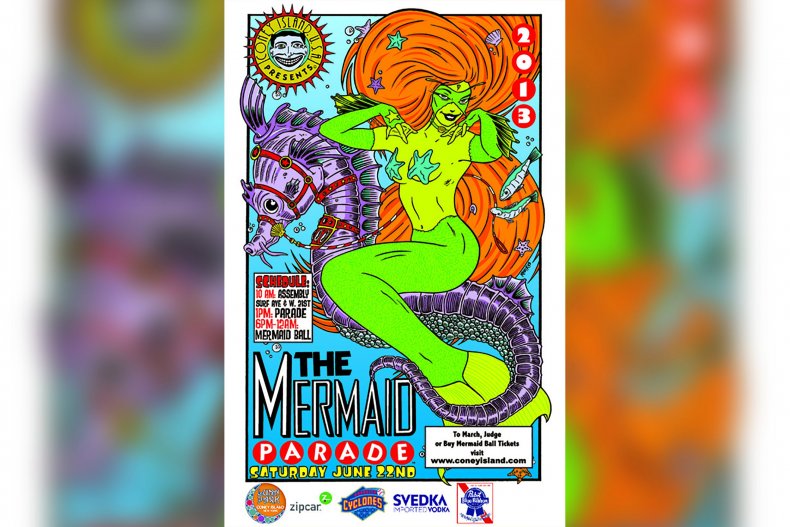 In Focus
Every year for the past three decades, an artist has been chosen to advertise the iconic Coney Island Mermaid Parade via a single poster.
Launch Slideshow

13 PHOTOS
"I'm very much into symbology and mythology. I find very interesting the idea of hybrids: half human, half animal," said Alonso, explaining what drew her to the event that is steeped in aquatic mythology.
Being familiar with the official Mermaid Parade (as well as an imitation event held in the liberal British seaside town of Brighton), she contacted the organizers, Coney Island USA, and expressed an interest in having them using her artwork.
Before becoming an artist, Alonso had been a tattooist for 10 years and believes this has heavily influenced her artwork.
"A tattoo is very symbolic, it tries to catch the essence of what people want to choose for the rest of their life," she said. Similarly, the essence of the Mermaid Parade is not easy to capture.
Like the mythical creature that represents it, the parade is dualistic in nature. Although a central theme is mythology, the parade is also a celebration of Coney Island and the broader arts movement of New York City. Laure Leber, who is in charge of selecting the poster artist each year, believes Alonso's past experience as a tattoo artist is an asset to her understanding the spirit of Coney Island.
"I liked it because it was very tattoo art," said Leber, describing Alonso's work. "It's got a very sailor, mermaid, old-school feel to it."
Alonso's poster shows two mermaids holding up a sun. Alonso is well practiced in drawing mermaids and they have long featured prominently in her tattoos.
The most important prerequisite for an aspiring parade poster artist is that they have a passion for Coney Island and for the parade. Past participants include Frank Kozik (2013), a famous graphic design artist who was discovered in a Coney Island bar and has also designed posters for Nirvana, Pearl Jam and the Red Hot Chili Peppers.
Coney Island USA claims to "defend the honor of American pop culture." Along with the parade, it does so through events such as Burlesque at the Beach and the Coney Island Film Festival. Ultimately, though, the spirit of Coney Island and of the Mermaid Parade is one of revitalization, said the so-called unofficial mayor of Coney Island, Dick Zigun, creator of the parade.
"In the early '80s, Coney Island had a bad reputation and amusement parks in general were not taken seriously," he said. Zigun asserts that the parade brings self-esteem to a district that was once dismissed as a rundown entertainment area. "There used to be more people in it than watching it," said Zigun. Nowadays, hundreds of thousands of people flock to Coney Island to enjoy the spectacle.
This spirit of revitalization was best captured in 2013, in the wake of the destruction left by Hurricane Sandy. That year's parade was almost canceled, as much of the area's resources were consumed by managing the aftermath of the disaster. An ambitious Kickstarter campaign raised more than $100,000 and ended up saving the parade.
Making a single poster that represents a parade embodying American pop culture, a community's revitalization and ancient mythology is no small feat. Yet each year, it is one that artists such as Alonso must attempt to accomplish.
"I have tried to capture the spirit of the parade because it is such a big celebration," she said. "It brings together all kinds of people from all walks of life, and this is what I wanted to convey."