Tatyana McFadden: US Paralympian On Her Journey From Russian Orphanage to Gold Medal Glory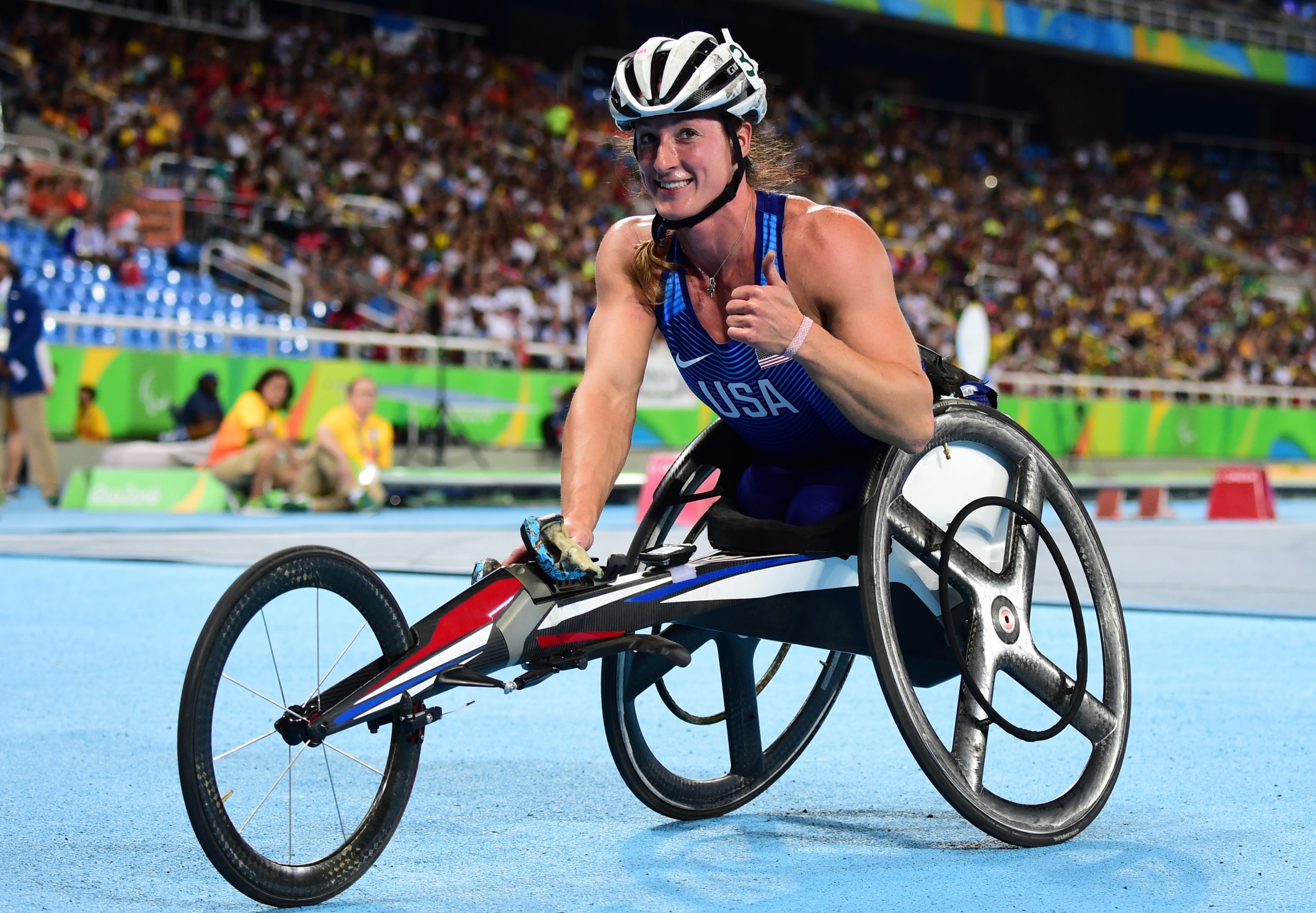 Tatyana McFadden, 14 times a Paralympic wheelchair racing medallist, has led a life that demands questions.
The problem, you find, when speaking to the 27-year-old is one of knowing where to start.
With her Paralympic medal haul? Her lawsuit against US school boards to allow competition between disabled and regular student athletes? Her brief winter Olympic career? Her philanthropic work in schools? Her three mothers—one birth, two adoptive?
All of these form part of the narrative, of course, of a rich life. McFadden is one of those people or athletes, whose ebullience is impossible to contain. Even on the telephone, it pours out, an enthusiasm and determination several lead weights would struggle to crush.
So we take our questions back to the start, which is, in its quiet way, and shrouded by age and memory, the most extraordinary part of McFadden's life.
In the spring of 1989, with the iron curtain about to fall, McFadden was born to Nina Polevikova, a Russian. A child with spina bifida, given up for adoption and, after spinal surgery, given a home in Orphanage Number 13 in Saint Petersburg. However, that surgery should be done immediately but McFadden had to wait 21 days.
McFadden met her birth mother Nina for the first time since her babyhood in 2011, on a trip to Russia in the build-up to the London 2012 Olympic Games. No media were invited; McFadden gave her medal from the New York marathon that year to the orphanage director and a gold medal from the world championships to Nina.
But here the extraordinary everyday of her life risks confusing the narrative. There is, of course, a yawning gap between 1989 and 2011 in which McFadden went from the orphanage to a house in Maryland, to the Athens Olympics, to Beijing.
In pictures, and videos, McFadden's shoulders and arms stand out, which is no surprise. A wheelchair racer won't race fast without a stonking upper body. Perhaps it is a coincidence that the first six years of her life were spent walking on her hands. There was no medical care in the orphanage, no wheelchair. The first doctors she ever saw were Americans.
Six years after Nina left Tatyana in the orphanage, Deborah McFadden arrived in Russia on a business trip. An American government official; adoption not on her mind, says Tatyana. But she felt a connection with the girl, and brought her to the US.
The child went to school for the first time. Anaemic and sickly, Deborah searched for ways to keep her daughter healthy. Tatyana enrolled in the local sports club, began ice hockey, downhill skiing, swimming, wheelchair basketball and tennis.
But wheelchair racing stuck. "I fell in love with it," she tells Newsweek. The sickly child who might have died when her spine operation came three weeks too late is now nicknamed "The Beast." She won a bronze and a silver in Athens in 2004, aged 15, four medals in Beijing, three golds in London and four more, plus two silvers, in Rio de Janeiro. Could have had a fourth in Rio, but she lost to Zou Lihong of China in a photo finish in the marathon.
Oh, she does marathons too—McFadden won the Grand Slam of Boston, Chicago, New York and London in 2013, setting a course record in the Windy City. Plus the silver medal from Sochi's Winter Games in 2014. The achievements tot up, steepling, tottering.
Life is hard enough being a plain old US Paralympian, let alone one who has had a journey the length of McFadden's. The United States Olympic Committee (USOC) receives no funding from the US government. In Britain, lottery funding means athletes with medal hopes don't have to worry about being funded through a four-year Olympic cycle. But the USOC has to do its own fundraising, through sponsorship. Some feel this puts its Paralympians at a disadvantage. Candace Cable, a 12-time Paralympic medallist, told The Guardian in early September that financial hardship for US Paralympians was a "constant hardship."
McFadden is now part of the national training center at the University of Illinois. However, at the beginning of her career, there was less structure.
"When I became professional, it was really hard to get started, because we didn't have any of the attention that we do now, no social media back then," she says. "I was 15 at the time when I wanted to try out for the Games, and that was Athens. That was the start of everything for me. It was a big dream I have had, ever since I was a young girl.
"My parents were the ones who found where trials were going to be. And we had to do all the research. It wasn't out, online, or in the papers like the Olympics was. I made it to the Games and when I won a silver and a bronze there, I knew I wanted to do this for the rest of my life. It was something I absolutely loved and I wanted to work harder to become the best in this sport. I went to Beijing right before I entered college.
"With the media coverage growing, athletes are gaining sponsorship. With that, they are able to train full time, get the equipment they need. It's very hard to continue to do the sport and be at the top, without the support and help. If we don't have it, we can't be on the medal table. It will be very hard. Equipment is so expensive and if you want athletes to stay on top, that support needs to happen."
NBC upped its coverage of the Paralympics from 60.5 hours in London to 66 in Rio. A Paralympic gold for a US athlete in Rio brought its winner $5,000, its Olympic equivalent $25,000.
"There isn't any difference between Olympians and Paralympians, we all put in that same training, that same hard work, that same time, that same dedication. And a lot of the Paralympians train with the Olympians at the training center. They know us and we know them and they don't see us as any different. I really hope that [pay] gap closes. It's not fair. You're essentially segregating the Olympics and Paralympics. It was amazing to have NBC at these games, and I think that was a huge eye opener, especially for us in the States."
Perhaps the thorniest issue of the Olympics, and Paralympics, combined, was the decision to ban Russian athletes from the Games. The International Olympic Committee (IOC) brought widespread criticism on itself when it upheld an IAAF ban on Russians in track and field, but delegated decisions on other sports to their governing bodies. The International Paralympic Committee (IPC) came down hard, banning Russia completely from the Paralympics. How did McFadden feel about being denied the chance to compete against athletes from the country of her birth?
"I think as an athlete it's hard. I always want to race with pride and race clean and I have always raced clean. We want everyone to do the same. But it wasn't fair. As you were coming into these Games, you wanted to compete against the best of the best," she says. "So you're looking at two sides. It's happening everywhere. There needs to be someone saying this is not fair. When I compete at the Games, I want to have the most competition and I want to win because I'm against the best of the best. It's hard because you want to compete against everyone. But there is that fine line of trying to stop the doping from happening."
We reach our time limit without touching the sides of McFadden's lawsuit from 2006, brought against the Howard County Board of Education, which allowed her to race a wheelchair against able-bodied athletes.
But that is McFadden. Her life overflows like her volubility; there's too much of it, certainly, to fit into 20 minutes. Soon she will be back training, post-Rio, for the end of the marathon series—Chicago followed by New York on November 6. Barely a pause for breath since the end of Rio; nary a second to think of the mazy path she has travelled to get here.
The path stretches out in front of her, too. McFadden is thinking of Tokyo in 2020. There are marvels ahead. The extraordinary journey is only half done.