'Taurus' by Spirit vs. 'Stairway to Heaven': Listen to Both Songs After Led Zeppelin Wins Copyright Case
Led Zeppelin has won an appeal in a copyright infringement case involving its rock anthem "Stairway to Heaven" and Spirit's "Taurus." But can you tell the difference between the two songs?
According to court documents from the Court of Appeals Ninth Circuit, plaintiff Michael Skidmore, representing the Randy Craig Wolfe Trust, was appealing a decision made by a district court on whether Led Zeppelin had copied a riff from "Taurus" a song written by Randy Craig—also known as Randy California—as a member of the music group Spirit. Craig died in 1997.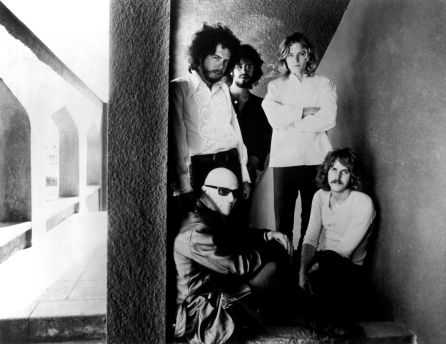 The original lawsuit was filed against Led Zeppelin, the individual members of the band—Jimmy Page, Robert Plant and John Paul Jones—and recording companies such as Warner Music Group Corp., Atlantic Recording Corporation, and Rhino Entertainment Company. The suit said that the song "Stairway to Heaven" infringed a riff in the song "Taurus," with the defendants motioning for a Summary Judgment on the basis for laches—this recognizes that after a period of time from the date the offense was committed, there might not be a fair chance for defendants to defend themselves.
Spirit, which Randy California was a member of, was an American rock band founded in 1967 in Los Angeles, California. Considered one of the first progressive rock bands, the line-up included California (vocals and guitar), Mark Andes (bass), Jay Ferguson (vocals and percussion, Ed Cassidy (drums) and John Locke (keyboards).
California was given his nickname by Jimi Hendrix, when they were both members of Jimmy James and the Blue Flames in 1966. Hendrix gave him the name to distinguish him from Randy Palmer, whom Hendrix named "Randy Texas".
The decision made by the Ninth Circuit reinstates a decision from four years ago. In 2016, the band won the case in a San Francisco district court, with an 11-person jury finding no evidence that "Stairway to Heaven" breached the copyright of "Taraus". However, the ruling was overturned in 2018, according to court documents, when a three-judge panel in San Francisco found that certain instructions to the court jury had been "erroneous and prejudicial." Led Zepplin took the case back to court and won on March 9, 2020.
The song "Stairway to Heaven" was released in 1971 by Led Zepplin as part of the band's album, Led Zeppelin IV. The single wasn't released to the public, with 150 promotional singles sent to radio stations. These are now considered rare and a collector's item. "Taurus" the song by Spirit, was released in 1968 and appeared on the band's self-titled album, Spirit.
Do you agree with the court's decision? Listen to the two songs and see what you think.