After Tax Bill Passes, AT&T Promises $1,000 Gift to 200,000 Employees—but Is There a Hidden Motive?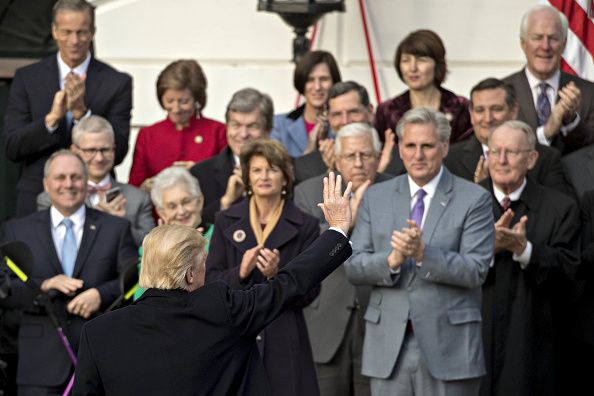 AT&T has announced that it will deliver its employees a financial bonus in response to a tax bill that passed in Congress on Wednesday, calling it a "monumental step" in driving economic growth. Some critics, though, have been quick to suggest that the company's vociferous support of the bill is primarily an effort to curry favor with the Trump administration and complete a merge with Time Warner that was blocked last month.
Related: Trump's Broken Promises: GOP Tax Bill Fills Wealthy People's Pockets, Takes Money From Middle Class, Poor
Once President Donald Trump signs the tax reform into law, pledged AT&T in an announcement, the company will invest $1 billion into the U.S. It will also give a $1,000 bonus to more than 200,000 employees.
"Congress, working closely with the President, took a monumental step to bring taxes paid by U.S. businesses in line with the rest of the industrialized world," said Randall Stephenson, AT&T chairman and CEO in the statement. "This tax reform will drive economic growth and create good-paying jobs. In fact, we will increase our U.S. investment and pay a special bonus to our U.S. employees."
The move could be an effort to appeal to the Trump administration, which recently blocked the AT&T-Time Warner merger, saying it would place "too much concentration of power in the hands of too few." The decision came after the Justice Department reportedly tried to force Time Warner to sell CNN in order to allow the merger, which Trump has labeled as "fake news."
After the tax bill passed Wednesday, Trump heralded AT&T's announcement during a celebration with Congressional Republicans at the White House.
AT&T supporting the tax bill appears to some as an effort to appeal to Trump's good side, and possibly open the door to more merger negotiations.
Others see it as early evidence of the tax bill's success. Representative Steve Scalise (R-LA) said that the tax bill's effort to give financial relief to corporations is meant to allow companies like AT&T to pass the benefits down to workers.
The Republican tax plan, which Trump has called his Christmas gift to Americans, is not as sweeping as he originally intended, and provides significant tax cuts for the ultra-wealthy. Cuts for the middle class are likely temporary, according to the Tax Policy Center. For union-represented, non-management employees at AT&T, the bonus is another temporary boost that ultimately fits into the small fraction of the total tax benefits that the bill will bring. Companies have indicated that they mostly plan to use their savings to buy back stock and pay more dividends, benefiting the wealthy owners of corporate stock.
AT&T's $1 billion investment will go toward the company's fiber build in homes and businesses.
According to an AT&T spokesperson, "a lower tax rate would incent AT&T to continue to deploy incremental capital to its fiber and future 5G builds."