'The Tax Collector': Shia LaBeouf Tattooed His Entire Chest for New Movie
Shia LaBeouf's tattoos have been the subject of many gossip columns since topless shots of him with an entire torso worth of ink emerged in April 2019. Many wondered if the tattoos, which include a giant clown and the words 'creeper,' were for a role. Then, in an interview with Slash Film, director David Ayers revealed that the Even Stevens actor had got tatted up for his role in his new movie The Tax Collector, the trailer for which was revealed on July 2.
Asked about what it was like to work with LaBeouf again after the pair collaborated on Fury, Ayers said: "He's one of the best actors I've worked with, and he's the most committed to body and soul. He had a tooth pulled on Fury, and then on Tax Collector, he got his whole chest tattooed. So he kind of goes all in, and I've never known anyone that committed."
This explains the tattoo that has got the most attention: LaBeouf's abdominal 'creeper' tattoo. In The Tax Collector, the Transformers star plays a character whose name is Creeper, who collects money from gangs for a powerful crime lord.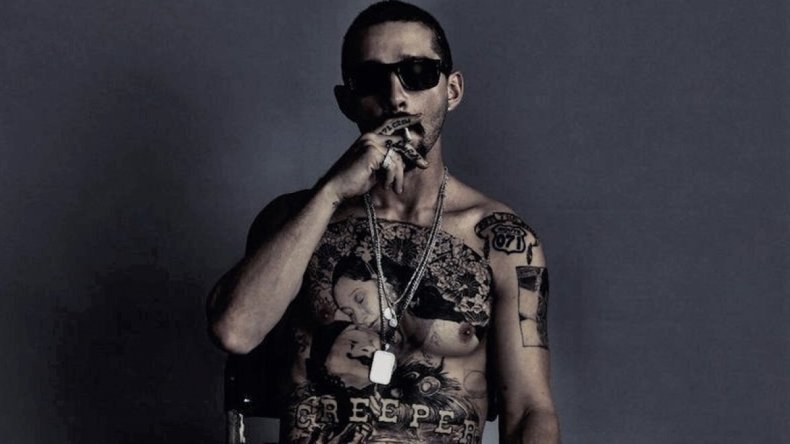 Amazingly, this is not even the first time he has got multiple large tattoos while filming a role. When filming Andrea Arnold's critically acclaimed American Honey, the actor got 12 tattoos (including two of rapper Missy Elliott) while playing a sleazy, freewheeling magazine salesman. However, Variety reported that this would infuriate the director, who did not want him looking different from scene to scene.
LaBeouf said of this to the magazine: "One of the things we'd do as a group, we'd all go to the f***ing tattoo shop...I don't love Missy Elliott like I wanna get two Missy Elliott tattoos...But you're in a tattoo parlor, and peer pressure."
Though method actors like Robert De Niro and Christian Bale have been known to gain or drop weight for roles, and Daniel Day-Lewis is said to have stayed in a wheelchair for most of the time when he was filming My Left Foot, LaBeouf could possibly be the first actor to make such drastic permanent changes to his body for a part.
Johnny Depp also got a sparrow tattoo while playing Captain Jack Sparrow in Pirates of the Caribbean, but this was because he liked the fake tattoo that he was given for the role.
This is not the first time that LaBeouf has used unconventional acting methods. The actor has revealed he sent director Lars Von Trier a sex tape to get his role in Nymphomaniac, and he took acid for Charlie Countryman.
His Fury co-star Logan Lerman also told an eye-opening story about his time working with LaBeouf. The Perks of Being a Wallflower actor told British GQ: "We were in makeup and they were putting cuts on Shia and I said, 'Yeah, yeah, it looks good.' And Shia was like, 'No, it doesn't look real...[he] walks out into the hallway and says, 'Hey man, wanna see something fun? Check this out...' and he takes out a knife and cuts his face. And for the whole movie he kept opening these cuts on his face. That's all real."
The Tax Collector is released in theaters and on-demand on August 7.