Senate Republican Tax Cuts Target Cyclists And Benefit Drivers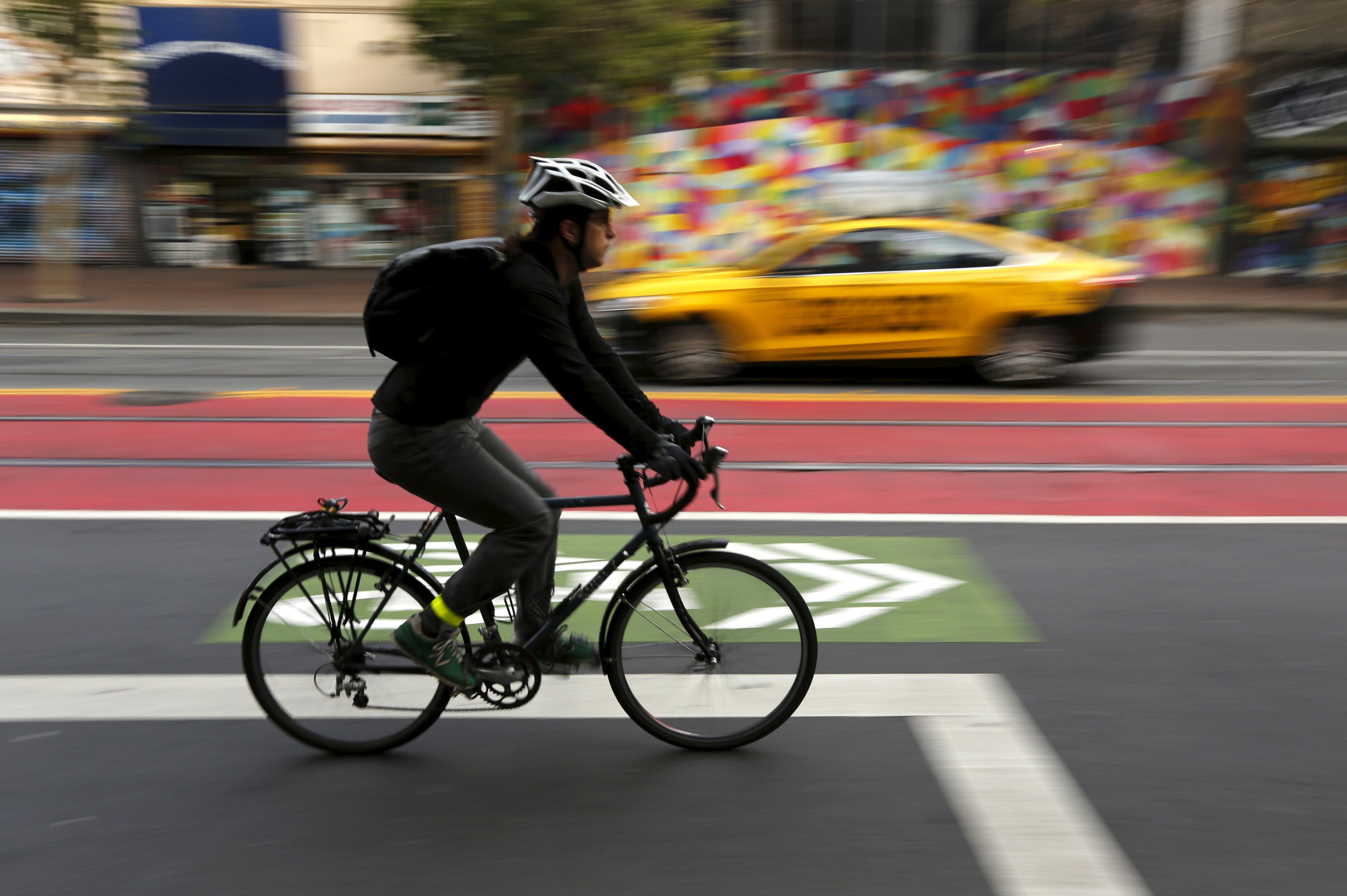 It will be a tough ride for cyclists if the GOP has its way.
Buried in the Senate Republican tax plan released last week is the elimination of a $20-a-month tax benefit for people biking to and from work, a program that costs the government a grand total of $5 million. The same tax bill would retain a $255-a-month parking subsidy for drivers that costs $7.3 billion.
"The cost of this [cyclist] benefit is equal to a rounding error in the tax bill. I don't understand why [bicyclists] are being targeted," said Ken McLeod, policy director at the League of American Bicyclists.
Here's how it works: A person who commutes by bicycle can submit receipts for bike purchases, upkeep or storage to his or her employer, who will reimburse the employee up to $20 per month. The employee does not have to pay income tax on this reimbursement, and the employer is not charged payroll tax. The benefit cannot be used in conjunction with any other commuter subsidy.
Parking subsidies are normally deducted straight from an employee's paycheck, pretax. Both subsidies are typically offered by large corporations and government organizations.
The cost of the driving subsidy is roughly 1,500 times bigger than the biking subsidy. As such, some experts believe Senate Republicans are targeting Americans living in cities, where cycling—and Democratic voting habits—are more common.
"It's hard to see [this] as anything other than an attack on cities and the people who live there," said Steven Higashide, director of research at TransitCenter, a foundation focused on the future of mobility. "The enormous parking benefit means we're incentivizing people to drive into our most congested downtowns, while disincentivizing environmentally-friendly and space-efficient modes of transport."
"This is urban versus rural or suburban," said League of American Bicyclists Executive Director Bill Nesper.
The cut hurts the urban lower and middle class while saving the U.S. government almost no money. "We often imagine that there's this image of the bike commuter as a wealthy person in Spandex, but it's mostly low-income people riding to work," said Higashide. Sixty percent of those who commute by bike have household incomes of less than $75,000 each year, according to the Census Bureau.
"This is reflective of the larger GOP tax plan—taking something away from working Americans to pay for massive tax breaks for the 1 percent and their kids," said U.S. Representative Earl Blumenauer of Oregon, who authored the cycling benefit. "There is absolutely no reason to wipe out incentives for one of the cleanest, healthiest and environmentally friendly modes of transportation that exists today. This is outrageous."
The Republican Senate is following the money, said Nesper. "The tax bill is looking for an easy target rather than truly confronting the over $8 billion spent on transportation tax benefits." The cycling community is large and vocal, he said, but added, "We just don't have the kind of money the auto industry has." Both Ford and General Motors are active donors to the GOP.
"If [Senate Republicans] were taking a serious look at transportation benefits, they would have reconsidered the parking benefit," said McLeod. "It's an outdated incentive that was enacted when the government needed to attract Americans to work in cities. That is no longer the case."
Roughly nine out of 10 Americans drive to work, but only about a third of American workers receive any tax savings from the parking tax benefit. The greatest benefits accrue to higher-income workers who drive to work in the nation's large cities, where parking is most expensive.
More than 850,000 Americans regularly bicycle to work. The number has grown by 60 percent over the past decade and continues to grow.