Tax Day 2018: Where To Get Free Food And Discounted Meals On April 17
Tax Day, the most dreaded time of the year, lands on April 17 this year and companies throughout the country are hoping to make it just a bit more bearable. Several national chains are dishing out free food or discounted meals on Tuesday.
Here is a roundup of all the best deals for Tax Day 2018: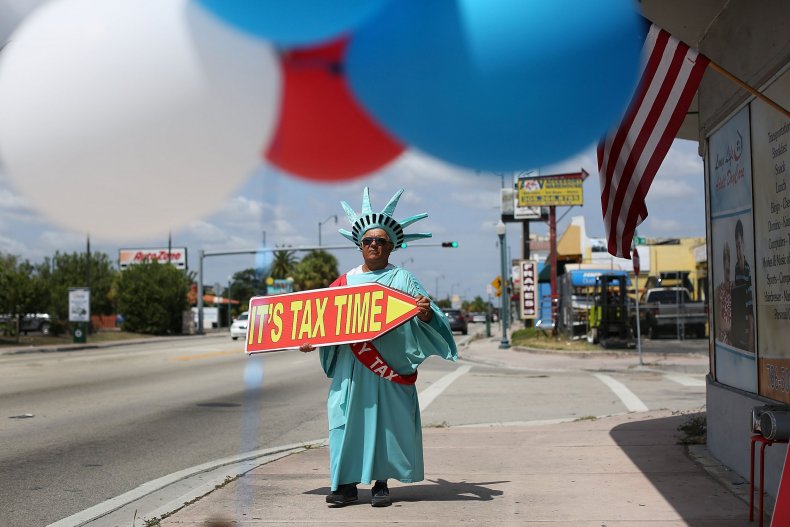 Boston Market's freestanding locations will offer a Tax Day special meal for just $10.40. The special includes half chicken individual meal with two sides, cornbread and a regular fountain drink. You can find a participating location here.
Great American Cookies will be giving away a free cookie to customers who stop by one of the participating stores on April 17. Customers will be treated to a Cookies & Cream cookie, a combination of vanilla cookie with chocolate sandwich cookie pieces and white chocolate chips.
Bruegger's Bagels has tax payer's bagel needs covered. The bagel bakery is offering a Big Bagel Bundle, which includes 13 bagels of your choice and two tubs of cream cheese, for $10.40 with this coupon. Bruegger's is also offering 20 percent off catering orders with the code TWENTYOFF at checkout.
Grimaldi's Pizzeria is offering 16" traditional cheese pizzas for $10.40 to mark the day, according to CNBC.
Kona Ice trucks will be giving out free shaved ice as part of their "National Chill Out Day". The company gives out free shaved ice each Tax Day in line with its motto: "No taxation without relaxation!"
Hardee's is also jumping in on the free food wagon. The fast-food chain is offering customers a free Sausage Biscuit from 7 a.m. to 10 a.m. with the password "Made From Scratch." The offer is part of Hardee's "Tastes Like America" campaign, the company told Newsweek.
Chuck E. Cheese is making sure families also get in on the fun once taxes are filed. The children's arcade and restaurant is offering a free large cheese pizza with the purchase of any large regular-priced pizza from Tuesday through Thursday.
Firehouse Subs locations around the country will give customers a free medium sub with the purchase of any medium or large sub, chips and a drink with this coupon. The offer is valid from Tuesday through Thursday.
Hooter's also has a family deal this Tax Day. The restaurant chain is offering a free kid's meal with the purchase of $10 or more by an adult at participating locations nationwide. Check out the nearest location here.
Potbelly Sandwich Shops is offering deals throughout the month for anyone who downloads the restaurant's app and joins its Potbelly Perks program. Customers who join will get a free sandwich and those already enrolled in the program will receive a buy-one, get-one free sandwich deal on their app on April 17.
Hot Dog On A Stick is giving away a free original turkey dog or veggie dog on Tax Day at participating locations, according to PEOPLE Magazine.
Noodles & Company is back again with its annual "File Online, Order Online" promotion, which runs from April 11-18. Customers can use the code "TAXDAY18" when ordering online and receive $4 off any $10 purchase.
Tomy Roma's is offering a Kickin' Shrimp appetizer with the purchase of an entree at participating locations.
Sonic Drive-In has a delicious half-price cheeseburger deal all day Tuesday. The offer includes a Quarter Pound Double Cheeseburger and Medium Tots or the Classic SONIC Signature Slinger and Medium Tots at participating locations.
If ribs are more your speed, Sonny's BBQ is offering half-priced Sweet & Smokey or House Dry-Ribbed Ribbed dinners with two sidekicks and homemade bread as part of its Irresistible Rib Special (IRS).